Shell climate case: What you need to know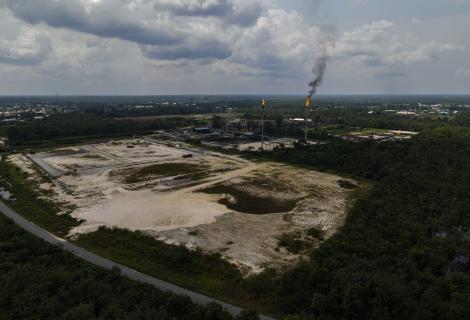 By Marit Maij, executive director of ActionAid Netherlands
On Wednesday (26 May), a judge in The Hague will deliver their verdict on the ground-breaking climate case against fossil fuel giant Shell.
ActionAid is one of seven environmental and human rights organisations, led by Friends of the Earth Netherlands (Milieudefensie), that are part of a historic legal action against Shell, launched in 2018. The case demands that Shell reduces its emissions in line with the global goals set out in the Paris Climate Agreement. This means Shell must cut its emissions 45% by 2030.
Why is this case so important?
Unless Shell and other major polluters take urgent action, the world will not meet the goals of the Paris Agreement to limit warming to 1.5˚ degrees, which will have catastrophic consequences for people and the planet.
Those who have done the least to cause the climate crisis, particularly women and other marginalised groups in the Global South, are already being hardest hit by its impacts.
Women are 14 times more likely to die during climate disasters. In developing countries, it is often women who grow crops and work the land, but this is becoming increasingly difficult due to more frequent droughts, floods, cyclones and other severe climate events. At the same time, many places are becoming uninhabitable due to the climate crisis.
Shell is among just 100 fossil fuel producers responsible for 71% of the harmful greenhouse gas emissions causing global warming since 1988. It has known since the 1960s that gas and oil exploitation has disastrous consequences for the climate.
If the lawsuit is successful, the outcome of this case will hold Shell accountable for its contribution to the climate crisis and will require the company to commit to cutting its CO2 emissions by 2030.
This would be a major step in the fight against climate change and an historic victory, particularly for women and vulnerable communities in the Global South.
What about Shell's Net Zero commitments?
Shell says that it wants to achieve 'net zero' CO2 emissions by 2050 (and that it wants to reduce its total CO2 emissions by 45% by 2035). Shell's promises sound good, but the term 'net' comes with a big catch.
Net zero does not actually mean real zero. Recent research by ActionAid exposes how Shell plans to keep polluting while planting vast tree plantations in the Global South.
To reach net zero emissions by 2050, Shell plans to offset 120 million tonnes of CO2 from its polluting activities by planting forests. ActionAid's analysis finds this would need 12 million hectares of land by 2030 – the equivalent of three times the size of the Netherlands.
Instead of phasing out fossil fuels over the next decade to cut harmful CO2 emissions, Shell will continue investing $4billion a year in fossil gas, and $8billion a year on oil and gas exploration, compared to just $2-3billion in renewable energy.
Shell's carbon offset plans are putting communities in the Global South, particularly indigenous peoples and women farmers, at risk of devastating land grabs and rights abuses.
Global climate goals will only be achieved if companies like Shell really cooperate and actually reduce CO2 emissions in line with the Paris Agreement. But Shell does not want to do this, it is using its net zero climate plans as a smokescreen for inaction.
Why did ActionAid join the legal action?
We support millions of people who are already living with the devastating impacts of climate change.
This includes working with communities hit by increasingly frequent and severe cyclones, drought and flooding, those impacted by the Southern Africa food and climate crisis, and communities in southern Bangladesh facing both disasters and slow onset events like salination and sea level rise.
ActionAid support communities in the Niger Delta, one of the most polluted places on earth, where Shell's activities are devastating communities with oil spills, gas flaring, polluted water and human rights abuses.
"Oil is a curse" is a constant refrain of the women farmers and fisherwomen we work with as decades of pollution from oil spills and gas flares have killed off fish stocks and destroyed the fertility of the soil.
Communities are also already seeing their lives and livelihoods destroyed by frequent and intense flooding, fuelled by the climate crisis.
As one of the world's biggest polluters, we believe Shell has a responsibility to the world's most vulnerable communities to help tackle the climate crisis.
For more information about the case visit:
https://actionaid.nl/2021/05/21/6-vragen-aan-onze-directeur-marit-maij-over-de-klimaatzaak-tegen-shell/
https://milieudefensie.nl/actueel/alles-wat-je-moet-weten-over-de-recht…