Shell's net zero climate plans need land up to three times the size of the Netherlands for carbon offsets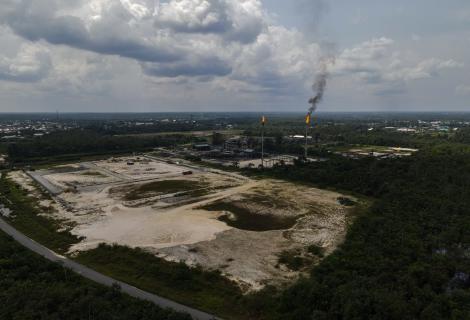 As Royal Dutch Shell's shareholders meet in The Hague for their annual general meeting, new analysis by ActionAid International exposes the fossil fuel giant's net zero climate plans to keep polluting while planting vast tree plantations likely to drive land grabs in the Global South.
To reach net zero emissions by 2050, Shell plans to offset 120 million tonnes of CO2 from its polluting activities by planting forests. ActionAid's analysis finds this would need 12 million hectares of land by 2030 – the equivalent of three times the size of the Netherlands.
Instead of phasing out fossil fuels over the next decade to cut harmful CO2 emissions, Shell will continue investing $4billion a year in fossil gas, and $8billion a year on oil and gas exploration, compared to just $2-3billion in renewable energy.
Teresa Anderson, climate policy coordinator at ActionAid International, says:
"Shell's climate plans embody so much of what is wrong with net zero climate targets. Hundreds of corporations and governments have released similar net zero targets to much fanfare, but they are being used as a smokescreen that allows pollution to continue, instead of delivering the emission cuts needed to avert catastrophic climate change.
"Their plans rest on planting vast new forests, bioenergy crops and unproven technologies. Given that just one company, Shell, needs to find land three times the size of the Netherlands over the next 10 years, there isn't enough available land on earth to meet the demand outlined in the hundreds of other targets.
"This puts communities in the Global South, particularly indigenous peoples and women farmers, at risk of devastating land grabs and rights abuses."
ActionAid's new briefing, Not-Their-Lands: The land impact of Royal Dutch Shell's net zero climate target, highlights growing concerns that the 'net' in net zero targets allows targets for both emission cuts and carbon offsetting to be combined. Creating one 'net' target allows polluters to continue business as usual, while making unrealistic claims about land availability.
The analysis shows how the scale of planned tree and forest planting will lead to forced displacement of rural communities, the loss of food crops, rising hunger and conflicts over land and food.  
It points to the biofuel land grab, which led to more than 17 million hectares of land being taken from communities in the Global South between 2007 and 2012. This caused widespread deforestation and loss of livelihoods, with devastating consequences for communities.
ActionAid is calling for far greater scrutiny of net zero targets. If the Paris Agreement target of limiting global warming to 1.5C is to be met, measures are needed that drive real action, including:
Governments, industries and corporations must urgently transition away from fossil fuels and drastically reduce emissions within the next decade.
Emission cuts must take equity into account – the greatest historic polluters must take the most rapid action and provide finance to support countries on the frontlines of the climate crisis recover from its already devastating impacts, adapt and transition to greener economies.
Climate plans must be transparent. The 'net' prefix should no longer be used to hide climate inaction by ensuring separate targets are set for emission reductions and carbon offsets.
Plans for removing carbon from the atmosphere must be based on the realistic planetary potential for protecting and restoring biodiverse ecosystems, while safeguarding land rights, and the rights of indigenous peoples and communities.  It must be recognised that safeguarding the community forest rights of indigenous peoples is proven to be the most effective strategy for protecting biodiverse forest ecosystems.
Ends.
For more information contact jenna.pudelek@actionaid.org or call +447795642990.