How Shell is devastating the Niger Delta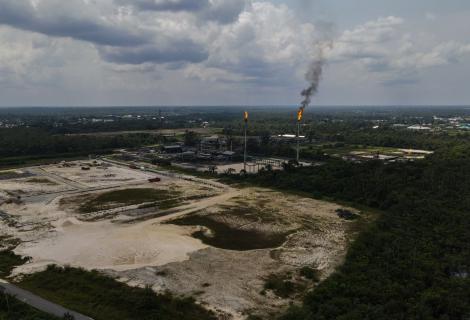 As Shell faces climate charges in Dutch court, activists in the Niger Delta speak out about the fossil fuel giant's devastating impact on their communities
Ahead of a historic climate case against Shell in the Netherlands, activists in the Niger Delta region of Nigeria, reveal how the fossil fuel giant is devastating their communities with oil spills, gas flaring, polluted water and human rights abuses.
"Oil is a curse" is a constant refrain of the women farmers and fisherwomen ActionAid spoke to in the Niger Delta, where decades of pollution from oil spills and gas flares have killed off fish stocks and destroyed the fertility of the soil.
Communities are also already seeing their lives and livelihoods destroyed by increasingly frequent and severe flooding, fuelled by the climate crisis.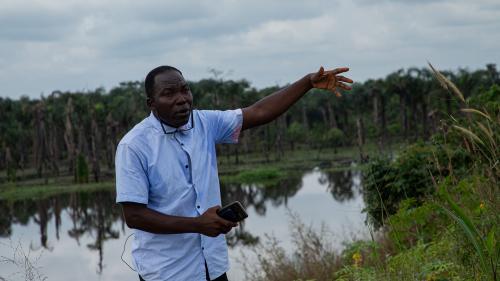 Jonah Gbemre, an activist from Iwhrekan, who has been battling Shell in the Nigerian courts to stop gas flaring since 2005*, says:

"The whole world is at risk now because what is bad in my community is what is wrong everywhere in the world. If there are gas flares here it will affect the whole world climate-wise. We are all suffering with climate change now.

"We are calling on international organisations to come to our aid and stop gas flaring and stop pollution of our environment, to bring the people into a better life standard because we cannot keep suffering here, it is dehumanising."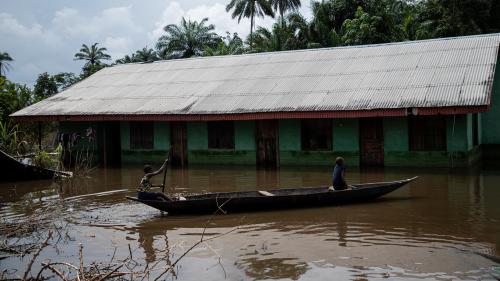 Communities in the Niger Delta have used the courts in both Nigeria and the UK, to fight for compensation from Shell. In 2015, the oil giant agreed a £55million pay-out to compensate 15,600 people in Bodo after multiple oil spills devastated their community.
But while it's vital to make polluters pay for the damage they're causing; no amount of compensation will be enough to cover the costs of catastrophic climate change.
ActionAid is one of seven environmental and human rights organisations, led by MilieuDefensie (Friends of the Earth Netherlands), taking legal action against Shell in the Netherlands. The plaintiffs, including over 17,000 Dutch citizens, are demanding that Shell aligns its business model to the Paris Agreement to keep global warming below 1.5C, by cutting its CO2 emissions 45% by 2030.
Shell has known that drilling for oil and gas causes climate change for decades and is among just 100 fossil fuel producers responsible for 71% of the harmful greenhouse gas emissions causing global warming since 1988.
Despite paying lip service to the Paris Agreement, the fossil fuel giant plans to increase oil and gas production by 38% between now and 2030 and will invest up to $35 billion a year, of which just $2-3billion will go towards greener energy solutions.
In its response to the court summons, Shell argues that access to energy is essential for development and achieving the UN's sustainable development goals, but that transitioning to low-carbon energy must first be supported by national laws and regulations.
Ahead of the first hearing in the case on Tuesday (1 December) in the Hague, Harjeet Singh, ActionAid's global climate lead, says:

"Sustainable development is not compatible with investment in fossil fuels. Shell's business model is locking future generations into a harmful, unjust system that will soon be redundant.

"Shell's refusal to divest from fossil fuels is putting us on a pathway to catastrophic climate change, which will make parts of the planet near uninhabitable and hit those least responsible in the world's poorest communities the hardest.

"Communities in the Niger Delta know first-hand, both the devastating impacts of the climate crisis and how extractive companies like Shell put their profits before people, leaving behind a trail of entrenched poverty, pollution, destruction and rights abuses."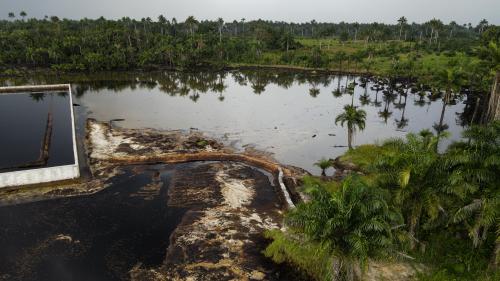 People in the Niger Delta are living in darkness, while $billions worth of oil and energy is being extracted from their land and exported to rich countries in the global north.
Jonah says: "We were thinking the oil companies were coming to elevate us from poverty, but they only give us poverty and the economy is dying.
"One of the biggest gas plants in Africa is hosted here. But we don't have lights in our community, the only light we have is from gas flares.
"We don't have safe water to drink, no roads, no health centres, no social amenities and no jobs. We are suffering. Because of pollution everything has been destroyed."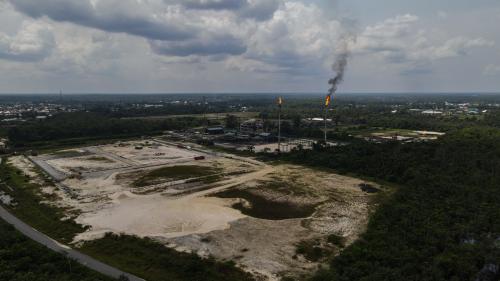 ActionAid's Harjeet Singh adds: "The biggest challenge for developing countries in moving to renewable energy isn't a technological one, but a financial one. Current climate finance mechanisms don't sufficiently support the transition to renewables in developing countries.
"That is where the rich governments and vast corporations like Shell most responsible for the climate crisis, should be investing their billions.
"It is why ActionAid is taking legal action against Shell. If we win, it will set a precedent that forces companies to align with the Paris Agreement, which their governments have signed up to, to limit warming at 1.5C by shifting investment into renewables and protecting all our futures."
---
*Jonah Gbemre, representing the Iwherekan community, brought a claim against Shell Petroleum Development Company Nigeria in November 2005, arguing that gas flaring violates the right to life and human dignity guaranteed by the Nigerian Constitution and the African Charter. The Benin Judicial Division of the Federal Court of Nigeria ruled in his favour, but it was never upheld. https://www.business-humanrights.org/en/latest-news/gas-flaring-lawsuit…
Shell's response to court the legal summons: https://milieudefensie.nl/actueel/2019-11-12-conclusie-van-antwoord-fin…