ActionAid takes legal action against Shell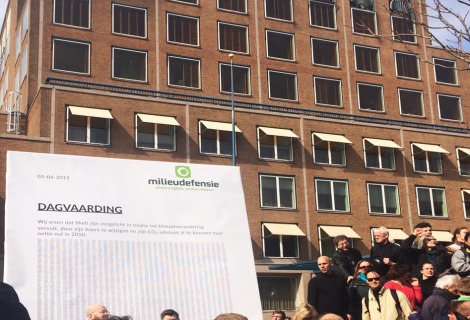 New analysis shows how fossil fuel giants like Shell could be held to account for causing climate change through progressive taxes
London and The Hague – ActionAid is one of seven environmental and human rights organisations, including Friends of the Earth and Greenpeace, taking legal action against Royal Dutch Shell for failing to align its growth plans with global climate goals.
Today (April 5), a court summons signed by more than 17,000 co-plaintiffs will be submitted at Shell HQ in The Hague demanding that the company matches its business model to the Paris Agreement and sets out plans to achieve net-zero emissions by 2050.
At the same time, ActionAid is supporting communities in south east Africa struggling to recover from the devastation of Cyclone Idai. With tens of thousands of people left homeless and some three million affected, this latest climate catastrophe is a reminder that the people least responsible for global warming are the ones already paying the greatest price.
Harjeet Singh, ActionAid's global lead on climate change, says: "Shell is among just 100 fossil fuel producers responsible for 71% of the harmful greenhouse gas emissions causing global warming since 1988.
"Inaction on climate change from governments and businesses, is increasingly seeing citizens use the courts to call time on the destructive excesses of the fossil fuel industry and to force investment in sustainable energy.
"Forcing companies like Shell to change their ways must be part of the transition to a low-carbon global economy. Our analysis shows that ending state subsidies for fossil fuels and introducing progressive taxes on fossil fuel companies, would provide the billions needed to adapt to and account for the harmful impacts of climate change."
Financing the impacts of climate change fairly
ActionAid is releasing a new analysis of the financing mechanisms available to raise the $300 billion a year needed to repair the loss and damage already being caused by climate change in communities around the world. Estimates suggest that this cost is likely to increase to $1.2 trillion a year by 2060.
The report looks at the current options for market, state and 'innovative' funding mechanisms, ranking their effectiveness against the extent to which they protect the rights of those at risk of losing everything to a climate crisis they are the least responsible for.
Shifting state subsidies away from fossil fuels towards sustainable solutions and addressing the impacts of climate change, and introducing progressive taxes such as a Climate Damages Tax on major oil, gas and coal companies, together with a Financial Transaction Tax, a small levy to raise revenue from the trading of financial instruments such as bonds, stocks and foreign currencies, emerge as clear winners.
A Climate Damages Tax on the fossil fuel industry could pay for the costs of loss and damage, and fund programmes to help communities move towards a low carbon economy. It would raise revenues of between $75-150 billion (at a rate of $6 per tonne of CO2) and $500-1,000 billion (at a rate of $40 per tonne of CO2) a year.
It puts the onus on those responsible for the root causes of climate change impacts and introduces a regulatory incentive on the fossil fuel giants.
A Financial Transaction Tax covering the European Union putting a levy on shares and bonds at 0.1% and derivative agreements at 0.01% has the potential to raise $63billion, and a global FTT could raise significantly more, given the scale of financial instrument trading.
Reducing the ongoing state subsidies for fossil fuels could raise $300billion, increasing to $5.3trillion when indirect subsidies are included. This would end the paradox of governments continuing to lower the cost of fossil fuel energy production while claiming to be committed to mitigation, adaptation and redressing the loss and damage caused by the impact of climate change.
Ends
ActionAid Netherlands spokesperson Elliaa Jutte is available for interview live from the summons handover in The Hague. For interviews and images contact the ActionAid press office on (+44) 07795642990 or email jenna.pudelek@actionaid.org.
Notes to editors:
Read ActionAid's new report: Market solutions to help climate victims fail human rights test.
The market mechanisms reviewed include catastrophe risk insurance, climate-themed bonds and their certification, the cap-and-trade global carbon pricing system, and catastrophe bonds. The state-based mechanism reviewed is contingency finance.
The innovate financing mechanisms considered include the Financial Transaction Tax, the International Airline Passenger Levy, Solidarity Levy, Bunker Fuels Levy, Fossil Fuel Levy, and Climate Damages Tax.
Shell spends billions on oil and gas exploration each year, with current plans to invest just 5% ($1-2 billion) of its budget in sustainable energy and 95% ($25-30 billion) in exploiting fossil fuels. Shell's destructive plans are simply incompatible with the goal to limit global temperature rise to 1.5°C of warming set out by the Paris Agreement. 
The co-claimants' case against Shell is set out in this court summons. ActionAid Netherlands, Greenpeace Netherlands, Friends of the Earth Netherlands, Fossielvrij NL, part of the 350 network of environmental organisations, Both ENDS, the Wadden Sea Forum and Youth Environment Active are taking legal action against Shell, joined by more than 13,000 Dutch citizens who have also joined the case as co-claimants.
Source: The Carbon Disclosure Project's Carbon Majors Report found that just 100 companies are responsible for more than 70% of global greenhouse gas emissions over the last three decades since 1988.