World leaders land at COP25 as Africa faces climate and food crises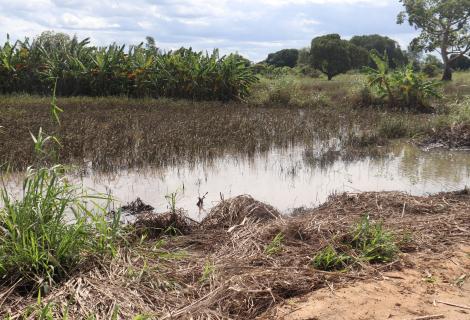 ActionAid's expert spokespeople, specialising in loss and damage, agriculture, climate finance and the impacts of climate change in the Global South, are available for interview throughout COP25.
Madrid, 1 December 2019 – As world leaders land in Madrid for the 25th UN climate change conference (COP25), the climate crisis is causing immense suffering across southern and eastern Africa where late rains, the aftermath of two major cyclones, droughts and flooding are putting 60 million lives at risk.
Ahead of the UN climate talks in Spain beginning tomorrow (2 December), ActionAid is calling on negotiators to break the deadlock around climate finance for survivors of climate disasters in the Global South.
 
Harjeet Singh, global climate lead at ActionAid, says: "The climate and food emergencies devastating southern and eastern Africa must awaken the conscience of the rich countries and polluting industries that have caused the crises. They must stop blocking proposals on creating a new fund, including debt relief, to support countries to recover from climate disasters, such as flooding, droughts and rising sea levels.
 
"Concrete financing solutions are urgently needed to repair the devastation already being caused by climate change and to prepare for an uncertain future." 
 
It is estimated that by 2030 the global, annual cost of repairing the loss and damage caused by climate change will total $300 billion, increasing to $1.2 trillion a year by 2060.
 
ActionAid's analysis shows that ending state subsidies for fossil fuels and a progressive tax on the oil and gas industry would raise the billions needed to adapt to and repair the harmful impacts of global warming. These solutions put the onus on those responsible for the climate crisis and protect the rights of those most at risk.
 
More than nine million people in Southern Africa are facing severe food shortages after the worst drought the region has seen in 35 years. Shockingly this number is expected to increase to a staggering 45 million over the next six months. A food crisis is also hitting the Horn of Africa where millions more people, many of them women and children, are facing starvation.
 
ActionAid spokespeople at COP25:
Harjeet Singh is ActionAid's global lead on climate change. He specialises in the impacts of climate change on the Global South, including migration and urgent need for climate finance. He is a member of United Nations' Technical Expert Group on Comprehensive Risk Management under Warsaw International Mechanism for Loss and Damage. He is on the board of the Climate Action Network (CAN) international and also coordinates its working group on adaptation and loss & damage. Harjeet will be analysing outcomes from the climate talks in Madrid. He speaks English and Hindi. Follow him on Twitter @harjeet11.
 
Teresa Anderson is ActionAid's climate policy coordinator. She leads ActionAid's climate policy work on land, food and agriculture. She coordinates the Climate Action Network (CAN) working group on agriculture. She will be analysing outcomes from the agriculture negotiations at COP25. Follow her on Twitter @1TeresaAnderson.
 
Brandon Wu is ActionAid USA's director of policy and campaigns. He specialises in climate finance for developing countries, fairness and equity in the global climate regime, and energy democracy in the Global South. Brandon recently completed a two-year term on the governing board of the Green Climate Fund. Follow him on Twitter @brandoncwu.
 
Ellen Matupi is chair of the Coalition of Women Farmers (COWFA) in Malawi, a partner of ActionAid, and vice chair of Malawi's Rural Women's Assembly. She will be giving a presentation during the UNFCCC's agriculture negotiations at COP25. Ellen has experienced first-hand the effects of climate change on her smallholding in Mitondo, northern Malawi, along with the mixed impacts of the Malawi government's programme of subsidies for chemical fertilisers. She uses adaptation techniques including climate resilient agroecology. Ellen trains other women farmers in these methods and advocates for their rights.
 
Ana Alcade, director of Alianza por la Solidaridad/ActionAid Spain, is a feminist and human rights campaigner with more than 25 years of experience in development and international relations. She has worked across Africa and Latin America. Alianza supports women farmers impacted by climate change.
 
Ends
 
ActionAid's spokespeople are available for comment, interviews and briefings from the climate negotiations in Madrid. For more information visit www.actionaid.org/climatejusticenow
 
Media contact: Jenna Pudelek, jenna.pudelek@actionaid.org, +4477595642990.