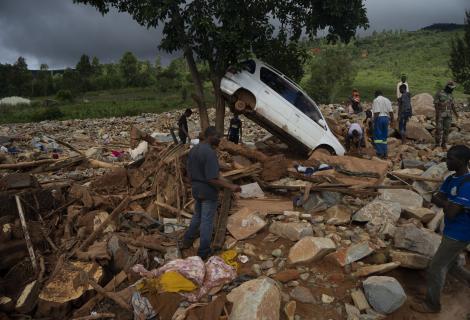 Market solutions to help climate victims fail human rights test
Finance through innovative and public sources must be raised to address loss & damage and protect human rights
Downloads
Rising global temperatures are wreaking havoc around the world, leaving a trail of destruction from Kyoto to Kerala. But those least responsible for greenhouse gas emissions are also those most struggling to survive the harmful impacts of climate change.
While the full impact of Cyclone Idai is still unknown, the death toll from drowning, dehydration, hunger and cholera will be in the many thousands. One million people in Mozambique, Malawi and Zimbabwe are thought to have been displaced. Entire neighbourhoods of victims have been left homeless after the city of Beira was wiped out.
The United Nations Human Rights Council has recognised that climate change "poses an immediate and far-reaching threat to people and communities around the world and has implications for the full enjoyment of human rights." In the Paris Agreement, parties to the UN Framework Convention on Climate Change (UNFCCC) acknowledged that they should – when taking action to address climate change – respect, promote and consider their respective obligations with regard to human rights.
The UNFCCC has mandated the Warsaw International Mechanism for Loss and Damage associated with Climate Change Impacts to facilitate financing to address the harms caused by climate change.
This report evaluates whether market, state and innovative financing proposals for repairing the harmful impacts of climate change comply with five key human rights principles.
We find that no market mechanisms are compliant with a human rights-centred approach to achieving the financing needed to address loss and damage associated with the adverse impacts of climate change. On the contrary, most put the financial burden back on developing countries, who are least responsible for causing the climate crisis. Market mechanisms also fail to enable transparency, accountability and participatory decision-making that meaningfully includes the most vulnerable communities impacted by climate change.
The clear winners of our human rights test are:
Better state budgeting that shifts state subsidies away from fossil fuels and towards addressing the impacts of climate change and funding a Just Transition; and
Progressive taxes such as the Climate Damages Tax (on oil, gas and coal extraction) and the Financial Transaction Tax (a small levy to raise revenue from the trading of financial instruments).
Reducing the ongoing state subsidies for fossil fuels could raise USD$300 billion, increasing to USD $5.3 trillion when indirect subsidies are included. This would end the paradox of governments continuing to lower the cost of fossil fuel energy production while claiming to be committed to mitigation, adaptation and redressing the loss and damage associated with the adverse effects of climate change.