'They came like a thief, demolished and destroyed the place'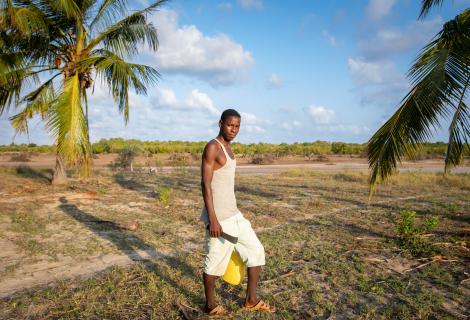 Dickson lost everything when a salt mining company bulldozed his home
Villagers from Garithe In Kenya's Marereni Salt Belt are fighting for their right to continue living and working on nearly 800 acres of land they have farmed for generations.
Dickson Kenga, a palm wine producer, saw his home and land destroyed by the Munyu Salt Company when it started work in August last year to clear 40 acres of land, Including mangroves, coconut palms and cashew trees.
Five months on, the community is still waiting to hear the outcome of a legal action against the salt company aimed at restoring their land rights.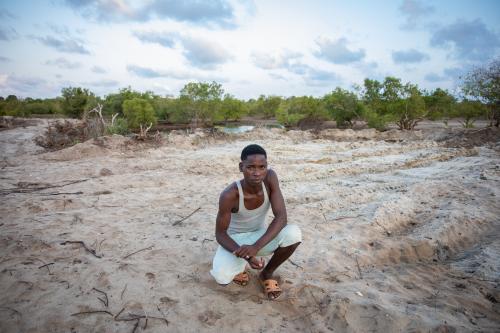 "They [the Munyu Salt Company] gave me no notice, they just came like a thief, demolished and just destroyed the place," Dickson says.
"They brought down the [coconut palm] trees, they dug and uprooted them. There were other farm plants known as Mirabu [pumpkins] and others called Mitsungi [fruit trees] which they uprooted. The plants that they destroyed bear fruits that we have been using as food. Sometimes when we have very little money for buying flour, we decide to feed on the pumpkins and save the little money to use on other needs."

Mangroves are essential to the villagers' way of life as they provide a natural defence against flooding and storms, and a unique ecosystem for fish and other marine life.

Climate change is already affecting the coastal area and the destruction of the mangroves is making life harder for Dickson and his community.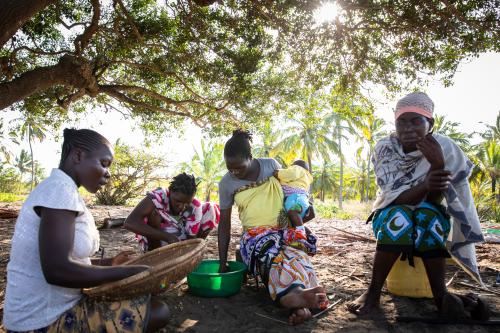 "In the past we were getting fish to sell but now the situation is really bad," he says. "The water has heated up, fish died, and prawns are no longer there. If we wanted fish for stew, we would get them right here, if we wanted some for selling, we would fish right here and sell."
Dickson makes just Ksh.500 (around $3.50) from tapping and producing palm wine after sharing the proceeds of his sales with the owner of the palm trees, which is only enough to feed his family for four days.
He planted palm trees at his property so that he could start his own palm wine business, he says: "I wouldn't have to share my proceeds and my children would lead a good life."
But the salt company tore down the trees, leaving his land uninhabitable and flooded with sea water during high tides.
Dickson is among 2,400 villagers being supported by ActionAid Kenya and its partner, the Malindi Rights Forum, to take legal action against Munyu Salt Company for destroying homes and livelihoods.
He hopes to win compensation from the company for his losses, adding: "I never thought it would turn out like this.
"What I hope is [that] they will either compensate me for my houses and plants that were destroyed or buy me other land where I can rebuild my life. I really hope the law will take its course."
Peter Komora, a community activist at Malindi Rights Forum, says: "The harmful activities of salt mining companies is a persistent problem for communities. The Munyu case is an example of how 'development' can be used as smokescreen to advance unlawful acquisition of ancestral land to the benefit of a few politically connected people."

Kenya's Land Act 2012 says that communities are entitled to their ancestral land and investors need to consult the communities before commencing work. ActionAid Kenya works with the Malindi Rights Forum to ensure that communities on the salt belt get their land papers.
Kitasi Wanga, manager for policy and campaigns on land, agriculture, and natural resources at ActionAid Kenya, says: "Development projects should only be pursued with the consent and involvement of the people they affect and never be used as an excuse for human rights abuses and those seeking profit from displacement. We hope that the villagers are compensated for their loss and we see justice being served."