'I live in fear everyday of losing everything'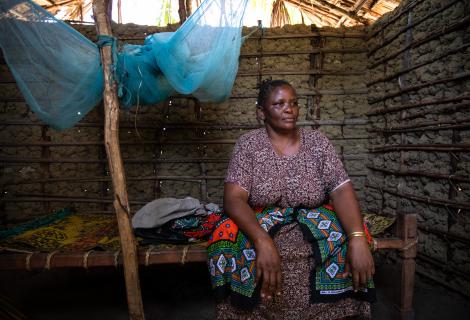 Janet is so worried about mining companies returning to her community it's making her sick
More than 2,400 villagers from the Garithe community in Kenya's Marereni Salt Belt, are fighting for their right to continue living on 800 acres of their ancestral land which they have lived and farmed on for generations.
In August 2020, the village of Garithe, where Janet Nyeu Nyange has lived for over three decades, was partially bulldozed by the Munyu Salt Company, clearing 40 acres of mangroves and palm trees.
Janet, whose livelihood is dependent on coconut palm trees, is so worried that the mining company will return and destroy her trees and home, it's making her sick.
"I have been greatly affected by the threat of salt miners moving into the community. I have developed heart problems because of the anxiety, I get panic attacks because I do not know when they are likely to show up. We do not know what will happen, and we don't know whether the government will help us, or if they will abandon us," she says.
Five months on from the destruction of part of their village, the community in Garithe is still waiting to hear the outcome of legal action against Munyu Salt Company.
The mangroves that surround the village are vital for the local community. Not only do they support livelihoods and protect residents' homes from flooding, but they provide a local microclimate.
Janet says: "Mangroves help break the wind. Sometimes we experience heavy winds from the sea but when we have mangroves they are controlled. We also use them as building materials, and they help us fish. When it is hot fish dig into the mangroves and hide in their roots, so we find more fish here than other areas."
Janet feels very fearful for the future.
"I am totally lost, if they demolish my home, I don't know where I will go. I am living in fear everyday of losing everything. If they take this land from us, we have nowhere to go. I don't want any salt company to come and work here. We refuse it. My plants that are my source of livelihood, if the palm trees die, I would be in big trouble."
ActionAid Kenya and its partner, the Malindi Rights Forum have been supporting the community to take legal action against Munyu Salt Company for destroying homes and livelihoods.
Kitasi Wanga, manager for policy and campaigns on land, agriculture, and natural resources at ActionAid Kenya, says: "The villagers, in particular women, have been trained by ActionAid and the Malindi Rights Forum so when the demolishers arrived, they knew the steps to follow to halt further destruction.
"The Kenya Forest Services have now taken the Munyu Salt Company case forward to the public prosecutor and we are awaiting trial."
As of 1st January 2021 the case has not appeared in court but Malindi Rights Forum continue to support Dickson and the rest of the Garithe community.
Read more from the people directly impacted by salt mining in Garithe:
 
Dickson: 'They came like a thief, demolished and destroyed the place'
Florence: 'I am a human rights defender. I have hopes that we will have our land back'
Kahaso: 'Our village was filled with palm trees, but now they're all dead'