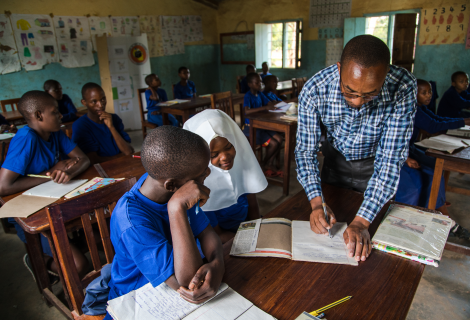 The impact of privatisation on the fulfilment of the Right to Education in 7 African countries
What do the Abidjan Principles tell us?
Downloads
The governments of Ghana, Kenya, Malawi, Mozambique, Nigeria, Tanzania and Uganda must provide free public education of the highest attainable quality using the maximum of available resources.
Increasing the size, share, sensitivity and scrutiny of the budget is necessary to secure funding for public education. Governments should also ensure that private education providers are adequately regulated.
The Abidjan Principles unpack and compile existing provisions in international human rights law. They provide guidance on how to put them into practice in the context of the rapid expansion of private sector involvement in education.
In early 2019, ActionAid and the Centre for Education & International Development at University College London collaborated to conduct a multi-country study using the Abidjan Principles to assess the impact of private provision on the right to education.
This research looks at aspects of segregation and discrimination that may be associated with private provision. We also examine how Public Private Partnerships operate in each country. We particularly look at equality in a range of settings, such as schools, households, communities and countries. The research takes into account obligations to protect and advance rights and consider equality. We show how the Abidjan Principles can guide analysis, research and monitoring as well as advocacy and campaign interventions.
We found that Ghana, Kenya, Malawi, Mozambique, Nigeria, Tanzania and Uganda are not fully meeting their obligations to provide free, quality public education. This is partly due to the underfunding of the education sector in these countries. The private sector is consequently on the increase. This is entrenching social inequalities, leading to stratification and huge disparities in education opportunities.
You may also find this multi-country research on private education in compliance with the right to education useful.