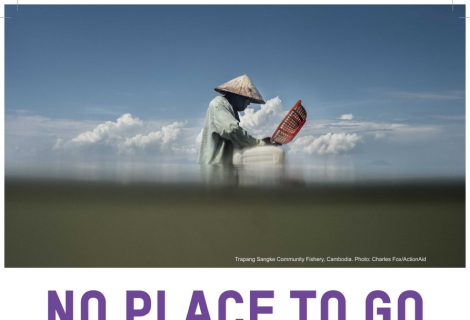 No Place To Go
How unregulated investments are worsening land, gender and food security inequalities in South East Asia
Downloads
Like many regional blocs, ASEAN aspires to strengthen its economy by becoming a vital link in the global supply chain. In line with this, ASEAN began implementing a host of policies in the 1990s to facilitate trade and to attract foreign direct investments into the region, with some success: ASEAN trade with the world rose from US$1.61 trillion in 2007 to USD 2.53 trillion in 2014, and FDI to the region increased from US$108.1 billion in 2010 to U$129.9 billion in 2014.
Although these high rates have since dropped, the impact of this economic model on women and marginalised groups living in the region remains. Unregulated private sector investment affects women's access and rights to land, and the the environment. Without safeguards, private sector investments perpetuate gender wage gaps and lead to disinvestment in public services, which increases women's burden of unpaid care work. Unregulated investments erode communities' access to land, and the drive for increased economic output depletes natural resources. Investments affect segments of society differently, and it is marginalised groups living in precarious contexts that are the worst affected. Inequality is no longer simply about disparities in income and wealth, but also pertains to the lack of economic opportunities, and the inability of marginalised people to influence and participate in decisions affecting them.
This policy brief summarises the impact of the ASEAN's economic model on gender inequality, land rights, and the environment, and offers recommendations for ASEAN to eradicate poverty and inequality, in keeping with the Sustainable Development Goals and other human rights agreements.