World Teachers Day: Funding the right to quality, inclusive education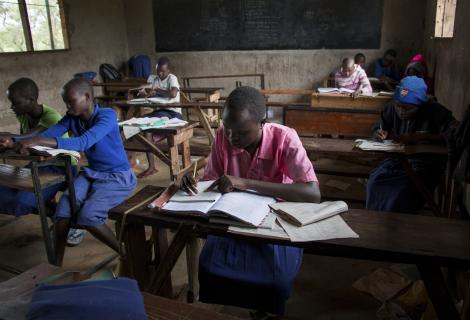 By Asmara Figue, International Project Coordinator, Tax Justice & Gender Responsive Public Services
With schools across the world gradually re-opening after protracted closures due to Covid-19, the critical role of teachers in ensuring that all children are able to enjoy their fundamental right to education is more apparent than ever.
Millions of parents will be feeling particularly appreciative of teachers and the critical role they play after spending months during lockdown struggling to home-school their children.
But sadly, this wave of gratitude is not translating into the urgent investment in teachers and education needed to meet the global goal to provide quality, inclusive and equitable education for all by 2030.
Nowhere is this more important than in Sub-Saharan Africa which has the greatest teacher shortages in the world and where an estimated 17 million teachers are needed by 2030 if the region is to achieve the sustainable development goal on education.
In a new multi-country joint report, The Bedrock of Inclusion, ActionAid, Education International and Light of the World make recommendations on how governments can guarantee that enough teachers are recruited and trained to ensure education systems are inclusive.
Children with disabilities were already much less likely to be in school than their peers prior to the pandemic, now they are among the least likely to return when schools reopen.
Focused on five countries, Ethiopia, Malawi, Mozambique, Nigeria and Tanzania, our research provides an overview of financing the teaches and resources needed to ensure schools include children with disabilities.
Massive teacher shortages are leading to hugely overcrowded classrooms, leaving teachers struggling to respond to the different learning needs of hundreds of pupils at a time.
Charles Chilangazi, a headteacher and special needs educator in Tanzania, says: "Our classrooms are crowded so it's difficult for children with special need to get the attention they need in a classroom of 200 pupils.
"I am the only teacher with special education knowledge and also, I am the headteacher with lots of other responsibilities. It's difficult for me to support these children as required."
A recent ActionAid survey of 130 teachers across 14 different countries finds that 28% of teachers feared higher dropout rates for children with disabilities would be a long-term impact of the pandemic. Echoing Charles' experience, only 24% said they had received extra training on supporting students with additional needs and only 12% said their school received additional funding for inclusive education.
Fifteen-year old Ombeni's story illustrates the critical need for additional support for children with disabilities, and the huge difference it can make in young people's lives.
Ombeni, from Tanzania, is visually impaired and used to struggle with his studies, but under the guidance of his teacher Hemedi, who is specially trained to support children with disabilities, he is now performing well:
"When I joined the school, my results were very poor. But currently I am performing well. I like my school and I like studying. If teachers treat you well then there is nothing to dislike."
His teacher Hemedi is clearly a role model for Ombeni, who says: "I love teacher Hemedi because he cares for us. I want to study hard so that I will become a teacher and teach other pupils the way my teachers are doing."
Teachers are doing their best, but without the resources to provide extra support, many children with disabilities remain excluded from education.
Hemedi says: "We are receiving some support from the government though it's not enough. there are many children with disabilities in the communities but it's difficult to enrol them in the school because of lack of infrastructure."
As the global economy plummets result of the pandemic, it is critical that governments safeguard funding for education and ensure enough budget is allocated to recruit, train and support the teachers they need to roll out quality, inclusive education and ensure no child is left behind.
More than anything else, this means tackling the huge amounts that are lost each year to unfair tax and debt.
In Malawi for example, ActionAid recently estimated that by implementing six progressive tax reforms, the country could raise an additional US$135million each year – an amount equivalent to 2% of its annual GDP.  Just 20% of this could pay for an additional 12,199 much needed primary school teachers.
Urgent debt relief is essential to enable governments to immediately invest in education and ensure the critical shortages of teachers are addressed. Malawi for example, currently spends an amount equivalent to 80% of its combined health and education budget on debt repayments each year.  
By prioritising measures such as these, governments can safeguard the funds they need to recruit and train the teachers and education support staff they need to ensure, all children, including those with disabilities are able to enjoy their right to education.