ActionAid concerned about mass displacement of Palestinians in Masafer Yatta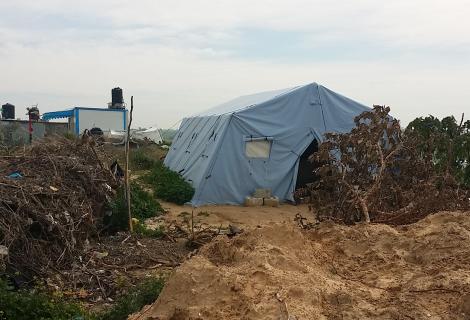 Palestine - On the 74th anniversary of Nakba (Catastrophe), which marks the mass dispossession and displacement of 750,000 Palestinians from their lands in 1948, ActionAid warns that displacement of Palestinians is accelerating once again.
This year, the anniversary of Nakba was preceded by one of the biggest expulsion decisions since 1967: a ruling from the Israeli Supreme Court to displace more than 1200 Palestinians from eight villages in Masafer Yatta, an area near Hebron in the south of the West Bank. The families in Masafer Yatta have been appealing in Israeli courts for 20 years to stop their displacement. Their lands will now be confiscated for military training.
Alongside the court ruling on Masafer Yatta, the occupying Israeli administration approved 4000 new settlement units in the occupied West Bank.
Majida Akram Sabha, a resident of al-Fakhit in Masafer Yatta

"We have been living here for years and rely on livestock [for income]. [Our] houses were demolished three times already. We will not leave Al-Masafer because our livelihood is here. Whatever they do, we will stay here. We appeal to the world to consider our case." 
The land around the villages of Masafer Yatta is owned by agricultural communities who have lived there for generations. Families are facing demolition of their homes and removal of the most basic infrastructure such as access to water, health facilities and schools; military training exercises; and violence from Israeli settlers.
The decision to move Palestinian families out of Masafer Yatta is based on the occupying Israeli army's 1980 designation of the area as a "firing zone". Israel has designated nearly 30 per cent of Area C in the occupied West Bank as "firing zones", according to the UN. At least 38 Palestinian communities are located within these areas. Many of the communities had been in these areas for decades before the firing zone designations and even before Israel occupied the West Bank.
The Country Director of ActionAid Palestine, Ibrahim Ibraigheth, said:
"This latest ruling means that even more Palestinian families will lose their homes and livelihoods because of decisions that are out of their control. Palestinians are facing a never-ending cycle of displacement, violence, and erasure from their homeland. They live in fear of being forced out of their homes and live with constant uncertainty about their futures. This is a clear violation of our fundamental human right to freedom."
Palestinian communities living within firing zones have been repeatedly threatened with home demolitions and the confiscation of agricultural land because they lack building permits, which are issued by the Israeli authorities and are nearly impossible to obtain. ActionAid argues that the policy is a violation of international law, which prohibits Israel as an occupying power from moving members of the occupied population out of their existing communities against their will.
In addition to over one thousand people losing their homes and livelihoods in Masafer Yatta, ActionAid is concerned about both the security and mental health of those who are being displaced. Displacement leads to a lower standard of living, which can increase levels of poverty and dependence on humanitarian aid.
The court decisions came in the same week as the killing of Palestinian-American journalist Shireen Abu Aqleh and further Israeli attacks on mourners at her funeral. She is one of more than 140 Palestinian journalists to be attacked by Israeli forces in the past four years, according to Reporters Without Borders, and last year the International Criminal Court (ICC) announced there were sufficient grounds for an investigation into whether these attacks constitute war crimes.
Ibrahim Ibraigheth said:

"ActionAid Palestine unequivocally condemns this killing and our thoughts are with Shireen's family and all those who mourn her death.

We demand accountability and an end to impunity for the killing of Shireen Abu Aqleh, as well as for the continuing expansion of Israel's illegal and brutal occupation of Palestinian territories. International Law and human rights must be upheld.

We call on all parties, including Israel and its allies, to cooperate with International Criminal Court investigations into Israeli war crimes, including illegal settlements and attacks on journalists." 
Today, more than 13 million Palestinians are scattered around the world, with just under five million living in oPt, over 1.5 million still living in the territory that became Israel in 1948, and over 6.5 million in exile and diaspora.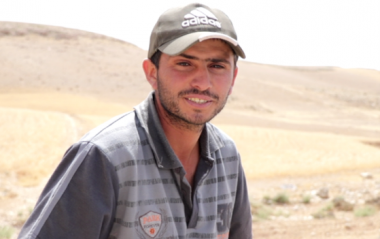 Mohammad Issa Hamad, from Al-Tabana, Masafer Yatta
Mohammad is 29 years old, and he has a family consisting of seven members, who are stressed about being able to stay on their land. He says: "We will not leave this area because we do not have any alternative land. We will not accept the decision of Israeli occupation. We have inherited this land from our ancestors. Occupation confiscates lands, prevents us from sheep herding and closes roads. Our message to the world and organizations is to demand them to condemn this decision because it is racist. For this reason, we also demand them to support us and our village of Al-Masafer."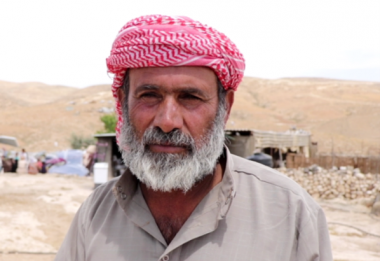 Mohy Sabha, resident of Al-Fakhiet, Masafer Yatta
"The Israeli army comes from time to time to demolish our homes. [These attempts] will not terrify us.  We will stay here. We will continue building our house when they demolish it. This displacement greatly impacts our livelihood since our only source of income is livestock. However, we will not leave our land because we do not have any other alternative land. We demand the world to help us establish our rights and consider our case."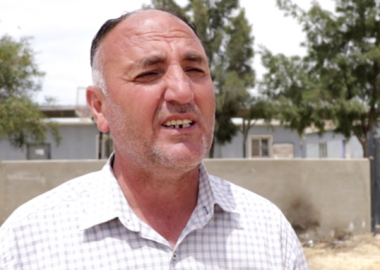 Nidal Younis, the head of the village council of Masafer Yatta
"The Israeli occupation is a flagrant violation of international humanitarian law and conventions. Our message to all peace advocates in the world is to take action to condemn this occupation and practical steps that could stop its practices. Israeli forces demolish houses without any legal justification. There are hundreds of houses threatened by demolition after the decision of the Israeli court."