Five climate justice benchmarks for a successful COP26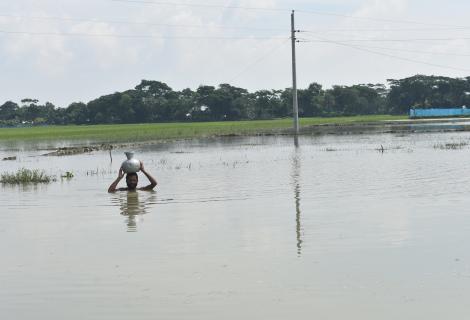 Here's what the experts say is required from this landmark climate summit
ActionAid's expert spokespeople and young activists from the Global South are available for interviews, briefings and commentary throughout COP26 
Glasgow, 29 October 2021 – Ahead of the G20 summit and COP26 climate talks, ActionAid is setting out five climate justice benchmarks to build trust and deliver the action needed to limit warming to 1.5˚C. 
The international social and gender justice organisation, which works with women and girls living on the frontlines of the climate crisis, will be bringing their voices to Glasgow as vaccine inequality and Covid-19 restrictions drive exclusion from this year's summit. 
Teresa Anderson, Climate Policy Coordinator at ActionAid International, says: 
"The world is holding its collective breath as COP26 is set to decide our shared future. The negotiations will reveal whether the wealthy countries most responsible for the climate crisis can step up on the ambition and finance needed to protect communities on the frontlines, limit warming to 1.5˚C and prevent catastrophic climate breakdown.  
"A successful COP26 will put people and the planet before profits and business-as-usual. It will recognise that women, Indigenous Peoples and communities in the Global South are already leading the fight against the climate crisis and need urgent support to scale up their response. It will deliver real action to cut emissions to real zero. 
"As the terrifying reality of increasingly frequent and severe heatwaves, wildfires, flooding and hurricanes is already with us, it's too late for anything but radical and transformative action."   
ActionAid's five climate justice benchmarks for a successful COP26:
1.    Countries most responsible for our warming world must pay their fair share of climate finance to those hit hardest but who have done the least to cause the climate crisis. This must be in the form of grants, not loans, which are pushing climate vulnerable countries further into debt and poverty. It is also crucial that adaptation projects receive at least 50% of climate funding, and that these are led and designed by women and their communities in the Global South who are most affected by climate change.
2.    Years of climate negotiations have failed to deliver a new financing mechanism to support countries to recover from the impacts of the climate crisis. Loss and damage finance must be on the table at the negotiations and COP26 must deliver a decision on a new loss & damage fund to support climate vulnerable communities, including women and girls, in the Global South.
3.    To have a realistic chance of limiting warming to 1.5°C, climate targets must bring emissions down to Real Zero, not Net Zero. Real plans for real transformation in energy, food, transport and industrial systems are needed, based on just transitions and countries' fair share of action. Too many Net Zero climate plans are based on far off 2050 targets when action to cut emissions and phase out fossil fuel production must start today. The majority of Net Zero plans legitimise emissions-as-usual through carbon offsets, long-shot technologies and land grabs. ActionAid research shows there isn't enough available land on earth to meet the demand for planting the vast new forests, bioenergy crops and unproven technology that so many Net Zero' plans rely on.
4.    Article 6 negotiations must not be allowed to crank open the loopholes and double counting in carbon markets that allow polluters to carry on polluting business-as-usual. Carbon offsetting, whether included in Net Zero climate pledges or traded as part of carbon markets, is being used to greenwash climate inaction and threatens to drive land grabs and human rights infringements in the Global South. 
5.    Agriculture negotiations must agree a transition away from the harm caused by industrial agriculture and intensive animal farming, towards agroecological farming practices. These farming techniques work with nature, build climate resilience and cool the planet – while improving land rights and access to markets, including for Indigenous communities, rural women and smallholder farmers. All Parties must include ambitious and rigorous environmental protections into their Nationally Determined Contributions (NDCs) to prevent further loss of biodiversity and wildlife. 
ActionAid spokespeople at COP26:
Teresa Anderson is ActionAid International's climate policy coordinator. She leads ActionAid's climate policy work on land, agriculture, l Net Zero, carbon offsets, just transitions and climate finance. Teresa is running a project to communicate the problems with Net Zero climate targets and carbon offsets, and to push for plans to cut emissions to Real Zero. She coordinates the Climate Action Network (CAN) working group on agriculture. She will be analysing outcomes from the negotiations at COP26 and is available for interview throughout the talks. Follow her on Twitter @1TeresaAnderson.
Diaka Salena Koroma, 30, is a climate activist and social entrepreneur from Freetown, Sierra Leone. She is a member of ActionAid's youth-led activist network, Global Platforms. She is the CEO of Sènekela Ltd, a social enterprise that promotes sustainable agricultural practices. Sènekela means 'farmers' in Diaka's local language, Madingo. Sustainable farming is deeply entrenched in her family's history and her grandmother taught her about the importance of protecting the environment. After Freetown faced devastating flooding and a deadly mudslide in 2017, Diaka has mobilised young people in her community to support survivors, protect the environment and campaign for measures to build resilience to climate disasters. Follow her on social media: Facebook Di´aka Salena Koroma, Instagram diakathekqueen and Twitter @DiakaTheKQueen
Lars Koch is policy director at ActionAid Denmark. He specialises in analysing climate finance commitments from Global North countries on adaptation, mitigation and Loss & Damage finance. He is also working on ending private and public finance for fossil fuels, engaging with public investors, banks and institutional investors like pension funds. Lars closely follows Danish climate policies, including the Beyond Oil and Gas Alliance launched by Costa Rica and Denmark, and emission reduction targets. He is available for interview in Glasgow throughout COP26. Follow him on Twitter @larskoch.
Nils Mollema is the climate justice policy advisor at ActionAid Netherlands where he is responsible for following developments in climate finance, Loss & Damage, climate policy coherence, and net zero. Nils has also been the spokesperson for ActionAid on the historic Royal Dutch Shell Climate case. He will be analysing outcomes at COP on net zero targets, climate finance, Loss & Damage and fossil fuel financing. Nils is available for interview on these issues and net zero throughout the talks. Follow him on Twitter @MollemaNils.  
Safa' Abed Alnabi Mohammad Almomani, 33, is a climate activist and sustainable development practitioner from Amman, Jordan. She is a member of ActionAid's youth-led activist network, Global Platforms. She is a specialist training consultant with the Sustainable Energy and Economic Development project in Jordan, which raises awareness about access to renewable energy technologies. Safa' attended COP25 in Madrid and has taken part in a youth training scheme to prepare the next generation of young Jordanians to be committed to climate and environmental issues and prepare to be future climate negotiators for Jordan. 
Sophie Rigg is ActionAid UK's Senior Climate and Resilience Adviser and leads their climate policy and research work focusing on the intersection of gender justice and climate justice. She specialises in locally led and gender just climate adaptation, climate resilience and climate finance. She is also an observer on the Climate Investment Funds and UK national focal point for the Global Network for Disaster Reduction. She is available for interview in Glasgow during the second week of the talks and can focus on women's leadership in tackling the climate crisis (8-12th Nov). You can follow her @RiggSophie
Tetet Nera-Lauron is senior climate lead at ActionAid International. She has been actively involved in climate, social, economic and gender justice issues, with significant experience of official intergovernmental negotiations and within civil society and movement spaces. Tetet will be analysing outcomes from the negotiations at COP26 around Loss & Damage, particularly on the gendered impact of climate migration. She is available for interview in Glasgow throughout the talks. Follow her on Twitter @tetetlauron. 
Ends. 
For more information and interviews contact Jenna.Pudelek@actoinaid.org (+447795642990) or Jess.Midwinter@actionaid.org (+447858436362).