ActionAid joins calls for COP26 to be postponed as vaccine inequality sidelines voices from the Global South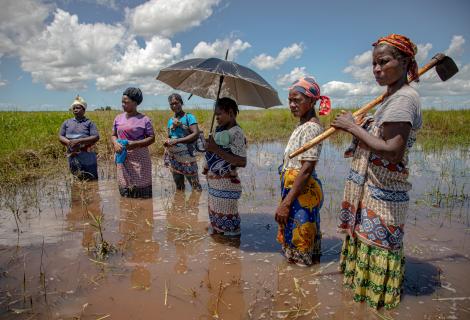 As a member of Climate Action Network (CAN) International, ActionAid has joined calls from across civil society and the Global South for the UN Climate Summit (COP26) in Glasgow to be postponed.
Teresa Anderson, climate policy coordinator at ActionAid International, says:
"Vaccine inequality is excluding too many countries and civil society organisations in the Global South from attending COP26. ActionAid is therefore joining calls for the summit to be postponed.
"Women and young people in the Global South are already bearing the brunt of the climate crisis. Without their voices and equal representation of governments and civil society from developing countries, the negotiations will reinforce power imbalances and serve the agendas of big polluters over vulnerable communities.
"COP26 needs to deliver on climate finance and provide support for communities already facing the loss and damage caused by climate impacts. The tricky negotiations around carbon markets will also determine the extent to which governments and corporations can purchase carbon offsets to meet their net zero targets, instead of taking real climate action. 
"We cannot expect fair or effective outcomes on these key issues affecting communities on the frontlines of the climate crisis if delegates from developing countries are unable to participate on a level playing field."
Negotiators, journalists and members of civil society organisations from the Global South have raised concerns that with less than two months to go until the start of COP, they still have not received the vaccines promised by the UK organisers of COP26. Those from red list countries, say they are unable to afford the additional travel and quarantine costs of attending.   
Dinah Fuentesfina, campaigns manager at ActionAid International, says:
"Vaccine inequality is responsible for sidelining delegates from the Global South and preventing a safe and inclusive COP26.
"The policies of rich country governments have prevented people in developing countries from accessing Covid-19 vaccines and health technologies.
"Countries, including the UK and Germany, have failed to back demands from over 100 nations in the Global South calling for a waiver of intellectual property rules on Covid-19 vaccines and treatments that would boost production and distribution of the life-saving jabs.
"These decisions have directly impacted many developing country delegates from communities hardest hit by the climate crisis, who now are unable to travel safely and affordably to Glasgow."
CAN International's statement to the UK organisers of COP26 calls for the formal negotiations to be postponed until progress can be made on access to Covid-19 vaccines to ensure better representation of all participants, especially those from the Global South.
COP needs to ensure the safety and inclusive participation of delegates. This requires:   
A clear roadmap from rich countries on how to increase vaccine access in developing countries.
The UK government endorsing an IP waiver for a People's Vaccine and put pressure on other developed countries to back the measure. 
Strictly following all World Health Organisation recommendations for safety and providing clear behaviour guidelines for all participants.
Safe physical space for civil society action and side events.
Ensuring sufficient space and ventilation in negotiation rooms to avoid overcrowding or where people are excluded due to numbers.
Travel support to Global South participants to address the additional costs of travel due to Covid.
Funding for mandatory quarantine in the UK.
Healthcare support in the event of any participant contracting the virus both in the UK or on their return home.
Ends.
The full statement from Climate Action Network (CAN) International is available here. 
For more information and interviews contact Jenna.Pudelek@actionaid.org or call +447795642990.