Nigerians trafficked to Ghana and forced to work as cyber-criminals for ruthless gangs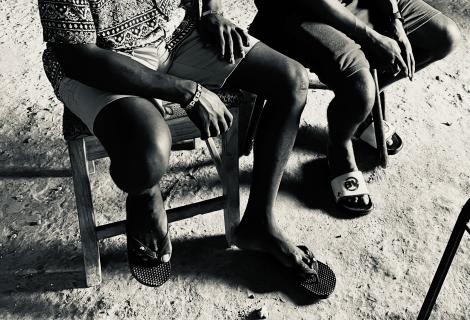 In 2022, the International Labour Organisation revealed that 50m people worldwide were trapped in forms of modern slavery. An increase of almost 10m since 2017.[i] 
Around 27.6m of these were engaged in forced labour, most of which takes place in manufacturing, construction, agriculture, and domestic work. However, hundreds of thousands of people are also forced to work against their will in illicit activities, such as cyber-crime[ii] and subjected to multiple forms of coercion including withholding of wages, forced confinement, violence, and deprivation of basic needs, to keep them working.[iii]
In Ghana, ActionAid's Combatting Modern Slavery project team is working with communities and authorities to identify, rescue and return people, many of whom have been trafficked from neighbouring countries by ruthless perpetrators to work in inhumane conditions.    
Enticed by false promises of well-paid corporate jobs in Ghana, Daniel and 14 other young men from Nigeria were scammed by online traffickers. Once in Ghana, they found themselves trapped by a criminal gang and forced to meet daily 'cyber-crime' targets or face the wrath of the gang leaders. 
Daniel had dreamed of becoming a fashion designer, but on arrival in Ghana, he realised that the "friend" he had met online, was actually a trafficker, who handed him over to the 'boss', a violent and abusive man.  
After seizing his identity documents and personal belongings, the criminals forced Daniel to work for long hours locked in a warehouse with tight security alongside others who, like him, had fallen for the promise of a better life.  
Food and wages were withheld, and Daniel and the others were given one job: to catfish and scam western women by posing as military men. They were given weekly 'military dating' targets, which they dared not fail to meet: 
 "Each week, you must submit a list of accepted Facebook friend requests, and if you fail to reach your target, you face severe punishment. The "boss" will instruct the senior boys to beat you severely, or sometimes he does it himself."  
On one occasion one of Daniel's online victims paid over £500, a sum he said was considered relatively small and angered the boss. The conditions were unbearable, and after a week, he begged to be released.
"We were fed once a day. Where we were held there in the room, you cannot talk, you cannot chat. They seat you…you cannot even move. I was feeling so bad, there. I told the man; I want to go back to Lagos. He said I had to pay him a sum of 500 Naira (£870) before he would allow me to go and before I leave, he will beat me and take my phones." 
Fortunately, Daniel was rescued by the Ghana Police Service after a tip-off from a concerned citizen. The police raided the premises and Daniel, and the others were released and sent to a shelter, where ActionAid Ghana provided direct support for their upkeep and other necessities during their stay. 
In collaboration with the Anti-Human Trafficking Unit of the Ghana Police service, ActionAid Ghana also facilitated family reunification for those who wished to return to Nigeria, covering the costs of their transport and a police escort. In total, 31 survivors were repatriated to Nigeria, but Daniel decided to stay and is now, finally working as a fashion designer in Ghana. 
The perpetrators are still being prosecuted. 
According to the United Nations Office on Drugs and Crime's global report on human trafficking[iv] the number of victims trafficked for criminal activity continues to rise, and unfortunately so does impunity, with countries in Sub-Saharan Africa convicting fewer traffickers and detecting fewer victims than the rest of the world. 
Discussing his team's collaboration with ActionAid, at the start of 2023, Chief Superintendent Mike Baah, Director in Charge of the Ghana Anti-Human Trafficking Unit reinforces his team's mission to tackle impunity: 
"Last year we convicted four individuals convicted with sentences ranging from five to 15 years. This year, although we have not even finished the first quarter, we have convicted seven."
Despite these achievements, the challenge of tackling modern slavery and human trafficking, remains huge. 
However, against the backdrop of global commitments to eliminate human trafficking by 2030, the Combatting Modern Slavery project will continue working with communities and authorities in Ghana an effort to reach every victim of trafficking and leave no-one behind.  
Disclaimer: we have a pseudonym to protect the identity of the survivors. 
---
[i] https://www.ilo.org/global/topics/forced-labour/publications/WCMS_85473…
[ii] https://www.ilo.org/global/topics/forced-labour/publications/WCMS_85473…
[iii] https://www.ilo.org/global/topics/forced-labour/publications/WCMS_85473…
[iv] https://www.unodc.org/unodc/data-and-analysis/glotip.html