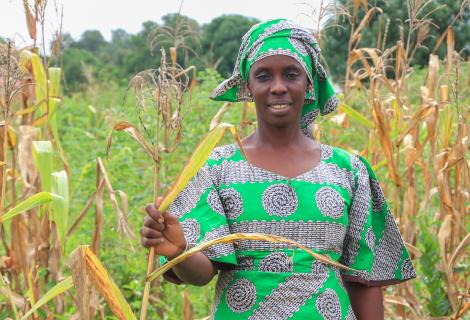 Climate disasters are destroying the lives and livelihoods of millions of people worldwide. Fossil fuels and industrial agriculture are fuelling the destruction of our planet, driving up carbon emissions and pushing the warming of our world to the brink.
There is an urgent need to scale up existing sustainable alternatives, like agroecology, and move away from industrial agriculture if we're to stop spiralling temperatures.
Agroecology is a way of farming and managing crops, livestock, forests, fisheries that is viable, long-lasting, resilient to climate change, and offers various other environmental, social and cultural benefits such as addressing food and water scarcity, and poverty.
Sustainable agriculture or ecological agriculture can be seen as an umbrella that covers several ways of doing sustainable agriculture, like permaculture, organic agriculture, biodynamic agriculture, and agroecology. Agroecological approaches are the most effective means of adapting to climate change. By improving the health, structure and nutrition of soil through the use of compost, manure, mulching or green manures, they reduce erosion, improve plant health, and increase the ability of soil to absorb and retain water in times of both drought and flood.
Read the stories of people who are putting agroecology into practice in The Gambia:
Saidou's Story
ActionAid The Gambia secured funding through ActionAid Italy from the Corti Foundation in Italy to implement a project titled: Protective Services and Economic Alternatives to Potential Youths and Returnees.
The project empowers young people with skills to address the issue of rural-urban and irregular migration (where people move to a new place of residence outside the regulatory norms) through the Mediterranean Sea. The implementation of the project started in May 2022 at ActionAid's Climate Resilient and Sustainable Agriculture (CRSA) Demonstration Farm in Dalaba Village. Every three months, a group of over twenty young people are trained on horticulture, small ruminant (hoofed herbivores like sheep), and poultry production. After their graduation, they are provided with funds to start their own businesses.
Saidou was one of the first ActionAid Gambia trainees, and was trained in horticulture, small ruminants and poultry production. Saidou decided to specialize in small ruminant production.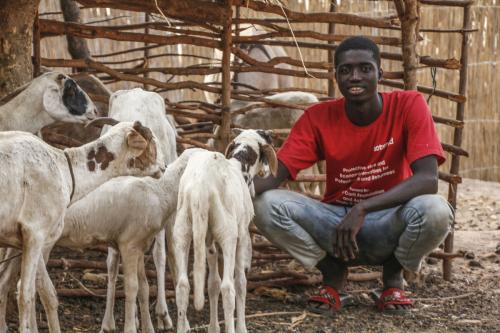 Saidou lives with his parents, and although he did not attend school, his siblings all did. Before attending ActionAid training, his farming income was not enough to cover his needs. His older brother was working in the city, and Saidou thought this might also be a good option for him before his sister told him about the ActionAid programme.
At first, I was a bit reluctant because I thought I would not be able to pursue it together with the amount of domestic work I have to do.
Saidou learnt how to protect and care for livestock, and how to breed, buy and sell their animals. After the three months of training concluded, he was given money to start on farming animals. He bought some sheep and got to work.
Right now, I have 8 sheep. In the future I want my business to expand with 200 sheep and above. This will help me take care of all my needs without relying on anyone. Now I am not thinking of going to the city to look for a job.
Saidou said that though he knew the 'backway' (irregular migration, where people move to a new place of residence outside the regulatory norms), he didn't think about undertaking it himself. He explained to us that the ActionAid programme has prevented his peers from considering the option.
The project is changing the lives of the youth of Niamina. It has prevented some of my colleagues from venturing into irregular migration, and it has also prevented me from going to the city. This is a good project and I hope it will continue so that it reduces the problems that the youth of Niamina are facing including irregular migration.
Fatou's story
Fatou is a farmer and businesswoman, who is supported by ActionAid Gambia through poultry farming; a programme that started in the area in 2020. She lives with her husband and her children in a village in the Upper Niumi region, which is on the shores of the River Gambia.
Before receiving poultry support from ActionAid, Fatou was struggling to manage farming workloads as her children were going to school and her husband has lost his eyesight. Previous to the programme she had not been involved in rearing poultry or other small farm animals.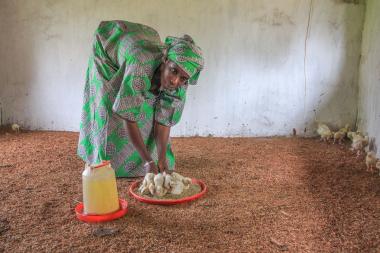 After Fatou undertook training, she received funds to start her poultry farm and built a chicken house, bought chicks and equipment. Following the success of her chicken sales, Fatou has cultivated crops and was able to buy two goats, and has since bred them bringing her heard to a total of four. Because of her success, she has set up her business with official documentation and opened a savings account.
Fatou hopes to use her profits to add equipment like refrigerators to the farm, and continues to support her family:
I use part of the proceeds to feed my family, buy school uniforms for my children, provide clothing for them and take care of their other needs. I [don't have] a lot of money in my savings because I have a huge responsibility, and I want the business to grow.
I would need further support to get solar power and a refrigerator. This will help me expand my business so that I will be able to raise up to 500 chicks at a time. When that happens, I will be able to slaughter some of them, dress them and keep them in the refrigerator. That will make my business very [efficient].