Beyond affordability: a dual crisis for young women in Nigeria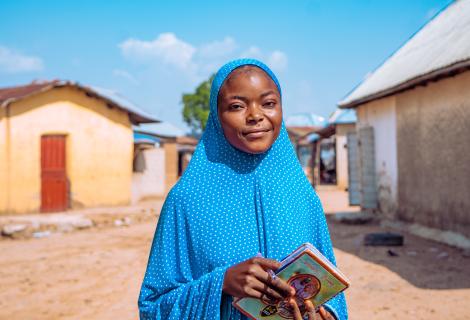 In a world facing an unprecedented cost of living crisis, local communities in the Global South are again bearing the burden of severe price rises for essentials such as food, fuel, and fertilizer.
Even before the invasion of Ukraine, communities across the world were grappling with the far-reaching effects of the COVID-19 pandemic. In 2020, a year that tested the resilience of so many, food security surged to alarming levels surpassing the previous five years combined. Then in 2022, the invasion of Ukraine resulted in even sharper rises of food, fuel, and fertilizer prices as the war impacted supplies from both Russia and Ukraine, which are among the world's top exporters of these products. Our research released in May 2022 in the report "Doubly Devastating" revealed that local communities were paying double, triple, or even close to four times what they had been paying for food, fuel, and fertilizer before the war began.
Now, ActionAid's new and more detailed research has found that families are spending up to ten times what they paid almost 16 months ago for food, fuel, and fertilizer. While global prices have dropped by 11.7% since February 2022, our research finds that prices in local communities in the Global South have increased to crisis levels. 
In Nigeria, students especially are grappling with a multitude of new challenges due to the severe price rises, making it difficult for young people like Fauziya Shekwaye to afford essential tools for their education, adding to the already burdensome circumstances. She shared with us:
"It has not been easy for me in school because photocopying of a handout is now expensive. It used to be 5 naira for two papers, but right now it is 30-50 naira. A 40-page exercise book used to be 300 naira, but it's now 800 naira. You cannot even buy 40 leaves dozen, it's now 100-150 naira per one. Because of fuel scarcity, we do not have electricity anymore and people are suffering a lot right now."
Community leaders in countries surveyed in our latest report said that the increased cost of living has led to higher school drop-out rates among children as parents also struggle to afford school fees or are forced to rely on child labor to support their livelihoods.
For Fauziya, soaring prices for school materials are just one component of the impact on her and other women in her community. Basic household items, like detergent once priced at 50 naira, have inflated to 200 naira. Many parents are resorting to using makeshift alternatives for diapers since they are no longer able to afford them, which is compromising the health and well-being of their babies. Sanitary pads have also become impossible to secure:
"Always pad company used to share sanitary pads with us for free, but now when they give to us the people sell the pads instead so as to get money because of the hardship. Pads used to be 150 naira then, but I can assure you that it is almost 500 naira now, and the quality and quantity is no longer same like before."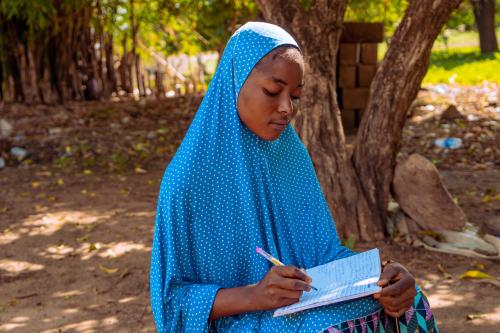 Local communities have been pushed beyond the brink of survival. 62% women surveyed in Nigeria said they are now in debt because of the price rises. That's why ActionAid is advocating for a holistic approach and adequate funding that tackles all interconnected crises exacerbating the price crisis, including climate change, debt stress, the COVID-19 pandemic, and the profound repercussions of the Russian invasion of Ukraine.
Read our latest report and recommendations here.
Read about other women in Nigeria navigating the impacts of the price rise crisis: