Young Palestinians show solidarity with farmers during olive harvest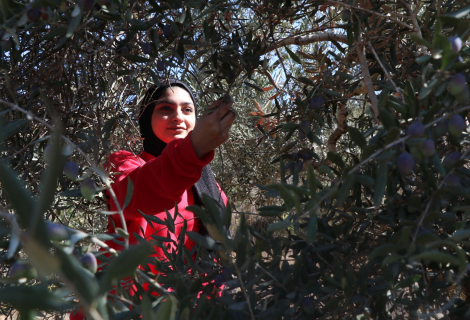 Bethlehem, West Bank – Palestinian youth groups have joined farmers to help with the olive harvest in Al-Makhrour, near Bethlehem. This is the latest in a series of actions arranged by ActionAid Palestine (AAP) in partnership with the Joint Advocacy Initiative of the YMCA and Alternative Information Centre.
This activity was to show solidarity with Palestinian farmers residing in areas next to Israeli settlements, located in Area C, which are hotspots for settler violence.  
Palestinian farmer, Joseph Al-Masou, owns a piece of land in Al-Makhrour area. He could not bring agricultural equipment to his land due to Israeli restriction of movement. He says: "Olive trees are not only affected by illegal settlements, but they suffer from the climate crisis and rising temperatures which impact all trees. My land was full of grapes, but now most of them died due to drought." 
According to official data, there are around 12 million olive trees planted across 45% of the West Bank's agricultural land. The olive harvest constitutes one of the biggest sources of economic sustainability for thousands of Palestinian families in the occupied Palestinian territories(oPt). Olive farming supports the livelihoods of more than 100,000 families and accounts for a quarter of the gross agricultural income of oPt. 
Sizar Hadad is a young volunteer who took part in the action. "I am happy to participate today in olive picking because we revive the legacy of our grandparents," he said. "We came to help farmers in al-Makhrour area to strengthen their resilience and existence on this land because they face violations on a daily basis because of land confiscation." 
The olive harvest season in Palestine used to be a time for happy family gatherings and joy. However, this reality has been changed since an increase in Israeli settlers' attacks against Palestinian farmers and their families. According B'Tselem – The Israeli Information Center for Human Rights in oPt - there were 27 documented cases of settler violence so far in the current harvest season, including the destruction or uprooting of more than 1,500 trees, mostly olive trees. 
The media coordinator of the Joint Advocacy Initiative of YMCA, Ibrahim Hanoona, said: "Collective olive picking helps to build the resilience of the Palestinian farmers and people whose lands are threatened, and protect olive trees and Palestinian land. It is important to raise the awareness of the Palestinian youth about the importance of land and olives."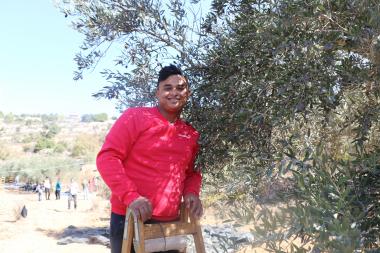 Since 1967, Israeli illegal settlers have uprooted an estimated 800,000 olive trees, according to The Applied Research Institute Jerusalem (ARIJ). In the last 15 months alone, more than 9,000 olive trees have been destroyed in the West Bank, according to the International Committee of the Red Cross (ICRC). 
Wadi Al-Makhrour is a natural and agricultural area located in the western part of Bethlehem city. It extends for approximately 3,000 dunams and is threatened by confiscation of land and illegal Israeli settlements.
Although there are some small agricultural structures in Al Makhrour, residential building is prohibited due to the restrictive planning regime applied by Israel on Palestinians in Area C.