Palestine Day: More than 600 people join ActionAid Palestine's Walk for Freedom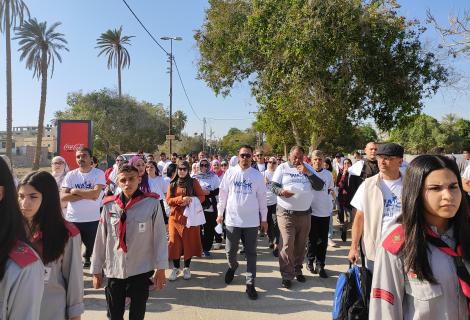 To mark International Day of Solidarity with the Palestinian People (29 November), ActionAid Palestine and the Lejan youth group organised a Walk for Freedom through Jericho city.
More than 600 people from Palestinian communities facing forced displacement took part in the walkathon on Saturday (27 November) which started in the city centre and ended at the historical Hisham Palace.
The route included information tents to represent cases of land theft and settler colonialism.
Walkers were briefed about how forced displacement breaks international law, from the Nakba (Catastrophe) when at least 750,000 people were expelled from their homeland in 1948, to current cases in areas including Sheikh Jarrah, Silwan, East Jerusalem, the Jordan Valley, Masafer Yatta, Beita and Gaza.
Opening the walkathon, the Deputy of the Governor of Jericho, Yusra Al-Sewiti said: "This activity stresses the unity of the Palestinian people. It represents a supportive message to the struggle of our people against trial of occupation seeking to change the demographic reality and imposing false truths on the ground."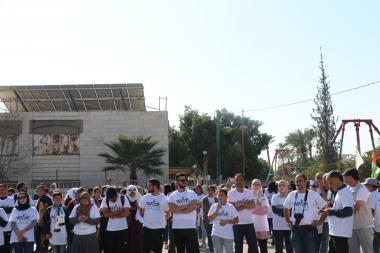 Aref Hamad, who lives in Sheikh Jarrah, where 500 people (28 families) are facing forced displacement from their homes, said seeing support from so many people around the world on social media is vital for his community in two ways.
"The first impact was on the ground with the national and popular mobilisation making the Israeli occupation think deeply when it is close to making a decision related to our displacement," he said. "The second impact has a psychological effect on our families and children who believe that people can support them, and unity is essentially needed."
Ayman Gharieb, a Palestinian youth activist from the Jordan Valley, said: "In the Jordan Valley, our tents are being demolished. Shoes, toys and wishes of children are being confiscated. All living things and resources are being confiscated including water sources, sheep, fodder, pastures, and mountains. Trees are being burnt and we are deprived from accessing water."
Mahdi Hamyal is from Beita in Nablus governorate in the north of the West Bank, which is exposed to threats of displacement and land confiscation.
"The Israeli occupation has been trying to confiscate and control Sabeeh mountain, while Beita continues its resilience and existence," he said. "We will not accept occupation. We demand such solidarity activity to support all families. We need to keep resilience and adhere to national unity."
Yacoub Al-Rajabi, who lives in Silwan in East Jerusalem, said: "This solidarity walk today in Jericho is to stress our national rights to an independent state and support our resilience."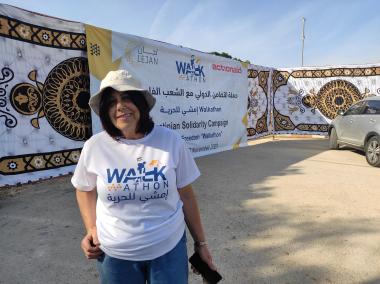 Sameera al-Djani-Budieri, who lives in Sheikh Jarrah, said: "The activism of young people from all communities facing displacement is contributing to breaking the silence and conveying our message and voice to the world."
The Walk for Freedom in Jericho coincided with solidarity activities organised by young activists in Denmark and Jordan, supported by ActionAid, to raise awareness of continuing attacks on Palestinians' rights and freedoms in the occupied territories.
In Denmark, Danish youth groups will organise an assembly this week where they will deliver and read messages sent from young Palestinians who are facing forced displacement.
In Jordan, the women's center in Baqa'a refugee camp organised an initiative entitled, We Will Not Forget. This included storytelling, presentations, Dabkka dancing to strengthen the belonging of new Palestinian generations and enhance their knowledge about their Palestinian identity.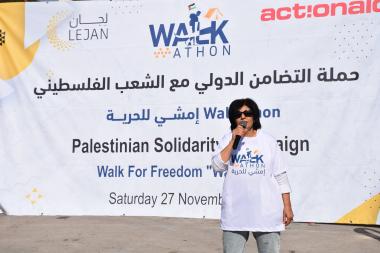 As International Day of Solidarity with the Palestinian People is marked today, 2021 has seen the Israeli occupation continue to violate international law. It has escalated its destruction of homes, crops and possessions, and has freely exploited Palestinian resources, including minerals and water, in flagrant violation of international conventions.
The threat of annexation of parts of the West Bank continues to be a concern in 2021. According to the latest UN figures, 629 houses were demolished, and 767 Palestinians were displaced in the West Bank, while 137 houses were demolished, and 238 Palestinians were displaced in East Jerusalem during 2021.
The siege in Gaza continues to be a form of collective punishment. Palestinians in Gaza are already living with limited access to electricity, drinking water and healthcare. Covid-19 restrictions have decreased access to clean water and sanitation for almost 2 million people.
The escalation of hostilities in Gaza in May 2021 saw at least 232 Palestinians, including 65 children, killed. The massive psychological and material damage will take many years to heal.
Area C, which Israel administers, covers over 60 percent of the West Bank. More than 600,000 illegal Israeli settlers live in 145 settlements built since Israel's occupation of the West Bank and East Jerusalem in the 1967 Middle East war.
According to international law, these settlements are illegal. Yet, Palestinian communities face threats of forcible transfer. Residents of these areas live in a state of layered and constant fear, of Israeli settler attacks and of the demolition of their homes and schools. They also regularly face temporary forced displacement from their homes for military exercises and are exposed to stray bullets and unexploded weaponry.
Ibrahim Ibraigheth, Country Director of ActionAid Palestine, said: "The international community can and must play a greater role to break the impasse. We also urge it to work together for a free Palestine noting that violations of human rights won't be tolerated.
"Supporting Palestinian rights will support international justice for Palestine and the region. 2021 has been a terrible year for Palestinians, however, we hope that 2022 will be easier for Palestinian youth and people so that they can stay in their lands and homes and enjoy their human rights guaranteed in international law and conventions."