"Shell is threatening all our rights" - Oil giant's human rights record on trial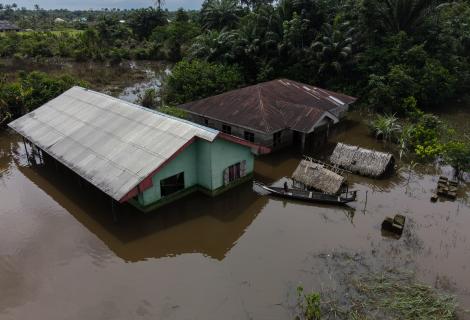 As the climate hearings against Shell continue in The Hague this week, two of the 17,000 Dutch citizens who signed up to be co-plaintiffs in the case will tell the court how the fossil fuel giant is threatening their right to life by failing to act to prevent catastrophic climate change.
Shell has known that drilling for oil and gas causes climate change for decades and is among just 100 fossil fuel producers responsible for 71% of the harmful greenhouse gas emissions causing global warming since 1988. Despite knowing the consequences of their polluting activities, Shell continues to aggressively invest in fossil fuels. The devastating impact of its business model is most apparent in the Niger Delta, where communities are being hit by pollution from oil spills and gas flares, as well as climate disasters. 
Speaking from The Hague ahead of the hearing, Nils Mollema, climate justice policy advisor at ActionAid Netherlands, said:  

"By continuing to aggressively extract and sell oil and gas, Shell is threatening all our rights. The experiences of the two co-plaintiffs are representative of the billions of people globally whose lives and livelihoods are at risk due to the climate crisis.  

ActionAid supports communities in the Niger Delta whose lives are not only impacted by Shell's polluting activities, but who are already being hit by climate disasters. People in the Global South are being most affected by an emergency they did the least to cause. 

Shell and other polluters have a responsibility to act to protect people and the planet."
Countless lives and livelihoods have already been devastated in the Niger Delta. Waterways contaminated by massive oil-spills and persistent gas flaring have decimated fish populations, resulting in a sharp rise in hunger. It's fisherwomen like Martha Onisuru from Erhoike community who are being most affected.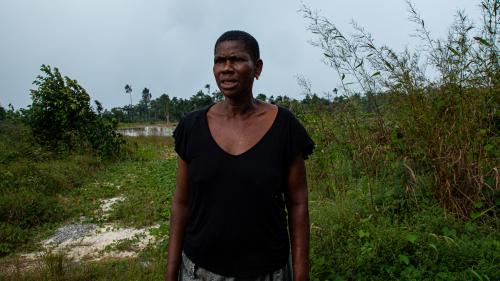 Speaking to Nigerian filmmaker, Nora Awolowo, who recently worked with ActionAid to capture the stories of communities affected by Shell's polluting activities, Martha pleaded:

"Before the arrival of Shell, when we cast our nets, there was always a surplus of fish. Now that Shell has arrived and started burning their fire and spilling oil everywhere, we cannot catch fish. We are now dying of hunger."
ActionAid is one of seven environmental and human rights organisations, led by Friends of the Earth Netherlands, taking legal action against Shell to demand it reduces its emissions in line with global climate goals.