Covid-19 lockdown and school closures force girls into early marriage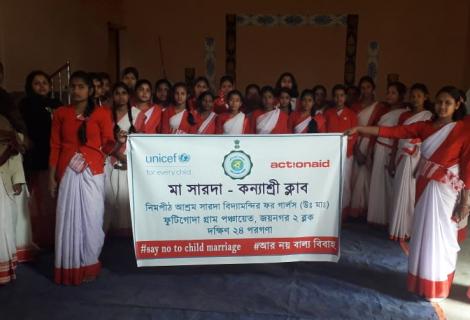 Manisha*, 14, was stuck at home while her school was closed during the Covid-19 lockdown in Odisha, eastern India. During this time, she met Muna, a much older, 25-year-old truck driver, who had returned to their village due to coronavirus restrictions.
Their community heard that Muna had started a relationship with Manisha, and that they planned to elope. The case was reported to the district coordinator from ActionAid's joint Ending Child Marriage programme, who worked with other services providers and the local police to protect Manisha, speak to both families and prevent the marriage taking place.
Manisha's story is one of 256 cases of early marriages reported in the state of Odisha during lockdown.
Ghasiram Panda, the national manager of ActionAid India's Ending Child Marriage programme, supported by UNICEF, says:
"There are multiple reasons behind a spike in child marriages during the pandemic, but they are all linked to rising poverty, financial difficulties and inequality.
"During Covid-19 lockdowns, schools are closed, and many girls are at home, making them more vulnerable to child marriage. Informal workers have lost their livelihoods and there is a higher chance of them marrying their underage daughters to reduce the number of mouths to feed. Some parents are also seeing the lockdown restrictions on the number of people allowed at gatherings as a way to spend less on marriage ceremonies."
As well as Odisha, ActionAid's Ending Child Marriage programme is running in four other states across India, including Rajasthan, Bihar, Jharkhand and West Bengal. The project has helped prevent a total of 305 early marriages from taking place during the pandemic.
The programme provides a network of 52 district coordinators who work closely with local authorities to create task forces to prevent child marriages. They also provide training for community members, including traditional leaders, and raise awareness about early marriage among girls and their families.
"Our work is about disrupting the prevalent social and religious norms that devalue girls," Ghasiram says. "We're working with women's groups and community movements to strengthen mechanisms for reporting child marriage locally."
In the Bundi district of Rajasthan, many of the six reported cases of child marriage between April and June this year, were brought by girls who came forward to stop their own marriages and ask for help.
Soubhagyabati, 16, saw both her older sisters married at an early age. Her father, who works as a daily wage labourer, wanted her to marry a 26-year-old truck driver. He wanted to take advantage of lockdown to push through the marriage without alerting the authorities, assuming they would be too busy battling the pandemic.
Soubhagyabati told her friend how unhappy she felt about the marriage, which she had not consented to. Both girls had attended sessions at a community centre, run by an ActionAid partner, about the health risks of early marriage. Her friend called ChildLine on Soubhagyabati's behalf and the authorities were able to intervene and she escaped the marriage.
In West Bengal, 205 child marriages were reported during the lockdown, with 195 prevented. The state has alarmingly high figures for early marriage, with 41% of women aged 20-24 married before the age of 18. In the rural district South 24 Pargana, the rate is 54% - higher than the overall rate for India more than a decade ago (42%).
As part of ActionAid's community engagement work, girls and young women are being trained to play a more active role in preventing and reporting early marriages.
In South 24 Parganas, two young women leaders became aware that their schoolmate Amina, 15, was at risk of an early arranged marriage. They reached out to report the case to the local project coordinator who informed the authorities and was able to protect Amina and prevent the marriage.
*All names have been changed to protect the identify of girls featured in this piece.