How women first-responders saved lives during Cyclone Bulbul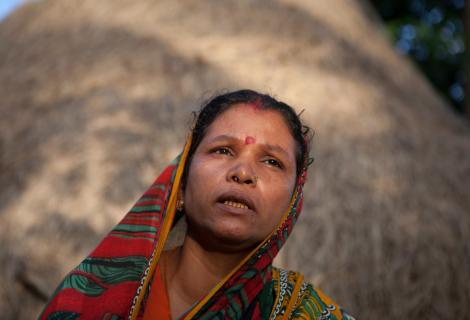 As Cyclone Bulbul hurtled towards the coastlines of India and Bangladesh, Sabita Rani and Hawa Begum were warning their communities about the fast-approaching storm and helping people to reach local shelters. 
ActionAid Bangladesh has trained 350 women like Sabita and Hawa to act as first responders during extreme weather disasters, which are becoming increasingly severe and frequent due to climate change.
Cyclone Bulbul, which killed 20 people in India and Bangladesh, could have been far more deadly. But authorities and NGOs were prepared and evacuated more than two million people to the safety of cyclone shelters.
Sabita Rani is from Patharghata in the southern coastal region of Bangladesh. When she heard that the Bangladesh Meteorological Department had classified Bulbul as danger signal number seven for her area, she knew that her community was at great risk. She called an emergency meeting to discuss safety measures. The first step was to secure dry foods and drinking water.
Sabita participated in identifying three safe centres where people could take cover and then told people where they could find shelters. She went from house to house ensuring community members were safe, especially women, children, older people and disabled people.
"I worked with family members to ensure separate rooms were found for pregnant women and adolescent girls. In our area, violence against women happens mostly during disaster period," says Sabita.
"Many trees got damaged due to the heavy rain and stormy wind. The biggest loss were crops, with thousands of Taka worth (Bangladesh currency) washed away."
Hawa Begum is a women's leader from Pashurbunia village, Bangladesh. When she received the first signal of an approaching storm from the Cyclone Preparedness Programme (CPP), she immediately went to warn local fishermen. She worked with CPP to call an emergency meeting to help prepare ahead of the cyclone hitting.
She also worked with community members to help them keep safe, urging them to protect their belongings and safeguard their houses. Haha said:
"I told them to take shelter in the safe centre to avoid loss and damage."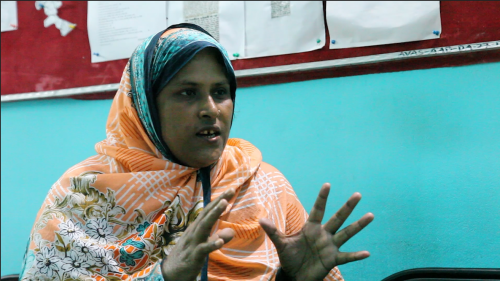 "The storm begun on Sunday morning. Our area goes under water very easily. Houses on one side of the road were drowned," says Hawa.
During the storm she used a microphone from a nearby mosque to try and get everyone safety. About 100 people managed to get to the shelter and a nearby building.
"When the storm calmed and people went back to their houses, I took an update of the loss and damage, houses, roads cattle shelters, crops, tree got damaged, our rice fields were all gone down under the water," adds Hawa.  
Farming and fishing communities across the Bay of Bengal - where Cyclone Bulbul destroyed over 40% of the standing crops - are still recovering from the devastating impact of Cyclone Fani earlier this year.
The extensive loss and damage inflicted upon these communities has severely impacted people's livelihoods and their capability to sustain themselves. Fishermen have lost their nets and famers have lost their crops.
"This storm has destroyed everything. I was enjoying my life, but the cyclone has changed everything," says Jesmin, a climate survivor.
Jesmin, a widow, had her house damaged by Cyclone Bulbul. After receiving an alert, Jesmin and her son went to a cyclone shelter to take cover. There were very heavy rains that day but the following morning she went back home with her son to check on the situation.