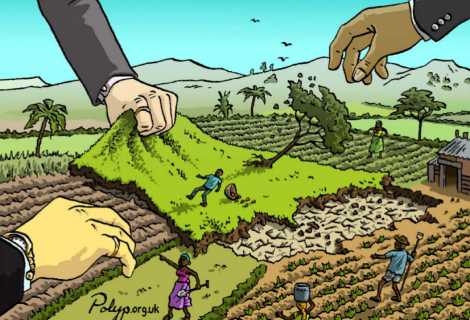 Act On It!
Four key steps to stop land grabs
Downloads
Over the past 15 years, large investors have acquired tens of millions of hectares of land in developing countries. The Land Matrix reports over 1,000 transnational land deals covering almost 38,000 hectares during this period, while many more deals are undocumented. This global land rush is causing widespread forced evictions and denying millions of women, small- scale food producers, pastoralists, gatherers, forest dwellers, fisherfolk, tribal and indigenous people access to key land and natural resources.
Land and natural resource access and control is crucial to people's livelihoods and to ensuring their rights to food, water, work, housing and a healthy environment. Governments and donor institutions have the opportunity and responsibility to deliver policies and actions that mean these rights are recognised and respected. To prevent further land grabbing and help realise the right to food for all, ActionAid urges governments and donors to adopt a human rights-based approach to development and take the following four steps:
Fully implement the Tenure Guidelines on land, fisheries and forests through participatory, inclusive mechanisms that prioritise the rights and needs of legitimate tenure users, especially women.
Ensure free, prior and informed consent of all communities affected by land transfers, including the fair and equitable participation of all groups within local communities, especially excluded and marginalised groups such as women, children, minorities, the elderly and disabled.
Review public policies and projects that incentivise land grabbing and instead support policies that prioritise the needs of small-scale food producers, particularly women, and sustainable land use.
Regulate businesses involved in land deals to make them fully accountable for respecting human rights, tenure rights and environmental, social and labour standards. This includes ensuring that investors carry out comprehensive human rights due diligence, are transparent and fully accountable throughout all their operations at home and abroad.
This report details how governments can use these four steps with a checklist of policy reforms and actions and examples from countries that have implemented them.