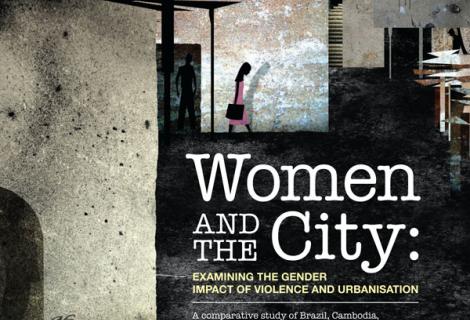 Women and the city
Examining the gender impact of violence and urbanisation
Downloads
This report uses participatory methods to measure safety developed by a range of organisations in the "safe cities movement" to document the lives of women whose knowledge and views of their urban realities is central to creating safer cities.
These groups, among others, include garment workers from urban areas in Phnom Penh, Cambodia, university students around Monrovia in Liberia and informal vendors in Addis Ababa, Ethiopia.
The study explores how violence and insecurity limit poor urban women's mobility and their participation in society. Urbanisation can bring new opportunities, particularly in relation to employment and participation in organised groups, but also brings many challenges. Throughout the world, women experience or fear violence daily, from travelling to and from work and shops to taking their children to school. Moreover, urban men and women have different perspectives and experiences of violence, protection and safety. Analysing these differences is a crucial first step to guaranteeing women's rights to freedom from violence or the threat of it in urban areas.
From a planning perspective, cities often struggle to maintain services and infrastructure that adequately meet the needs and are within reach of growing populations. Poor people, especially women, experience specific barriers. This research shows how women often face the safety and health challenges seen in rural to urban migration, including a lack of access to decent work opportunities, transport and services. Women in cities are all too often blamed for the challenges they face instead of the urban design that fails to take into account gendered impacts. This includes excusing violence on the basis of a woman's choice of dress or her decision to travel alone, at night, or without a male chaperone. Examining the gender impacts of urbanisation is central to informing programmes and policies that reflect women's realities and promote women's right to the city.