Young people are leading tide of change against fossil fuels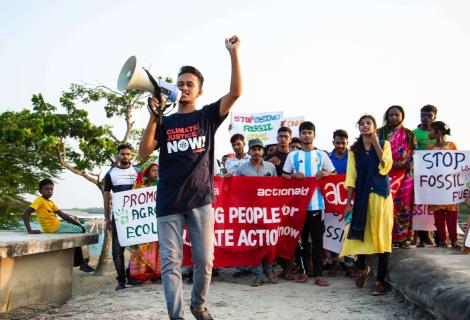 On September 15th and 17th, hundreds of thousands of young people took to the streets globally to call for an end to the fossil fuel era. They are advocating for investments in community-owned renewable energy projects and reparations to communities on the frontlines of the climate crisis. 
This year marks the fifth edition of the Global Climate Strike, first initiated by Fridays for Future in 2018 and now established as one of the most significant events for climate activists worldwide. It's not only attracting youth; the strike is gradually gaining momentum, raising awareness, and influencing public discourse on climate issues, increasing its popularity among a broader audience. ActionAid's Global Platforms have mobilised hundreds of thousands of young people on climate justice this month, and we hear from one young activist, Aklima Akter, founder of Changemakers, who has mobilised for years on her thoughts on climate activism and what the future holds.  
"When I first embarked on this journey in 2018, many people made negative comments about my climate activism, and that's understandable. Climate activism seemed illogical and wasn't considered urgent by the masses, especially in a country like Bangladesh, which constantly grapples with numerous pressing issues. 
I was already an activist working on various social issues, but it was Greta Thunberg—a 15-year-old girl protesting alone to save the Earth—who inspired me to get involved in climate-related activism. She displayed a kind of bravery that adults didn't possess.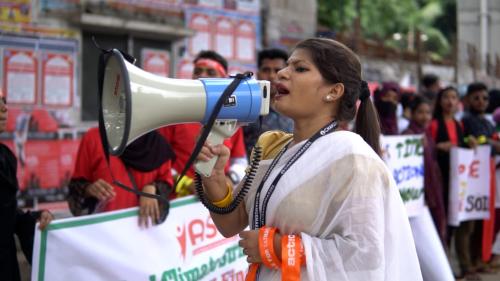 Although I began my journey with climate strikes as a participant, I gradually transitioned into an organiser. I mobilised people from different regions and localities, and together, we conducted climate strikes across the country. 
This year, hundreds of activists, young people, and those concerned for the Earth joined the strike. Despite facing some weather challenges (a testament to the impact of climate change), we successfully completed the strike. People are deeply worried about the prospects of an unlivable world. 
The most significant change I've observed is a shift in mindset among people. During an awareness campaign against single-use plastics last month, I noticed tremendous enthusiasm in young people who dedicated their time and provided positive feedback throughout the campaign. 
Many may question the purpose of all these climate activism initiatives and strikes. However, as more young people continue to amplify their voices collectively, I've witnessed change occurring at local, national, and global levels. Now, youth are actively participating in negotiations, policymaking, and other crucial discussions. This is a profound achievement for all young activists. Our collective voice is being heard and acknowledged. When I speak alone, my voice resonates only in my country, but when we unite with voices from around the world, our message reverberates globally. I hope our voices will gain even more recognition in the future. We are building solidarity, and what drives successful movements if not solidarity? I met people during the strike who share an interest in climate activism and have concerns for the world.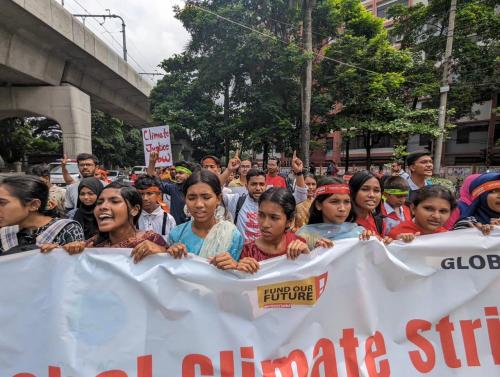 Young people are the Earth's voice. I feel responsible for protecting the Earth for future generations. I participate in climate strikes because I believe it's a tool that can amplify my voice to world leaders, conveying my demands to save the Earth. 
My demands to world leaders are straightforward. First, I want to see an end to fossil fuel financing and the promotion of a transition to renewable energy. They also must support initiatives that encourage behavioral changes toward Earth conservation. I believe that eco-friendly businesses and practices should be promoted by all, and governments should incorporate climate awareness into mainstream education. I simply want a livable Earth for everyone. That is my right. I don't want to be on the streets; I want to return to my campus. But if climate justice isn't assured, I will continue to strike."