On World Refugee Day: Why the world needs to stop being racist to refugees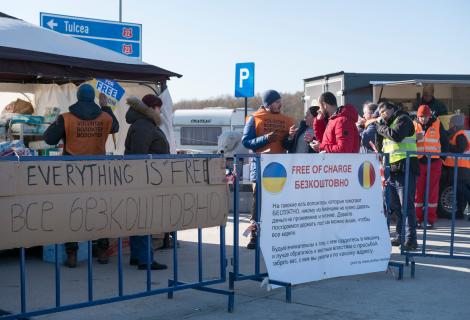 Following the war in Ukraine, there are now a staggering 100 million forcibly displaced people around the world. That means 100 million people who have had to flee; leave jobs, livelihoods and family behind; and suffer gender-based and other types of violence and discrimination. But they also struggle to find a new home, get the basics to survive, be legally recognised as a refugee, make new friends, and find new ways to educate their children. In some cases, they have to do all this in a new language and culture. For World Refugee Day this year (20th June), ActionAid stands in solidarity with people forced to flee violence, war and persecution across the world and calls for equal treatment of refugees and all forcibly displaced people across the world.
According to the UN Refugee Agency (UNHCR), prior to the Ukraine war, 83% of these refugees were hosted by countries with the fewest resources – those in the global south. Four countries have the highest number of refugees – around one third of the global total: Turkey, Colombia, Uganda and Pakistan.
Uganda not only hosts the largest number of refugees in Africa, but it also stands out as treating its refugees with the most respect. The Ugandan government provides plots of land to refugees so they can farm and build shelter, as well as guaranteeing them the right to employment (including starting a business), education and health – giving refugees the same rights as citizens.
This should be the norm, not the exception. Yet so many countries are falling short and seem to forget refugees and asylum seekers are fellow humans. There was, rightfully, outrage in the UK recently when the government announced it would be sending asylum seekers to Rwanda until their claims were processed. But this is not the first or only government to have considered such a deal: the EU signed a deportation agreement with Turkey in 2016 and the US one with Mexico in 2019; recent news reports have reported that the USA could be negotiating sending central American refugees to Spain; Denmark is also in talks with Rwanda to send asylum seekers there.  
Following the war in Syria and influx of refugees in Europe in 2015, the President of the European Council suggested refugees and asylum seekers be detained for up to 18 months to screen them for security and terrorism risks. Globally, Syria remains one of the worst refugee crises in decades, with over 5.7 million Syrian refugees living in other countries, and 6.9 million internally displaced people within Syria. They still desperately need support sourcing shelter, gaining access to services, and finding legal work opportunities.
In contrast, people fleeing Ukraine this year have been welcomed into neighbouring European countries with open arms. Under the EU Temporary Protection Directive, Ukrainian refugees have the right to free moment within the EU, as well as residency rights, access to housing, social welfare assistance, medical care, access to education, and access to employment.
This is how refugees, asylum seekers and internally displaced people should always be treated.
However, even within the response to the conflict in Ukraine, we have seen evidence of cruel double-standards. While white Ukrainian nationals have been welcomed as refugees, non-white nationals and non-Ukrainian nationals have been shown racism and denied access to aid and the right to cross the border safely. We even heard one story about a refugee who miscarried but was still turned away from a bus about to cross the Ukrainian border, denying her access to the medical assistance she so desperately needed. The treatment of Roma refugees, many of whom are Ukrainian nationals, has also been shocking. Roma refugees have often been sent to separate shelters – the Roma shelters having, in one example we witnessed in Moldova, only one working toilet and no showers for over 100 people.
Despite being in crisis itself - suffering one of the worst droughts on record, the after-effects of Covid-19, public sector cuts and debt servicing, skyrocketing food prices, locusts, and acute hunger - just three countries in East Africa (Ethiopia, Somalia and Kenya) host almost 1.5 million refugees, as well as just under 7.5 million internally-displaced people. Together with other countries in East Africa, at the end of 2021 the region was hosting 67% of all the refugees in Africa, and 20% of the global refugee population. These countries are putting other, better resourced countries in the global north to shame. Despite their limited resources, they are not only hosting communities escaping from protracted conflict, but also from the escalating impact of climate change, for which they have little responsibility.
Our largest refugee programme is in Bangladesh, where we support over 380,000 of the 925,000 Rohingya refugees forcibly displaced from Myanmar in 2017, across 32 camps. ActionAid Bangladesh was one of the first responders and has since been supporting the affected population with a range of initiatives.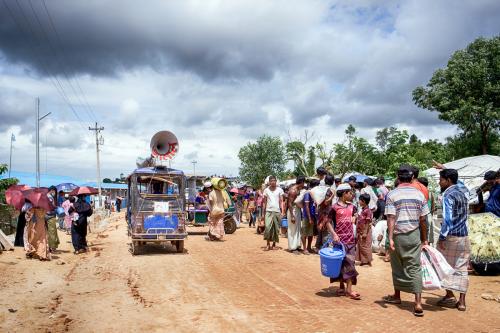 This crisis has been considered the largest movement of people in recent history. While Bangladesh immediately rode to the rescue of the displaced Rohingyas and has been providing temporary shelters to them for the last five years, the country is now facing a protracted crisis.
Camps are over-congested and there is a lack of proper planning. Women and children make up more than 75% of the refugee population. They are particularly vulnerable to abuse, exploitation, and gender-based violence in the camps. Children make up more than half of the refugee population and they have been disproportionately affected by the crisis due to their physical, psychological, and social vulnerabilities. In the last two years, the Covid-19 pandemic has introduced a new array of challenges, including the impact of the virus on different socio-economic factors during the lockdown.
Throughout our responses to forced displacement across the world we work with women and youth-led organisations and groups to provide food and clean water, hygiene kits, (including toilet paper, soap and sanitary towels), cash transfers, training (for example in livelihood and vocational skills), psychosocial counselling support, referral systems in case of gender-based violence, specific support for LGBTIQ+ refugees, and legal advice.
All people fleeing war, conflict or repression have a right to cross borders to seek asylum, but refugees from Africa, Asia and the Middle East are routinely refused access to relief, aid, and asylum, sometimes being placed in detention centres, despite facing persecution in their own countries. Those who are fleeing violence and seeking protection should be treated equally, no matter where they are from.
At ActionAid, we are calling on governments in the global north to urgently provide resources and adopt policy measures to address the forced displacement and refugee crises around the world, especially when it is the global south that truly bears the vast responsibility of welcoming and protecting refugees. It is imperative that countries in the global north take their fair share of responsibility when it comes to the treatment of refugees, asylum seekers, displaced and stateless people. It is also imperative that they take responsibility for the escalating climate crisis, fuelling drought, displacement and acute hunger affecting millions and millions of people, as we are currently seeing in East Africa.
They must also include global south governments and civil society in frameworks and have meaningful discussions about predictable and equitable responsibility-sharing. This key international cooperation must promote collaboration and solidarity and not be rooted in the global north's colonial and racist bias.
We must stop racism towards refugees, as we have seen happening with non-white refugees from Ukraine, and others. It is unacceptable that, in 2022, people forced to flee their homes are still being treated as second-class citizens just because they are from a different country and may have a different skin colour. This includes ending dehumanising and demeaning agreements such as the one the UK has made with Rwanda.
Global policies on refugees must urgently be decolonised, ensuring all refugees and asylum seekers are equally heard and prioritised.
Cristina Muñoz, Country Director of ActionAid Spain/Alianza por la Solidaridad
Farah Kabir, Country Director of ActionAid Bangladesh
Sara Almer, Humanitarian Director, ActionAid International
---
Notes to Editors:
ActionAid is a global federation that works closely with citizens, civil society organisations and social movements to empower people living in poverty and exclusion to fight for women and young people's rights, social justice and an end to poverty. At ActionAid, we support people to use their own power to bring about real change for women, young people, communities, and societies. We are present in 46 countries, working with women and young people-led partner organisations, networks and allies, reaching millions of people every year.