Why it's the responsibility of the African Union Finance Ministers to address hunger on the continent with just and sustainable economic recovery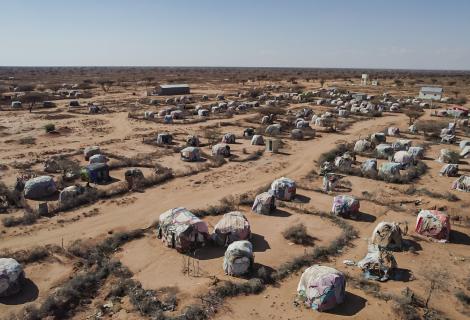 According to the World Food Programme (WFP) and Food and Agriculture Organisation (FAO) 18 of the 23 hunger hotspots needing urgent humanitarian action are in Africa. In East Africa alone, 20 million citizens from Kenya, Somalia, and Ethiopia are facing severe hunger due to cumulative effects of different shocks, notably climate change; internal conflicts; the war in Ukraine's detrimental impact on food and fuel accessibility; the socio-economic effects of the COVID-19 pandemic; and destructive desert locusts, combined with one of the most severe droughts in memory. 
This week, the African Union (AU) Finance Ministers are meeting in Morocco to address financial sustainability in Africa, and ensure countries' economic wellbeing. The meeting will also be an opportunity to discuss ways to recover and build resilience after humanitarian crises and enable human rights for all.  
Communities, and particularly women, girls, and young people, are being impacted by a combination of skyrocketing food prices, erratic weather patterns for agriculture, protracted conflict, public sector cuts, and debt. A recent ActionAid survey found that, faced with soaring food and fuel prices, women reported resorting to harmful coping mechanisms, such as mothers taking their children out of school to be able to afford to provide at least one meal a day for their families. Additionally, underinvestment in public education is undermining the development, human rights and future of young people. 
The debt crisis means countries in East Africa are spending on average 36% of tax revenue on repaying debt, which means governments have less money to invest in public services, such as health, education, emergency preparedness and response. High debt burden limits socio-economic growth and development, so external debt cancellation is needed. Furthermore, although budgets are already severely reduced, the International Monetary Fund (IMF) is advising governments to introduce more austerity measures, despite a lot of evidence this harms or undermines economic recovery, pushing more people into poverty. Unstable economies mean that governments spend less on public services (that are just recovering from the impact of the covid-19 pandemic), including social safety nets. This is unacceptable and is hurting local communities, particularly women and young people.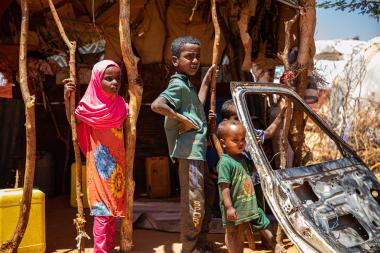 We need to see urgent strategic action from the African Union Finance Ministers, with a response to the increasing millions of people facing hunger across years but much more at present time. As in 2011, the response to the current drought in East Africa has been too slow. Governments need to build social protection into their plans, with a focus on investing in women and young people. The Extraordinary Humanitarian Summit and Pledging Conference held at the end of May was a good step to reflecting on how to anticipate humanitarian challenges in Africa, listening to civil society organisations at the forefront of disasters and conflict and promoting innovative solutions to those challenges. 
African countries need to act collectively and collaboratively to ensure there is enough budget to fund humanitarian preparedness and response. They need to resist any pressures to impose austerity policies and cuts to public spending. The International Monetary Fund (IMF) has been pushing for austerity, either as loan conditions or as coercive advice, amongst countries that are reeling from the negative economic effects of the Covid-19 pandemic. Public sector spending cuts increased poverty and inequality and drove more hunger on the continent, as well as undermining progress on health, education, gender and other Sustainable Development Goals. 
Ministers meeting in Morocco must look at the latest food crisis as an opportunity to transform the continent's food and agricultural systems to protect food prices, promote food sovereignty and sustain the planet. The current food system is heavily dependent on imports, as the impact of the war in Ukraine is showing, and is damaging the planet. Chemical fertilisers, a key component of industrialised farming systems, require large amounts of fossil fuels for their production and contribute to greenhouse gas emissions.  
African governments and the African Union must shift public and private finance away from industrial agriculture and fossil fuels to avoid making the climate crisis even worse and liberate funds for resilience-building to future shocks and stresses. The Ministers must also follow the public spending guidelines and aims of the Malabo Declaration, which calls for governments to work together to improve livelihoods through agriculture. This should encompass policies that invest in smallholder farmers, with a special attention to the needs and contribution of women farmers who produce around 70% of Africa's food and a large-scale adoption of agroecology. Agroecological farming approaches, which use natural and locally available materials to build soil fertility and soil organic matter offer real benefits to farmers, healthy food to citizens, reduce greenhouse gas emissions, reduce soil and water pollution, and increase the sustainability of food systems. 
A stronger and more financially sustainable African Union is a much-needed reliable global partner in currently divisive international politics, contributing to global peace and security while supporting African citizens. The retreat in Rabat this week is a key moment for our Finance Ministers to take a step back, reflect and listen to those at the forefront of the multiple crises the continent faces and link the economic recovery policy analysis with strategic national and regional humanitarian preparedness and response capabilities rather than relying on support outside the continent. This will ensure that they set the direction and steps needed to ensure a strong and transformative financial base for a prosperous continent in the international community.  
---
Notes for the editors 
The IMF is persistently pushing austerity measures through coercive policy advice or loan conditions in countries struggling to recover from Covid-19 and embroiled in debt. Despite briefly recommending governments increase public spending during the pandemic, analysis shows that the IMF's advice to cut government spending in the global south has wiped nearly $10 billion from public sector wage budgets in just 15 countries – the equivalent of cutting more than three million essential jobs, such as teachers, nurses and doctors, despite the growing need for such professionals during the pandemic. These 15 countries represent just 10% of the 159 countries facing austerity by the end of 2022, with 6.6 billion people expected to be affected - 85% of the world's population according to the Global Austerity Alert.   
The 2014 Malabo Declaration is a re-commitment to the CAADP principles adopted by AU Heads of State and Government to provide effective leadership for the attainment of specific goals by the year 2025, including ending hunger, tripling intra-African trade in agricultural goods and services, enhancing resilience of livelihoods and production systems, and ensuring that agriculture contributes significantly to poverty reduction.  
ActionAid is a global federation that works closely with citizens, civil society organizations and social movements to empower people living in poverty and exclusion to fight for women and young people's rights, social justice and an end to poverty. At ActionAid, we support people to use their own power to bring about real change for women, young people, communities, and societies. We are present in 46 countries, 19 of which are in Africa, reaching thousands of communities every year. 
For more information, email Jemal Ahmed