Fair tax systems are needed for a just and inclusive Covid recovery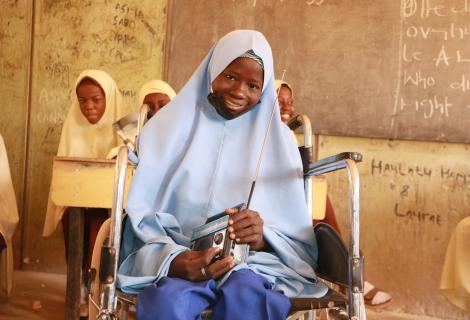 By ActionAid's Global Tax Team
The Covid-19 pandemic has proven the urgent need for well-funded and inclusive public services. Tax is the most sustainable source of government income and is the solution to funding a Covid-recovery that is just, green and feminist. 
When wealthy elites don't pay their fair share of taxes, governments have fewer funds to respond to the Covid-19 pandemic and invest in quality public services. It's communities living in poverty, particularly women and girls, which suffer the most as a consequence.
200 million people are being pushed into extreme poverty due to Covid-19 and the impact is far from gender neutral. Gains in women's rights are being reversed and gender equality is rolling back. Around the world, millions of girls are missing out on school. Women are more at risk of violence in their cities due to poor public transport and lighting. And where public services don't exist or are cut back, women are filling the gaps, paying with their time and unpaid labour, by looking after the young, elderly and sick. Globally, 70 per cent of health workers and first responders are women.
To address this regression in women's rights, we need urgent public investment into gender responsive public services. A fair tax system helps pay for public services that are key to address women and girls disproportionate unpaid care burden. The current global tax system isn't just, because wealthy individuals and global companies are not paying their fair share. An estimated $427 billion (USD) is lost globally every year to international tax abuse. In 'lower income countries' tax losses are equivalent to nearly 52 per cent of their combined public health budgets'.
Without adequate financing, the 17 Sustainable Development Goals will never be achieved. Governments must change the tax rules to make them more progressive, and make sure any increase in tax is spent on essential and inclusive quality public services that help fulfil the rights of women and girls. A fairer global tax system would provide a dramatic breakthrough to redistribute resources, invest in a just transition, gender equality and a world free of poverty and inequality.
Who is the toolkit for? 
One of the main objectives of ActionAid's work on tax is that women, youth and communities understand the power of tax and demand fair tax systems. Many of the people affected by this issue are often not aware of their rights, or how to claim and defend them. ActionAid puts you and your power at the heart of the struggle for human rights.
Our tax justice reflection action toolkit (TJ-RATK) is made to help empower communities to stand up for their rights.
The toolkit is available in English, French, Portuguese and Spanish.