The European Union must strengthen the global aspects of 'Farm to Fork'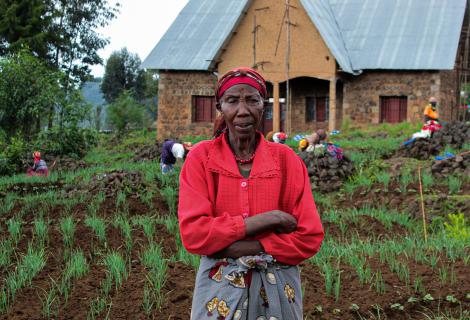 By Isabelle Brachet, Senior EU Advocacy Advisor at ActionAid International
In May 2020 the European Union adopted its 'Farm to Fork' strategy; its vision for the transformation of Europe's food systems. But the global aspects of this strategy lack ambition.
ActionAid contributed to a series of recommendations for European countries to strengthen the global components of this strategy. We're calling for more support for sustainable food systems in developing countries, and for Europe to make sure its agricultural industry does not affect small-scale farmers in the Global South.
Producing food differently means engaging in a just transition in agriculture. This means farming with nature rather than at the expense of nature. ActionAid is assisting women farmers to diversify the crops they grow, develop alternatives to chemical fertilisers and pesticides, and identify new opportunities to market their products. We also support them to organise and have their voice heard by local and national authorities.
But the agroecological transition is not only relevant for countries in the Global South: it is also needed in Europe. It will strengthen the resilience of our food systems to climate change and reduce greenhouse gases emissions from agriculture. ActionAid and other allies articulated recommendations about how to integrate agroecology in EU policies.
If Europeans don't promote agroecology within Europe, we can't expect them to promote it abroad.