Young people face a very uncertain future after the pandemic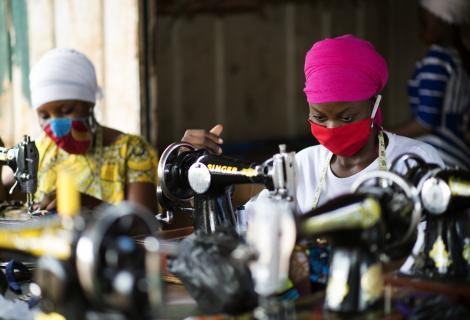 By Wanjiru Mburu and Johanna Diness
One out of every six young people have lost their jobs due to the Covid-19 crisis. Many work in sectors hit hard by the pandemic, such as retail, hospitality, food services and domestic work. Hours for young people still in work fell by 25%.
Even before the Covid crisis, employers held the power when it came to wages. But now it is even worse. Young people are desperate to find work. They take anything they can get, even if the pay is low and the hours are uncertain.
Consequences and mitigation
At the start of the pandemic, the International Labour Organisation (ILO) predicted a global loss of 305 million full-time jobs by July 2020. Now this number is over 400 million. The crisis is worse than expected and young people are some of the hardest hit.
In Kenya, the government introduced a programme called "Kazi Mtaani", which means "work in the streets." The idea was that young people could go to the local authorities, sign up for work and earn an income of 653 shillings, or six US dollars, per day. This fell to 450 shillings per day (less than the minimum wage), without explanation. Many participants were not paid at all. After young people took to the streets in protest, the government has now opened a review into the programme and how it was being managed.
In many countries, governments are struggling to respond to the pandemic and the economic crisis. They lack the resources to handle relief-programmes and to protect people. There is an urgent need to free up funds through debt cancellation and increasing aid. Governments should also strengthen their domestic resources by raising taxes on elites and property, and other progressive tax reforms.
Listen to us
Unemployment for young people, particularly young women, has increased at a faster pace than for older adults. And government relief policies are often not designed to address the particular needs of young people. Because of this, the risk of a "lockdown generation" is high.
But young people also have a lot to contribute to discussions about resolving the unemployment crisis. They need to be invited to decision-making processes, and made to feel included. They have valuable contributions to make to solving this crisis, and should not be viewed as obstacles.
When young people take part in decision and policy making, they are able to take responsibility for their futures. Young people are best at identifying their own needs and the policy measures that are needed to protect them and help them through this crisis.
About the authors
Wanjiru Mburu, 26, is an information technology specialist from Isiolo county, Kenya. She volunteers and mentors youth in the use of technology and is a members of several technology networks in Africa.
Johanna Diness is part of the Youth Data and Policy team of ActionAid Denmark. She is a Youth Data Analyst, investigating the impact of the Covid-19 crisis on the world's youth in the areas of employment and livelihoods.