A Covid-19 recession may have lifelong effects on young people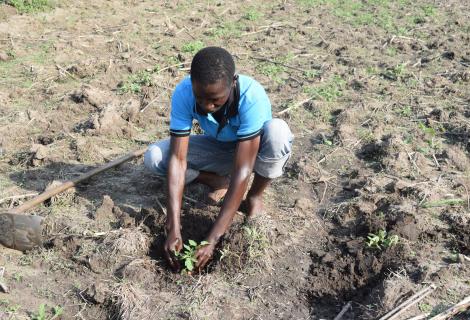 Looking for employment during a recession can impact young people's job prospects for years.
By Wisdom Kizito and Johanna Diness  
Even before the Covid-19 crisis, young people already faced employment challenges. But with the economic downturn caused by the pandemic, addressing these issues is now more urgent than ever.
Before Covid-19 disrupted our lives, over 13 percent of young people aged 15-25 were unemployed. To make matters worse, these numbers only account for people in formal employment. 20% of young people worldwide, or 267 million people, are not in employment, education or training. This number could rise dramatically due to the pandemic.
In past recessions, youth unemployment remained high long after the beginning of the economic recovery. Brief periods of unemployment during a young person's early labour market experiences are not unusual. But when periods of unemployment last for a long time, they are likely to have life-long scarring effects on skills and wages.
Employers may think that long periods of unemployment mean low productivity or lack of experience. For young people, these long periods are causing them to lose hope, stop looking for work, and give up their education.
Call for action
Youth are expecting to face long-lasting wage losses as they face greater competition for fewer jobs over the coming years. A recent survey shows that one in six young people have stopped working since the pandemic hit. The need for employment support and skills development for 'generation lockdown,' is greater than ever.
What help do young people need to capitalise on their skills? Mentorship, talent-development and access to education would make a real difference. Investment in innovation and skills development is also needed.
There is also a need to focus on the structural barriers to unemployment. Better education and skills development and training are important, as is a shift away from the focus on increasing growth through liberalisation, privatisation and deregulation. We need an agro-ecological model that is locally-orientated and creates secure, well-paid jobs in the community. And finally, we need investment to transition towards a green and sustainable agricultural model, with projects carried out by local labour sources rather than large projects delivered by big foreign companies, with limited local input.
The long-lasting scarring on youth from this current crisis must be mitigated through engaging young people in the design of the policies to respond to the crisis. Young people stand ready to take their responsibilities if invited.
About the authors
Johanna Diness is part of the Youth Data and Policy team of ActionAid Denmark. She is a Youth Data Analyst, investigating the impact of the Covid-19 crisis on the world's youth in the areas of employment and livelihoods.
Wisdom Kizito is a youth inspirator and owner of an entertainment company. He is originally from Isiolo County, Kenya.