Pharmaceutical companies reaping immoral profits from Covid vaccines yet paying low tax rates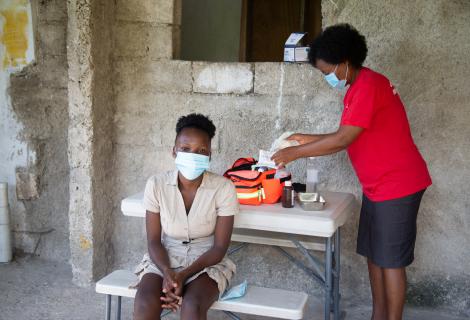 Moderna, BioNTech and Pfizer cashing in thanks to taxpayer investments, monopolies, and low taxes while leaving millions unprotected
Moderna, BioNTech, and Pfizer are reaping astronomical and unconscionable profits due to their monopolies of mRNA COVID vaccines — upwards of 69% profit margins in the case of Moderna and BioNTech — while Moderna and Pfizer are also paying little in taxes, campaigners from the People's Vaccine Alliance said today.  
Thanks to their patent monopolies for successful vaccines against the coronavirus, development of which was supported by $100 billion in public funding from taxpayers in the US, Germany, and other countries, the three corporations earned more than $26 billion in revenue in the first half of the year, at least two-thirds of it as pure profit in the case of Moderna and BioNTech. The Alliance also estimates that the three corporations are over-charging, pricing vaccines by as much as $41 billion above the estimated cost of production. 
Robbie Silverman, Oxfam America's private sector engagement manager, says:
"Big Pharma's business model—receive billions in public investments, charge exorbitant prices for life-saving medicines, pay little tax—is gold dust for wealthy investors and corporate executives but devastating for global public health.
"Instead of partnering with governments and other qualified manufacturers to make sure that we have enough vaccine doses for everyone, these pharmaceutical companies prioritize their own profits by enforcing their monopolies and selling to the highest bidder. Enough is enough—we must start putting people before profits." 
Even as vast regions of the world experience a rapid rise in COVID cases and deaths, Pfizer/BioNTech and Moderna have sold more than 90 percent of their vaccines to rich countries, charging up to 24 times the potential cost of production, according to analysis by the Alliance based on work by MRNA scientists at Imperial college. Analysis of production techniques for the leading mRNA type vaccines produced by Pfizer/BioNTech and Moderna, which were only developed thanks to public funding to the tune of $8.3 billion, suggest these vaccines could be made for as little as $1.20 a dose. 
Furthermore, despite benefiting from $8.3 billion of public investment in the development of their vaccines, the US companies have not paid their fair share of taxes. In the first half of 2021, Moderna paid a 7% US tax rate and Pfizer paid a 15% tax rate, well below the US statutory rate of 21%. The low tax rates paid by these US corporations point to a broken and dysfunctional tax system that allows corporations earning billions of dollars to pay a significantly lower tax rate than working families in the US.  BioNTech, a German startup that produced the recipe for the Pfizer vaccine, paid a significantly higher tax rate of 31% tax rate in Germany while reaping a 77% profit margin.  
Dinah Fuentesfina, Campaigns Manager at ActionAid International, says:
"More than 200 million people have been infected during this pandemic, more than 4.5 million people have died, and at least nine new billionaires have been minted thanks to COVID.
"This truly is the inequality virus. We create vaccine billionaires but fail to vaccinate billions of people in desperate need. Given the vast public investment in the development of these vaccines and the overwhelming public health need throughout the world, these life-saving vaccines must be global public goods."  
In the run up to the UNGA and an anticipated virtual COVID summit hosted by President Biden, activists are mobilizing across the world, including in the US, UK, Brazil, Germany, South Africa, and India, to demand the lifting of vaccine monopolies and sharing of vaccine recipes immediately to save lives. They have been joined by more than 140 former leaders and Nobel Prize winners including François Hollande, Helen Clarke and Gordon Brown who have written an open letter to German candidates ahead of the national election on Sept 26th calling on them to reverse German opposition to the waiving of patents and support immediate transfer of vaccine technology to manufacturers in developing countries. 
Based on recently released Q2 financial data, the People's Vaccine Alliance estimates that Moderna has brought in more than $6 billion in revenue this year, $4.3 billion of which is profit—an astronomical 69% profit margin on its vaccines. Moderna expects total vaccine sales of $20 billion in 2021. At the same, Moderna is paying single-digit tax rates—it has paid only $322 million in tax in 2021 despite earning billions in profit. 
Given that Moderna and BioNTech have no other significant commercial products besides COVID-19 vaccines, the total profit margins result almost exclusively from the vaccines. While Pfizer is not a start-up and sells multiple products, the COVID vaccine has been an enormous windfall for Pfizer as well.   
The COVID vaccine now accounts for more than a third of Pfizer's overall revenue base. Pfizer has sold more than $11 billion in vaccines in the first half of this year.  Pfizer is now projecting $33.5 billion in total vaccine sales for 2021, making the vaccine one of the top selling pharma products this year and potentially in the history of the pharmaceutical industry. Pfizer has stated that its vaccine profit margins are less than 30 percent, but because Pfizer provides financial information only for vaccine revenue, and not expenses, it is not possible to independently verify its profit margins. It has sold just 0.5% of its vaccine doses to the poorest countries. 
"Vaccine hoarding by rich countries and profiteering by rich pharma companies when millions across the world are being denied protection are not only morally wrong, but also shortsighted and dangerous," said Silverman.
"As the Delta variant clearly demonstrates, if COVID is left unchecked in other parts of the world, a mutation can lead to widespread transmission of the virus and severe illness or death amongst those who are not vaccinated. Future variants could send us back to square one.  To truly get this virus under control, we need to end vaccine monopolies, share the recipe, ramp up production around the world and vaccinate as many people as quickly as possible." 
The administration of additional booster shots in rich countries like the US, the UK, and other countries while poor countries languish far behind is likely to increase profits further and increase the risk further of vaccine resistant variants. 
Maaza Seyoum of the African Alliance and the People's Vaccine Alliance in Africa says:
"Rich countries buying up more doses to give third shots to their residents while most countries struggle to provide first doses to their doctors and nurses illustrates the fundamental inequality that has prevailed in our response to COVID thus far.
"This unequal status quo is resulting in needless deaths across the globe and producing new variants that threaten public health everywhere—all to fatten the wallets for Big Pharma executives and corporate investors." 
"These corporations have maximized their revenues and profits by preventing others from producing the vaccines and by minimizing the taxes they pay," concluded Silverman. "We need a People's Vaccine, which means sharing the vaccine recipe, leveraging the world's full manufacturing capacity, and producing enough doses for everyone. No one will be safe until everyone is safe."       
Ends.
Editor's notes: 
The People's Vaccine Alliance is a coalition of more than 75 organizations united under a common aim of campaigning for a 'people's vaccine' for COVID-19.  
Company revenue, profits, and tax information sourced from publicly available company financial statements, such as filings to the US Securities and Exchange Commission. 
For additional information on pricing estimates, please see the People's Vaccine Alliance briefing note The Great Vaccine Robbery. 
The open letter from former heads of state and Nobel Prize winners to German candidates is available in English and German.