Fleeing the climate crisis: Ali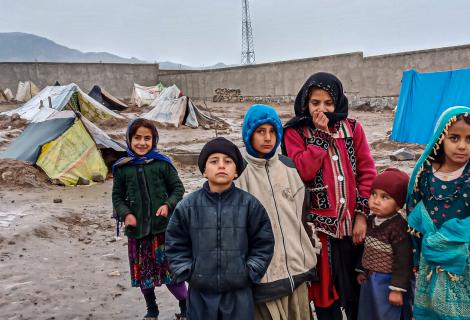 Set up for those fleeing Afghanistan's brutal conflict, the Shaiday camp is now home to thousands escaping climate disasters
After flooding and drought tore through the Badghis province in north-western Afghanistan Ali Mohammad lost everything. His son and two daughters were killed in the floods and all his belongings and livestock were swept away. 
Ali and his fifteen-year-old daughter moved to Shaiday camp, an internally displaced persons (IDP) camp. Both Ali and his daughter are suffering from the impact of the floods and the death of their close family members with Ali's daughter struggling to leave the tent. 

The Shaiday IDP camp was set up fifteen years ago for people fleeing Afghanistan's brutal conflict. It is now home to approximately 30,000 people displaced due to conflict, and more recently those affected by climate disasters.

The majority of Shaiday's current residents were displaced during the severe drought of 2017 -2018, which according to the UN displaced more people than conflict between the Taliban and the government in 2018 . More people have arrived recently, after fleeing flooding in the western and north-western regions of Afghanistan.

Ali has tried to find work as a labourer to supplement the limited support he receives from the charities in the camp, but finding work is tough. If Ali can't get work as a labourer, he sells scrap metal for $1 a day.

Ali says : "I'm very grateful for the support I have received, but it's not enough to cover the most basic human needs for me and my daughter. We're cold and hungry, and my daughter cannot go to school." 

Ali once had 100 sheep, he lost 70 of them in the drought and had to sell the rest as he could no longer find pasture or afford to feed them. Even though Ali has lost everything, his hope is to return to his village and try to rebuild his herd of sheep.