ActionAid on the Danone and Green Climate Fund announcements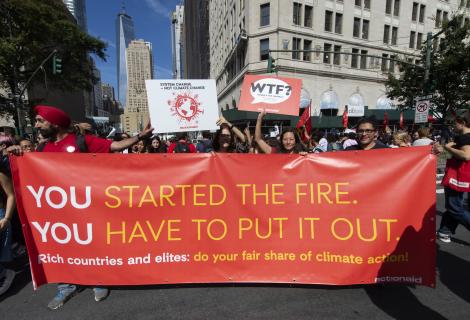 Expert spokespeople available for interviews
NEW YORK, 23 September 2019 – In response to Danone's announcement of a new coalition to shift towards "regenerative agriculture" approaches, ActionAid's climate policy co-ordinator Teresa Anderson said,
"That statement by dairy giant Danone was an eye-opener. When even the big food corporations admit that that their approach to farming is killing the planet, then you know the jig is up for big industrial agriculture. 
"This admission comes when their destructive practices are finally in the climate spotlight. But they should have shown this honesty decades ago. 
"When they have been part of the problem for so long, they now want to be part of the solution. The question is, can we really trust them to get their house in order quickly enough? 
"Instead of looking to the same damaging corporations for solutions, governments must set policies to ensure a profound change in the way food is produced. 
"We need policy makers to be courageous. They need to stand up to powerful agribusiness corporations, and make sure that food systems work with nature instead of destroying it."
Brandon Wu, ActionAid USA's director of policy and campaigns on the pledges made to the Green Climate Fund said:
"We welcome the doubling of pledges to the Green Climate Fund from some European countries, though many of the wealthy countries have been conspicuously silent. 
Yet we echo Greta Thunberg, who said that nothing would be announced today on the right scale to keep global warming to 1.5 degrees. 
"Indeed, the finance that rich countries are putting on the table is nowhere near what is actually needed. 
"Looking at the numbers, the inescapable conclusion is that rich country governments do not take this crisis seriously."
ActionAid spokespeople at UNGA: 
Harjeet Singh is ActionAid's global lead on climate change. He specialises in the impacts of climate change on the Global South, including migration and urgent need for climate finance. He is on the board of the Climate Action Network (CAN) and coordinates the working group on adaptation and loss & damage. Harjeet will be analysing outcomes from the UN Climate Action Summit. He speaks English and Hindi. Follow him on Twitter @harjeet11.
Brandon Wu is ActionAid USA's director of policy and campaigns. He leads work on international climate justice, approaching the problem of climate change from the perspective of sustainable development and the rights of impacted people. He specialises in climate finance for developing countries, fairness and equity in the global climate regime, and energy democracy in the Global South. Brandon recently completed a two-year term on the governing board of the Green Climate Fund. Follow him on Twitter at: @brandoncwu. 
 
Teresa Anderson is ActionAid's climate policy co-ordinator. She leads ActionAid's climate policy work on land, food and agriculture. She coordinates the Climate Action Network (CAN) working group on agriculture. She will be analysing outcomes from the Nature Based Solutions workstream at the Climate Action Summit. Follow her on Twitter @1TeresaAnderson. 

Read more about Nature-based solutions at: https://actionaid.org/news/2019/actionaid-briefing-explaining-nature-based-solutions.
More on ActionAid at UNGA at https://actionaid.org/ClimateJusticeNow 
Contact: kate.donovan@actionaid.org  Cell: +17183620606
 
ActionAid:
ActionAid is a global movement of people fighting for women's rights, social justice and an end to poverty. For more information visit www.actionaid.org