Working for and with young people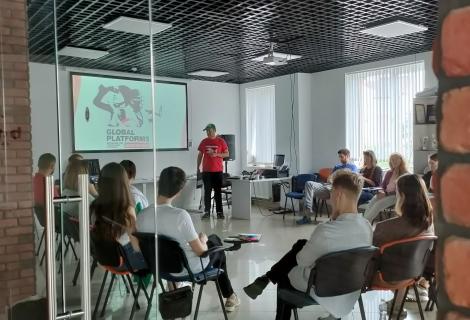 Being young is never easy, but in a context of crisis, it is more than challenging. All around the world, young women and men, girls and boys are affected by the consequences of disasters, conflicts, forced displacement and other emergencies. Ukraine is no exception. ActionAid is deeply concerned about the severe toll the conflict in Ukraine is taking on the wellbeing of an entire generation. 
"Some of the problems are not really new, they just became worse. Young people are rarely heard, by adults, by people, those who have power. When there is war around, and when families are moving, people tend to find the concerns and problems of young people very banal. The space for family becomes narrower, which means that young people and teenagers have even less space." 

Yuliya Liubych, education coordinator of STAN (Ukraine) 
Since the beginning of the full-scale invasion of Ukraine, young people and young people-led organisations have been first responders, rapidly mobilising themselves and engaging in the humanitarian response within Ukraine and neighbouring countries.  
''Young people have the power to react very fast. I have seen solidarity among our local community of young people, but also that of young refugees, who were coming to Romania and who were willing to help their fellow Ukranians.'' 

Nadia Tismanaru, Head of Programs of FITT (Romania) 
They are leading the response and supporting refugees and displaced persons with temporary accommodation, social and psychological assistance, creation of safe spaces to build relationships with host communities, educational support and leisure activities, among many other things.  
How is ActionAid supporting these efforts?  
Global Platforms is ActionAid's network for youth-led activism, through which we support movements, youth networks, organisations and individuals who promote the role of young people in progressive social, political and economic change around the world. When it comes to humanitarian crises, our Humanitarian Signature is paramount. It sets out the pillars of ActionAid's way of working in humanitarian response - focuses on shifting power, accountability to affected populations, and women's and young people's leadership.  
Through these approaches, and together with our partners, we want to support the work of young people. Young Ukrainians, other refugees and young people in host communities – especially young women and marginalised groups – must be recognised as leaders and have access and influence in decision-making processes, especially those that affect them directly. In summary, work for young people, with young people.  
''I think we, the young people, make our voice heard, sometimes, but I do not feel there is someone who understands it, or has the willingness to understand it. And to actively listen to what we are saying. This is not new. We are talking about core funding, trust in young people, youth work, and women's leadership, and supporting these things for some years. Yet there has been little to no advance made. I feel that I have not even seen the willingness to support and do something about the things we are saying.'' 

Bianca Boroto, Vice President DEIS organization (Romania) 
Young people are champions of humanitarian action, peacebuilding and social and environmental justice in their communities and in a wider global network of peers. They are willing to participate, to speak up, to move forward. Young people have a lot to say about reconstruction, about peace and about their own future. ActionAid must contribute to making their voice louder. 
''I feel that is what we should do - share the experience and stories about the incredible young women working in Ukraine right now, with so many others like them. Because it is unfair that they are not visible".  

Daria Chekalova, Deputy Director of Girls (Ukraine)  
Note: ActionAid is working closely with young people-led organisations, such as those mentioned in Ukraine, Romania and Poland, to respond to the humanitarian crisis.