Cyclone Freddy leaves a trail of destruction in Malawi: "Everything is gone"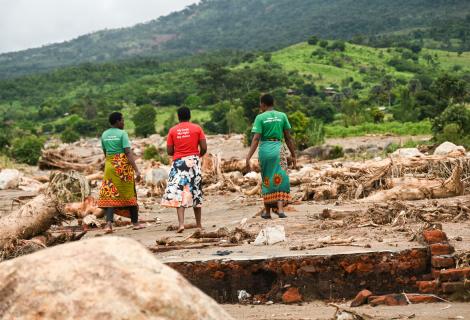 Cyclone Freddy has been said to be record-breaking in its strength, length, and resurgence, and has displaced over 1.5 million people in Malawi, Mozambique, and Zimbabwe.
In Malawi, the cyclone has been devasting to communities, with a state of disaster being declared in 14 districts that were severely affected. Over 500,000 people have been displaced by the storms and the death toll has risen to over 500 while more than another 500 people have been reported missing. Public infrastructure such as schools, health facilities, and district and main roads have been damaged in all affected districts.
Behind each of these shocking figures is a story of a person, a family, a home washed away. We spoke to three women about what they're experiencing.
Anne
Anne, 43, is a survivor of the floods that followed Cyclone Freddy. She told us she had never seen anything like the devastation she has lived through before in her life. She and her husband survived the flood water along with all their children. When the floods from Cyclone Freddy hit, it was late at night, so people were asleep in their homes, making escape more difficult and frightening.
"We saw something coming towards us, with a loud drum-like noise, we then saw people with torches, who was also running. We then went to wake up the children and started running with the kids. But everything else that was in the house, everything went with the floods. As long as we saved the kids, because life is more precious. So, we ran, with the kids. no child has died."
Everything Anne had in her home was lost to the floods. Possessions, livestock, bikes, food, crops, TV, everyday essentials, all washed away. They are now sheltering in an old house, like many others, as the camp at the school was already overfull.
"This house alone is housing 14 families. The other house has 12 families. I am worried about my future, and the future of my friends. We are not sure of the future, with what has happened to us. Our future is in disarray, we are confused, and we don't know where to start from, or where things are going. All we see is where we are [in] this moment. Our friends and relatives are gone, they are gone. It is dark all around us, we don't know what to do."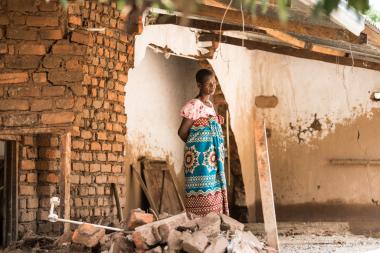 Anne explained how she thinks that deforestation in the mountains above her community caused their homes to be more vulnerable to being flooded, as there was no protection that would have previously been given by the trees.
Because the closest hospital was destroyed, there is nowhere for the sick to go. Anne told us she worries about the lack of health services at the current time, especially with disease so easily spread in camps like the one she is staying in with her family. She told us that "even if we die today, there is nowhere to bury our bodies. Our graveyards have been washed away." Others like Loveness (below) worry about people who require regular medication to manage conditions like HIV, Asthma, and Epilepsy; a lack of daily medicine will be deadly to these people.
Storms and cyclones like Freddy have become more severe because of the climate crisis. A warming planet is making life harder for those on the front lines of climate change and making cyclone seasons deadly. In times of crisis, women and girls face an increased risk of gender-based violence and lose access to safe spaces and privacy, essential when managing periods.
"Climate change is a threat to women and girls. This [cyclone] affects women and girls because there is nothing left in this area. There are no safe spaces for women and girls. There is no more privacy."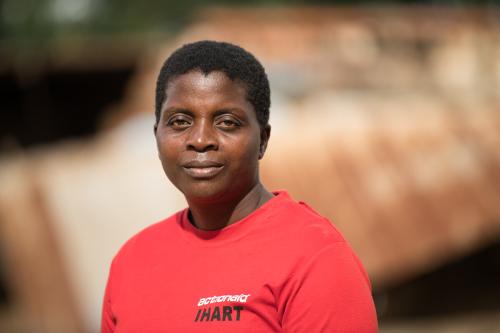 Loveness
Loveness is the Director of Chigwirizano Women's Movement, an ActionAid partner. She visited some of the villages that were destroyed in the cyclone, seeing first-hand the destruction. She spoke about what was the village of Nkhulambe and told us about the potential long-term implications the storm will have on food production, women's safety, disease outbreaks, including cholera, and education.
"The area you see [Nkhulambe village] is not what it used to be. It is an area that used to have houses. But due to the floods all the houses are gone. The children, women, and men, have all been swept away."
For girls, Loveness worries that the pressures of the environment they find themselves in after the cyclone will force them to drop out of school in the long term and could mean an increase in teen pregnancies.
"Our girls were able to go to school, now with the houses destroyed it means all the books and clothes are gone. This will cause our girls to drop out of school. We are staying with the girls in camps, where there are boys, girls, and women and it's not safe… a girl may become involved in sexual activities because of [pressures in] the environment. So unexpected pregnancies and school dropouts will become rampant in our area."
Long term, the cyclone will cause huge problems for people in areas affected by the storm and floods. Apart from damage to property, any crops were washed away along with the soil they grew from. With the influx of mud and debris brought by the flood waters, it will make growing food much more difficult.
"It may be difficult to rebuild because the area is destroyed, even the soil. The way it is now it will be hard to produce food Because this area had fertile land where we were able to harvest and feed our families. Now all the crops are gone, the ground is full of sand which cannot benefit anyone This means malnutrition which is caused by lack of food will affect our kids."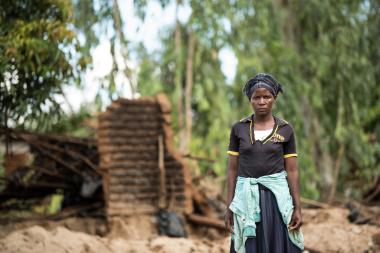 Asiya
Asiya is a 28-year-old single mother who farmed to support her family before the floods hit on 12 March.
The days before the floods, it was endlessly raining. During these rains, Asiya sent four of her children to her grandmother's house, which was sturdier than her own. Despite this, and the thought that her children would be safe, the flood waters collapsed this house and washed away everyone in it.
"We haven't been able to recover the bodies of the children, we have even gone as far as Mozambique, to look for them, but we have not found them."
Asiya's loss of four of her children is devastating. She was able to save her own life, her mother's and the lives of two of her children. She also saved the lives of others in her community by waking them up before their houses were swept away. From her house she could hear the floods raging, telling us (like others) that it sounded like a vehicle rumbling along outside. She talks about the panic felt that night, as the storms hit while everyone was asleep.
"I woke up and checked outside, what I saw was a river flowing [where there wasn't a river before]. I started waking people up, telling them to evacuate their homes because it was not safe. They heard me, and together we started to wake up other families telling them we need to escape. We managed to escape and saved some children.

No one expected this level of destruction. Maybe if it was happening during the day, we would have known which direction to take, but most people were already asleep. I was able to wake others so that we could save lives."
In the aftermath of these floods, as the water drains away, Asiya tells of how frightening rain can be, and the lasting impact of the trauma of the events of the night of the flood.
"We are scared of the rains. We get scared every time it starts raining, and we wonder, is it not enough? Hasn't it taken enough lives already? Does it want to kill us all? With these conditions' life is hard for the children. This [kind of flooding] has never happened before in our lives. We are living in difficult conditions, we are just surviving, because there is nowhere else to go."
ActionAid's response
ActionAid is working with communities and local partners in Malawi, Mozambique and Zimbabwe to support them through the aftermath of cyclone Freddy. We're also adding pressure to calls on governments to make loss and damage funding available quickly and flexibly to communities dealing with, and paying for, the consequences of climate change. It is not fair that people who have contributed least to global emissions are the ones bearing the brunt alone of storms like Cyclone Freddy.