As rains fail, families in rural Kenya face perilous levels of hunger and thirst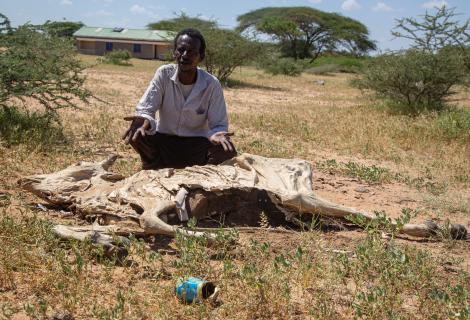 Rains have failed for the third consecutive season in vast areas of arid and semi-arid lands in Kenya. ActionAid Kenya's communications manager Fridah Bwari visited the drought-ridden Garissa County to see firsthand the devastating impact on the lives of families and farmers.
Rainfall levels are 60% below what is expected at this time of year. This has led to reduced pasture for animals, failed harvests and severe water shortages.  
In rural Garissa County, the scale of the crisis is captured by the ever-present sight and smell of rotting animal carcasses. 
While staple food production declined nationally by 5-10%, the impact of the drought is more severe in areas like Garissa where residents rely on rainfall to support their farming activities, including growing crops and raising livestock.  
Farmers are being hit by a sharp decline in food and milk production. Many animals have died – 1.4 million nationally – and those that survive are emaciated and in poor health.  
Water scarcity is forcing wild animals to come closer to villages in search of new drinking sources.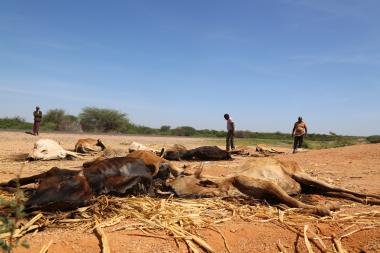 Farmers said they have lost 90% of their livestock and are struggling to keep the rest of their herd alive. Water scarcity and the constant presence of hippos at remaining watering holes are among the greatest threats they face.  
Livestock herders, women and girls are making long and dangerous journey in search of water. One herder walked for 47km to find water as his cows died from hunger and thirst.  
Many farming families have yet to recover from the severe drought in 2016-17. Now they are once again facing perilous levels of hunger and thirst.  
Prolonged and recurrent droughts show how communities least responsible for our warming world are already being devastated by the climate crisis. This underlines the urgent need for the wealthy countries most responsible to provide support to help farmers and families in areas like Garissa recover, adapt and build resilience.  
During my visit, I met parents who have had to take their children out of school so they can work to help pay for food and essential items. 
Yusuf Mahmoud, a local farmer, told me:

"It is a tragedy for the people of Garissa. We endured the shocks of locust invasion and Covid-19, but the current drought situation is worrying. Food and water prices have soared, making these precious commodities unaffordable to most people. Many vulnerable families are facing starvation."  
The current situation is devastating and requires an immediate response. It is estimated that 2.1 million people in the region will require humanitarian assistance to survive.  
ActionAid Kenya is appealing for urgent support to provide communities with essential items, including food relief, dignity kits and cash transfers. 
Local women-led disaster management committees are trained and ready to provide emergency relief to their communities.  
For more information about ActionAid's response to the devastating drought in the Horn of Africa click here.