Bound by Blood: The reconciliation of women caught up in the genocide against the Tutsi in Rwanda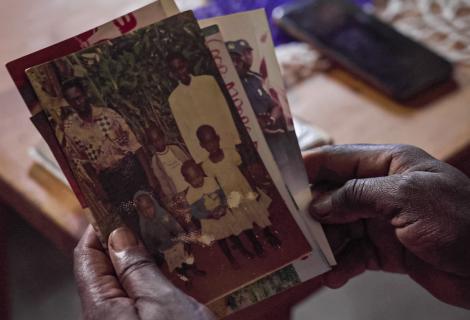 Twenty-eight years on from the genocide against the Tutsi in Rwanda, two women on opposite sides of the conflict have spoken about reconciling their differences, thanks to support from ActionAid.
The survivor's story: Immaculee
According to some estimates, over one million Tutsi, Twa and moderate Hutu people were murdered by ethnic Hutu extremists from April to July 1994. Immaculee Nyirampore was 20 years old when her entire family, apart from one sister, was slaughtered.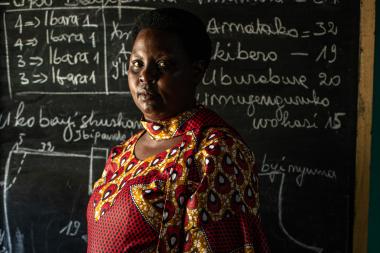 When she was young, teachers and other pupils used to laugh at her and other Tutsi children in school because of their ethnicity. She said she felt she didn't always feel like she belonged in the community and was unable to complete her high school studies because of segregation.
When the genocide began in 1994, Immaculee remembers seeing her neighbours running out of their homes and being hunted down. She, her siblings, and mother escaped and hid, but her father stayed at home and ended up being one of the first people to be killed.
She says, "Soldiers of the government came to check on us [in our hiding place], and we told them all our problems, hoping to get help. The following day they came with a large number of soldiers, [who] started shooting at us. Whoever tried to escape and get out of the building would be cut with a panga [machete]. [After the attack] I realized that from our family it was only I and my young sister who had survived and the rest of my siblings and mum were dead."
Immaculee was eventually rescued by Inkotanyi soldiers from the Rwandan Patriotic Front.
As part of her healing process, Immaculee joined a group led by ActionAid Rwanda. The group taught her business skills and supported her to buy a sewing machine and set up her own business. It also supported her, and the other women in the group, by providing items such as stoves, rainwater tanks, and livestock.
In addition to this, she received trauma counselling from ActionAid, where she met women whose husbands were in prison for their part in the genocide against the Tutsi.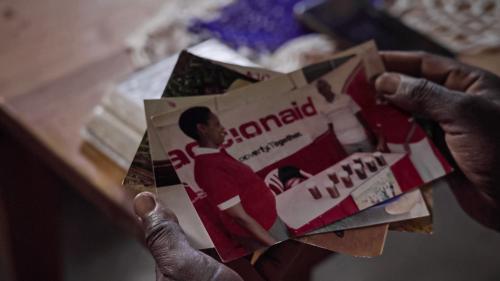 The perpetrator's wife's story: Amina
One of these women was 52-year-old Amina Mukantayomba. She recalls her husband coming home and telling her that he had been ordered to kill Tutsi people. After he was imprisoned, she was left to look after their six children alone.
She talks of conflicting feelings of being afraid that the women whose loved ones had been killed would want to seek revenge, and being angry with them because she felt it was their fault her husband was in prison and she was on her own.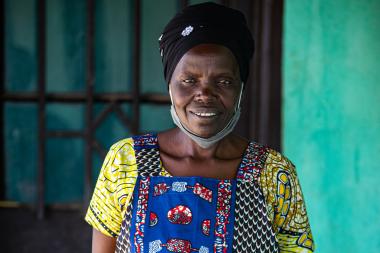 "After my husband's imprisonment, we lived a miserable life because of bad relationships with the neighbours whose family members had been killed by my husband. I always felt lonely. I didn't have the courage to ask for help from someone who was the victim of my husband's actions."
Thanks to the training and support from ActionAid, Amina felt able to apologise to her husband's victims, and was forgiven by them. Some of the survivors eventually even visited her husband in prison.
"Before, I had never wished to face the genocide survivors. What I am happy for now is the reconciliation training that united us," she says.
Reconciliation
Along with some of the other women they'd met through these sessions, Immaculee and Amina set up a cooperative called Umucyo Nyanza (meaning the Light of Nyanza), using the skills, knowledge and equipment gained through the group led by ActionAid. They sew bags and clothes, and make Bible covers and aprons. It enables the women to make their own money and, in Amina's case, the money she's made from the cooperative allowed her to send her children to school. The group also helps contribute to unity and reconciliation.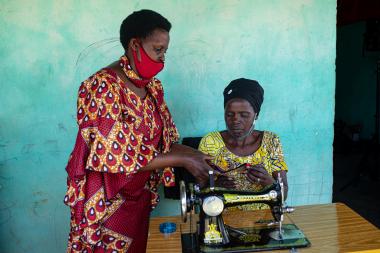 Amina says, "[Thanks to the cooperative], we sew our clothes ourselves, we dress well, we feed our children, we do not beg, and we are no longer as anxious as we used to be.
"[Immaculee] helped me a lot. She taught me tailoring, and how to relate well with others, including the women whose husbands had been killed by our husbands. I treat Immaculee as my older sister. I have siblings but they have never taught me what Immaculee did."
Immaculee adds, "Whenever one of us is sick, we visit her, and we support anyone among us who has problems. This helps us to feel that we have family again. Unity and reconciliation are important because we are all Rwandans and we have the same blood, we are relatives. That's why we no longer focus on our bitter history."
This year, ActionAid marks 50 years of working closely with people living in poverty and exclusion. The organisation now has a presence in 46 countries around the world and continues to empower women and girls to support others in their community, working together towards a world free from poverty and injustice.
---
For more information and interviews contact the media team on media-enquiries@actionaid.org
Notes to editors: 
ActionAid has spokespeople available for interview about the commemoration of the Genocide against Tutsi of 1994 in Rwanda.
Media b-roll and stills of Immaculee and Amina, can be found here.
ActionAid's response to humanitarian crises is to work with local women and women-led organisations, because they are often able to gain access to the most hard-to-reach and marginalised communities. They have a strong understanding of the local context and are best placed to address the disproportionate impact of emergencies on women and girls.