Rohingya volunteers are first to respond when emergencies hit Cox's Bazar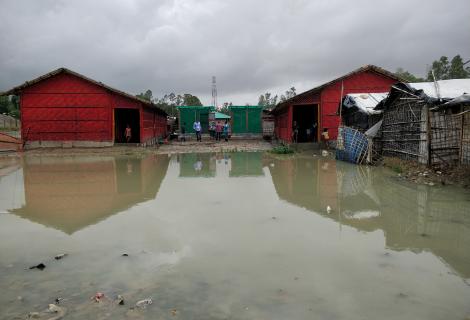 On the fourth anniversary of their displacement, we take a look at the resilience of the Rohingya refugee community in Cox's Bazar.
The past year has been one of the most difficult for the Rohingya refugees living in Cox's Bazar since their exodus from Myanmar in 2017.
Covid-19 was only one of the challenges this community has had to face in the past 12 months. In March a devastating fire tore through the camp, killing at least 15 people and injuring hundreds more. Thousands of temporary shelters were destroyed. Then, in July, landslides and flash flooding killed six people and displaced thousands more.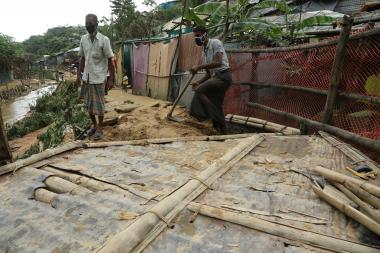 The impact of the July rains was immediate and extensive, forcing 12,640 people from their homes. Shelters, health clinics and latrines as well as roads, pathways, and bridges were badly damaged.
ActionAid Bangladesh worked with Rohingya volunteers in the camps to support people affected by the flooding. This support included rebuilding damaged structures, distributing food and providing sanitation services.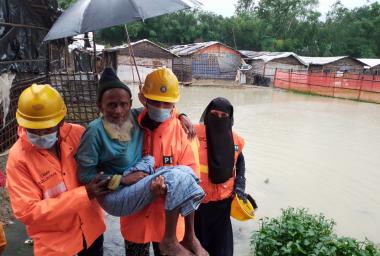 Volunteers from ActionAid Bangladesh repaired damaged homes and rehoused more than 850 people. ActionAid Bangladesh also provided meals for nearly 1,400 people living in communal shelters. The team cleared 4,220 feet of muddy drainage system and removed blockages to ensure excess water could flow away.
Staff and volunteers from ActionAid Bangladesh also provided psychological first aid to the families affected by the floods. Volunteers conducted awareness sessions on mental health issues with people living in communal shelters. Volunteers also arranged indoor games and supplied drawing materials to help children.
Volunteers trained by ActionAid Bangladesh also played an important role in raising awareness of Covid-19 and ensured that people living in communal shelters understood how to stay safe from the virus. This included promoting good hand hygiene and mask wearing, and encouraging people to get vaccinated when doses become available.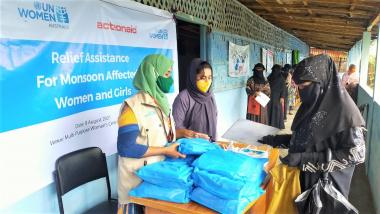 ActionAid continues its work in the camps with other regular activities, specially focusing on the flood and fire damage that occurred during this period, and training volunteers to respond to new emergencies in their community. Since August 2017, our team in Bangladesh has supported more than 320,000 Rohingya refugees in camps across Cox's Bazar.