Our response to the Covid-19 pandemic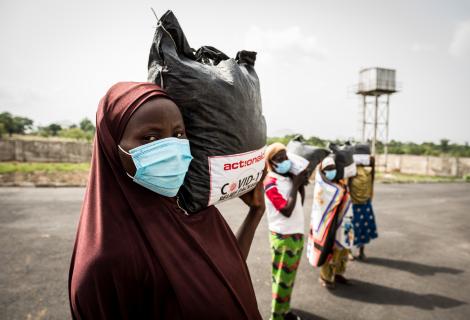 ActionAid has reached over 25 million people across 40 countries through our Covid-19 response. 
As cases of coronavirus continue to increase globally, our local, women-led teams are delivering food and other essential items, such as masks, sanitiser and handwashing stations, to their communities. 
Like all emergencies and humanitarian crises, the Covid-19 pandemic is hitting women and girls, the poor and the most marginalised the hardest.  
Our colleagues and partners are sharing essential public health information with vulnerable communities and supporting essential services such as emergency shelters for women at risk of domestic violence. 
Cases of gender-based violence (GBV) have soared since the start of the crisis, in what the UN has labelled a 'shadow pandemic'. 
Our research, based on a survey of GBV services supported by ActionAid, shows that in March-April 2020, women's shelters in Bangladesh experienced a ten-fold increase in reported cases of domestic violence since the start of the pandemic. While in Uganda, where we were forced to temporarily shut 10 shelters due to lockdown restrictions, caseloads doubled between March and April, compared to the same period in 2019. 
Girls are being most affected by school closures due to Covid-19. Our research shows around three in five teachers surveyed in 14 countries across Africa, Asia and Central America say a higher drop-out rate for girls and poorer children will be a long-term impact of the pandemic.  Nearly half are concerned about increases in early pregnancy and early marriage. 
ActionAid is calling on governments to ensure that social protections and humanitarian support targets and protects women and girls as they are being disproportionately impacted by the Covid-19 health and economic crisis.  
Women are reporting an increase in unpaid care duties as they are at the forefront of caring for the sick, home-schooling and collecting water.  
Two-thirds of health sector jobs globally are held by women, who are on the frontline of the crisis working as nurses and carers. 
In developing countries, more than two thirds women work in the informal economy, without sick leave and unemployment benefits. If they don't work, they and their families don't eat.  
Girls are often responsible for walking increasingly long distances to collect any water available. Worldwide, 780 million people don't have access to clean water. Unless their basic needs are met, they won't be able to protect themselves or their communities from coronavirus. 
This crisis is far from over. Support women and girls on the frontline of the Covid-19 crisis by donating to our appeal.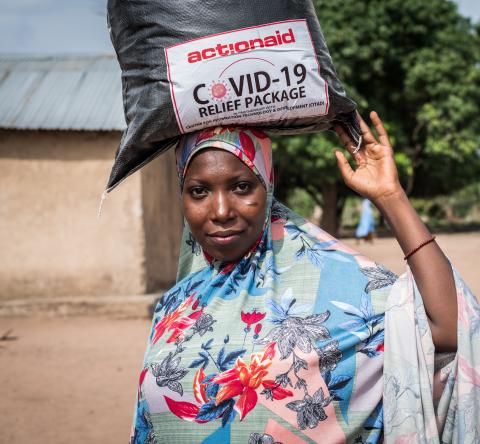 Covid-19 Appeal
Our local teams have reached over 25 million people across 40 countries, from sharing vital public health information and distributing millions of food packages to funding life-saving women's shelters.
But this crisis is far from over. And we urgently need your help to support the world's most vulnerable communities.
Donate Now