Born into fire: Violence brings mental health struggles for new mothers in Gaza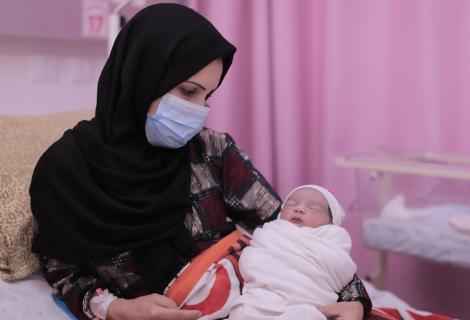 Two-week-old Sedra was born in the aftermath of last month's devastating 11-day bombardment of Gaza. Her name means 'like a star' in Arabic and her arrival is bringing hope to her family who were left traumatised by the latest eruption of violence in the territory.  
Her mother, Mervat Al-Buhtaimi, 25, explains how it felt to be heavily pregnant during the attacks and terrified of losing her family and her unborn child.  
"While the bombing and shelling were happening, I thought that we were all going to die," she says.   
"One of my fears during the attacks was to deliver my baby inside my house, without being able to reach the hospital. I suffered from severe pain, like labour pain, and I couldn't go to the hospital. I was afraid that I might deliver her, and she may suffer from problems."  
Mervat found out during the airstrikes that her cousin had suffered a miscarriage and lost her baby.  
"She lost her baby due to the severe fear of the bombing and shelling. I was terrified to lose my baby," she says. 
Mervat says Sedra's birth was harder than when she had her other children in more peaceful times, due to the trauma of the attacks.  
"Now I feel better, seeing my baby girl in my hands," she adds. "I wish that my baby girl could live in a secure and quiet environment away from the aggression and wars."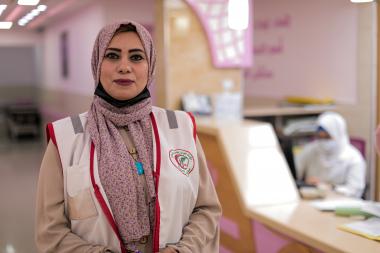 As part of its response to the latest escalation of violence in Gaza, ActionAid Palestine is working with local partner, the Union of Health Workers Committee (UHWC), to provide psychosocial support in communities to women and children, who were most affected by attacks.  
Helana Mesleh works as a psychologist at the Al-Awda Hospital in northern Gaza. During the attacks, she supported women in the hospital and using social media apps, like WhatsApp and Messenger, once they had been discharged, by providing counselling in person and remotely.  
Speaking about some of the problems new mothers are facing due to the toll the violence has taken on their mental health, she says: "Some women were unable to breastfeed their babies, hug them or even accept them because they came during difficult circumstances.  
"Some women had other symptoms such as sleep disorders and eating disorders as a result of the bombing and fear of losing their children, loved ones or homes, especially in the northern area of the Gaza Strip."   
Ms Mesleh says that her team is seeing an increase in women experiencing postpartum depression, as they support families whose homes have been destroyed, or who have lost loved ones during the attacks.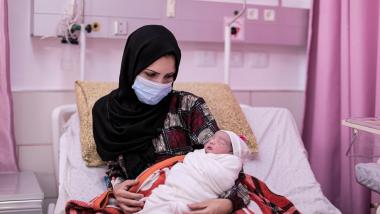 Working with local partners, including UHWC, ActionAid is planning to reach nearly 2,000 people, mostly women and children, with individual and group counselling in the coming months.  
"Pregnant women would be usually very happy, preparing everything to welcome their new-born babies, but the war and its consequences have prevented them from enjoying those moments," Ms Mesleh says.  
"Those women were experiencing unexpected psychological grief and pain. We have also noticed that women suffered from dissatisfaction, continuous crying and rejection towards their babies."   
Ms Mesleh also worked with children whose mental health was affected by the attacks, to help them deal with the trauma and stress. She says their symptoms and behaviours include fear, anxiety, bed-wetting, introversion, social isolation and aggression.  
"Children became very attached to their parents, and they didn't want to sleep away from them," she says. "When they heard any noise, they would continually scream and cry."   
Adnan Radi, a consultant and head of the obstetrics and gynaecology department at Al-Awda hospital, says the attacks had an undeniably negative effect on pregnant women, increasing the number of complicated births, caesareans, early deliveries and miscarriages. As a result, the hospital saw an increase in the number of babies who needed its neonatal intensive care unit.  
"Pregnant women were the most affected category, especially psychologically, as some were unable to reach the hospital to get the services they needed," he says, explaining how his team created mobile clinics to try to reach the most affected areas during the shelling.   
"In some cases, women fell down or crashed indirectly into their children or husbands while escaping from the bombing. As a result, a bleeding or a blood pooling behind the placenta happened. We had to conduct six urgent caesarean operations, and the results were good." 
Dr Radi says that thankfully no women or new-born babies died in the hospital during the attacks. But he believes the number of women experiencing miscarriages will have risen due to the bombardment.  
During escalations of violence, services for pregnant women in Gaza decrease as government hospitals are overwhelmed by treating those injured in the attacks, and pregnancy care centres close. Al-Awda Hospital, which relies on support from UHWC and donations from national and international funders, was one of the few places where pregnant women and new mothers could receive treatment during the recent attacks.  
Dr Radi adds: "People in the Gaza Strip basically live depending on external support, and without it, people won't get the services they need, especially during aggressions and wars."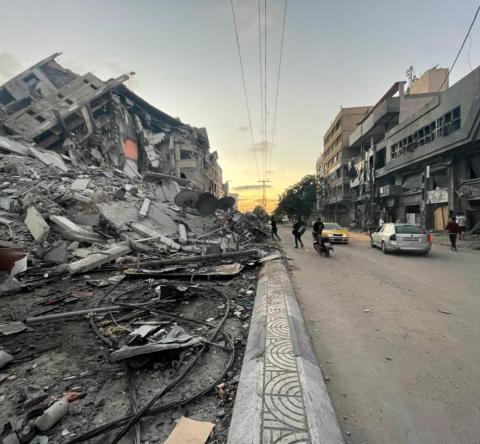 Gaza Crisis Appeal
ActionAid's local staff are on the ground to provide essential supplies and support for traumatised women and children.
We urgently need your help.
Donate Now