Women's leadership in food aid distribution, Zimbabwe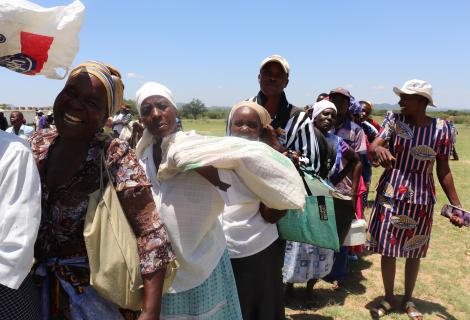 Emma Mutambiranwa 45, leads the Rural Women Assembly (RWA) with over 500 members and is the chair of the Food Distribution Programme (FDP) in Nyazura, Zimbabwe. The RWA movement is a women's empowerment group supported by ActionAid Zimbabwe, whose members are supporting the current emergency response. The Lean Season Assistance Programme (LSA), for example, is promoting resilience building among community members facing food shortages in the face of droughts and the harsh economic conditions in Zimbabwe. As the FDP chair, she ensures that women, vulnerable groups like people with disabilities, the elderly and child-headed families are prioritised and supported during distribution.
"As leader of the RWA, I encourage the women who are receiving food aid to engage in income generating projects so that they can stand on their two feet in the event the assistance is no longer there. In this community, we have not received good rains since 2016. I am urging women to plant small grain crops which do not require a lot of water. This can also be supplemented with poultry and goat breeding projects so that the women can improve their income sources," said Emma.
However, the biggest challenge facing the communities is funding for start-up grants to begin the income generating projects.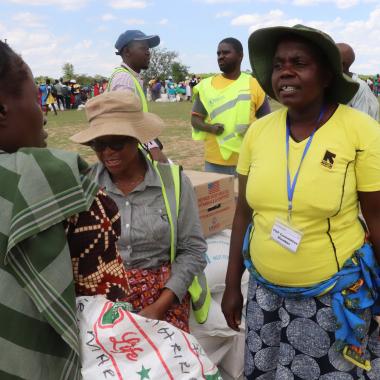 Phiona Sharara, 29, who works closely with Emma said: "Women have the burden of care and they need sustainable projects to look after their families in the face of climate change which has affected the food security situation in the community."
"Agriculture is slowing dying because of climate change and communities need other alternatives for their survival. Food insecurity in my community has borne negative coping mechanisms such as marrying off children for food. I know of one family that married off their child for seven bags of maize. Poverty has also contributed to gender-based violence," says Emma.

Agnes, one of the women due to receive food assistance says that none of her children were going to school due to lack of food and that generally they were a poor family.
 
Phiona said "I am worried that Agnes may marry her children off due to lack of food and poverty if she is not supported with sustainable programmes over and above the food aid she is set to receive. Child marriages associated with poverty are common in this community."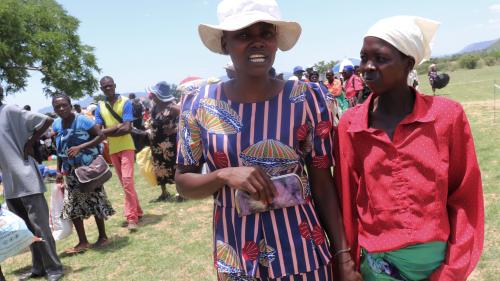 Phiona, who had her first child after eloping at 13, said parents were marrying off their children due to poverty. Phiona said she is working hard to reduce the risk of girls marrying too young and missing out on an education.
"I will work hard for my children and make sure they go to school. Both of my children are in school and I will strive to ensure they go up to university," said Phiona. To do so she works hard running a poultry income generating project, supported by ActionAid. Given the opportunity she wants to diversify her income. She added: "So far I have started practicing baking and decoration at church and would want to be properly trained so I can earn more income for my family"
Zimbabwe is experiencing its worst hunger crisis in more than a decade, with 3.6 million people suffering from severe food shortages.
Emma and Phiona supported the distribution of food aid to 49,000 people living in Makoni district to receive desperately needed food supplies last month, distributed by ActionAid Zimbabwe and funded by the World Food Programme.
As the situation worsens, the number of families receiving food support will this month double to more than 100,000 people in Makoni and Nyanga districts.
But more funding is urgently needed to prevent the food crisis deteriorating into a famine.