Ten years on from the deadly earthquake, Haiti's humanitarian crisis continues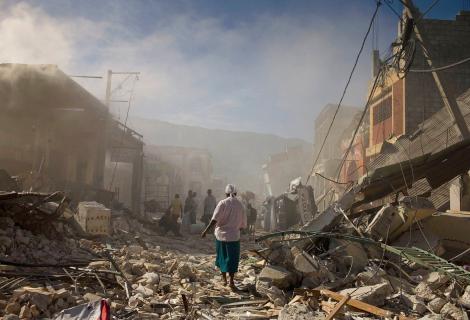 Angeline Annesteus, programme coordinator at ActionAid Haiti, explains how women are taking the lead in building their communities' resilience to future disasters  
A decade on from the devastating earthquake that hit Haiti killing more than 200,000 people, some 4.6 million Haitians remain in urgent need of humanitarian support. 
When the deadly disaster struck on January 12, 2010, it left 1.5 million wounded, 2.3 million people displaced, 400,000 houses destroyed and damage costing an estimated US$7.9 billion. The Haitian people relied on international aid and the billions of dollars raised for reconstruction and to assist survivors. Yet little has been done to help communities recover from the terrible earthquake.
To date, 32,788 displaced people are still living in camps and the state hasn't been able to put in place mechanisms needed to mitigate the risks and build resilience for future disasters.
The UN Office for the Coordination of Humanitarian Affairs (OCHA) in Haiti finds that in 2020, 4.6 million Haitians – about 40% of the totally population – will need urgent humanitarian assistance this year. Of the total figure, more than 57% of those in need are women and 45.5% are children. Of the total, 1.2 million people are likely to face emergency levels of severe food insecurity.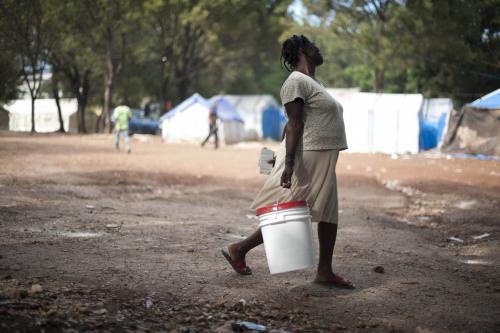 Haiti's humanitarian crisis is worsening alongside continuing political and economic turmoil. Popular uprisings since July 2018 after the announcement of an increase in fuel prices, demands for the President to resign, corruption scandals, chronic socio-political and economic instability, depreciation of local currency and soaring inflation, mean the situation is unlikely to improve in the short term.
For many, including the Haitian economist Kesner Pharel, it has been a lost decade for Haiti. This is not only because of poor governance, but also a lack of responsibility and engagement from the international community. Less than 10% of funds raised following the earthquake went to the Haitian government and less than 0.6%  was directly disbursed to Haitian civil society organisations as grants, according to a report on the first two years of spending support. 
ActionAid Haiti has been involved with a series of events to mark the 10-year anniversary of the earthquake. Along with partners, we organised a march and reflection to remember those who lost their lives and focus on the urgent need for the government to provide basic services, ensure security and protect citizens rights.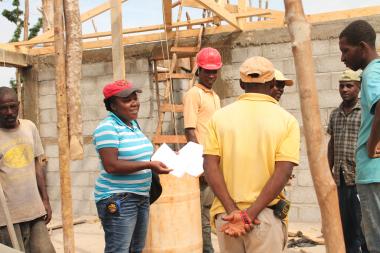 At the start of this new decade, it is time to look forward. Public investment in educating people about the risks of future earthquakes and climate disaster is vital. At ActionAid Haiti, we know that women must be empowered to lead efforts to build resilience and respond to future disasters, as the climate crisis increases the frequency and severity of extreme weather events.
From 8-10 of January, ActionAid with the Association of Peasants Vallue (APV) organised training with 26 of the 30 women leaders who form a network of emergency, first responders. Since July 2016, ActionAid Haiti has been building the capacity of these 30 women, based throughout the country, in preparedness and humanitarian intervention. This is in accordance of the World Humanitarian Summit recommendations and ActionAid's engagement in reinforcing and promoting women's leadership in emergencies from preparedness to response.
The women leaders receive yearly training on Water Sanitation and Hygiene (WASH), communication techniques in emergencies, first aid and women's protection. ActionAid provides them with equipment and materials such as first aid kits and tablet computers to allow them to participate in quick evaluation and response in the aftermath of an emergency. 
All the women are members of local organisations and partners of ActionAid Haiti. Many led and supported with ActionAid's humanitarian program after Hurricane Matthew, which hit the southeast of Haiti in October 2016.
On the 10th anniversary of the earthquake, the women remembered those who lost their lives and recognised the importance of continuing their work in preparedness and response.
A month of remembrance events are taking place in Port-au-Prince, including conferences, shows, talks and speeches. ActionAid Haiti and its partners, Solidarite Fanm Ayisyèn (SOFA), Kodinasyon Rejyonal Oganizasyon Sides (KROS), Association des Paysans de Vallue (APV) and the Plateforme des Associations Communautaires de la Zone Métropolitaine (COZPAM), have organised many of these activities.
On 12 January, SOFA and KAY FANM (which translates as Space for Women), with the participation of ActionAid, held a feminist commemoration for the many iconic figures of the Haitian women's rights movement who lost their lives.  Activists Anne Marie Coriolan, Magalie Marcelin and Myriam Merlet, are among those remembered, alongside the former minister for women's affairs and women's rights, Marie-Laurence Jocelyn Lassègue. In their names, and those of many others, we continue to fight for the rights of Haitian women.
Haiti is on the frontline of the climate crisis in the Caribbean. As earthquakes and hurricanes are increasing in frequency and intensity, ActionAid and its partners invite all actors in the development and humanitarian sectors to continue to invest more in sustainable actions to help build resilience within the Haitian population. We hope that communities will be better prepared to face future disasters.