Restoring vital mangrove forests in Cambodia
Khay's fishing community is no longer surrounded by mangroves. Four years ago, the surrounding coastline was reclaimed, and mangroves destroyed, to build the Try Pheap Petroleum Port. Her community's fishing income is now under threat from plans to expand the oil refinery just off the coast and other development projects requiring land clearing and filling.
ActionAid Cambodia and partners are working with eight community fisheries and the provincial fisheries administration to restore Kampot's mangrove forests and marine resources. This is a result of our appeal to plant 100,000 mangroves to protect community livelihoods and create a vital natural defence against climate change. 
Mangroves, along with coral reefs and seagrasses, play a huge role in maintaining the balance of coastal ecosystems by absorbing carbon dioxide, protecting shorelines from floods and soil erosion, and acting as a nursery to sea life. But they are being lost at an alarming rate to coastal development, shrimp farming, mining, dredging and agriculture. The provinces of Kampot and nearby Kep have seen their mangrove forest reduced by more than half (62%) since 1992*.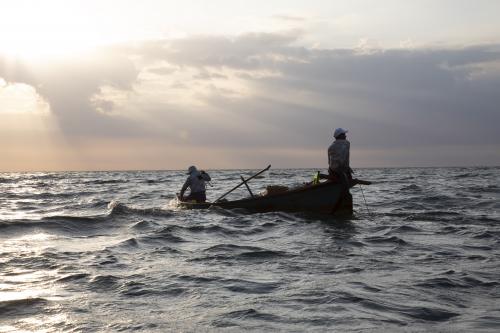 Despite their resistance, Khay's community lost the battle against development. She was forced to move away from profitable crab fishing and now solely catches fish, reducing her daily income. Today Khay works with her husband, fishing close to the coast on a small boat, using only a line and hook, a method of fishing which is both highly skilled and sustainable. On average Khay and her husband fish up to four hours a day for 20 days of the month. They catch around 10kg of fish per day, earning up to $15 daily.
As soon as the seas become rough with storms hitting the coast, they are unable to fish, making them highly susceptible to the damaging impacts of climate change. Khay and her community know that the mangroves help reduce the impact of the storms, they feel the effects of the climate changing with the rainy season being more intense, with stronger storms and regular flooding, the water around her home regularly rising to her knees.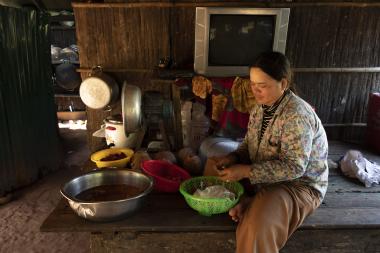 Khay's reduced income has affected her three daughters' education. Khay's two eldest daughters, aged 15 and 17, are no longer receiving an education, having left school to go to work in order to help support the family and send their younger, 13-year-old sister to school. Both girls are working away from home in a casino, working 12-hour shifts with just four days off a month. With the increase in Chinese investment in recent years, casinos are increasingly popular and a concerning trend has developed for young girls to drop out of education to go and work in them. Khay is extremely worried about her daughters' safety, but all she can do is make sure they call home every day. She is so saddened talking about it that we have stop the interview after she says that she simply has "no hope for the future".
Following another trend is Khay's youngest daughter, who still lives at the family home. She has dropped out of the Cambodian school system and has joined a Chinese school. People in the community believe that by doing this their children will have better opportunities in the future. Khay is hoping that her daughter will be a translator in a private company, as the rush of Chinese investors in Cambodia continues. In the meantime, the whole family have their hopes pegged on her future income.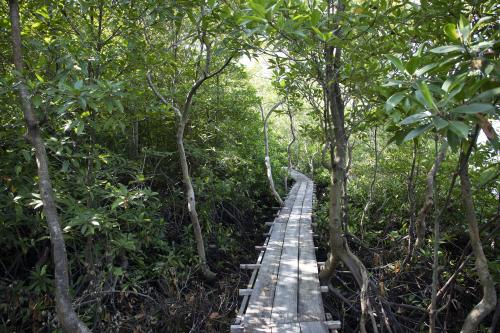 The Kampong Samaky community area is beautiful, surrounded by mangroves on both sides of the river as it winds down to the sea. Community members are currently building eco-lodges, following the model of Tapaeng Sagke community close by, a successful eco-resort. The process is a slow one as it depends on the community's money and time, both of which are scarce.
Beyond the financial benefits the eco-resort and the mangroves bring, Sorm An, a fisherman and labourer, says the mangroves act as a nursery for the fish. They are a natural barrier to flooding during storms and he describes them as a shock absorber, bearing the brunt of the storms. The mangroves also seem to have their own cooler microclimate.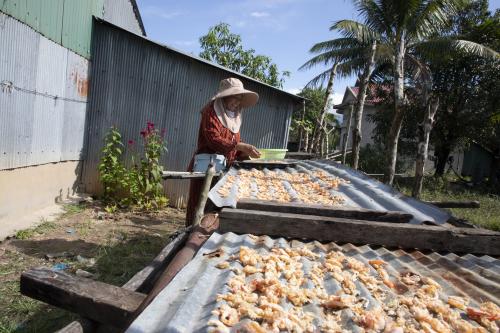 Other neighbouring communities trying to demonstrate the financial benefits to local government of protecting the mangroves is Loh Sadha's, which is a beauty hotspot, attracting locals and tourists as a wedding photo hotspot and a place to watch the sunset. But for the community it's about protecting their source of food and income.
"If the development in this area starts, it will affect the mangrove, people who depend on fishing and they cannot earn any money because there will be landfilling [The area is to be dredged and filled to create artificial islands.] which leads to the loss of the primary income in this community. If there is any landfilling, they will not be able to send their children to schools, and they will migrate to other provinces and countries to find another job. It is hard that you have to work for others rather than you own.
"In this community, sometimes if they have no food, they will go to the sea, and they can find some seafood. I could not imagine when the landfilling here starts; people will have no food to eat…There are no rice fields in this community. We entirely depend on the sea for a living."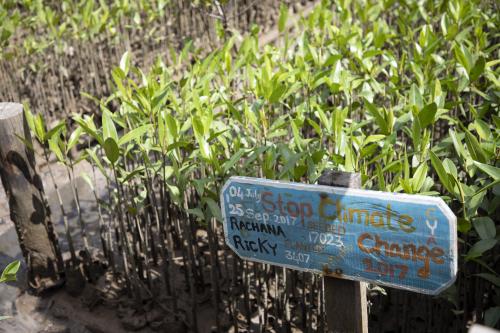 The fishing communities have been protecting the mangrove ecosystem for many years from those who try to illegally fish in them, and those who try to cut them down for firewood or development.
With the continued support from ActionAid Cambodia the communities are calling for: 
Support to plant and protect mangroves
Development projects to avoid impacting agricultural land, fisheries, mangroves, waterways, marine biodiversity and conservation areas. These projects will ensure communities' livelihoods and the environment are protected
Environmental impact assessments to be made public, with meaningful consultation and consent from affected communities before any development
Donate to the campaign.
Mana, a midwife and environmental activist in Kampot, sums it up most effectively: "I think world leaders should work together to make campaigns like the 100,000 mangroves campaign to encourage people to plant trees… World leaders should reserve budget for countries which are affected by climate change in order to fix the problems."
*In 1992, there were 7,900 hectares of mangrove forest in Kampot and Kep provinces, according to the Mekong Commission report.