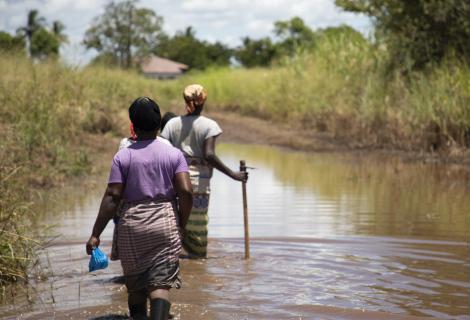 More than 1,000 people died when Cyclone Idai tore through Mozambique, Malawi and Zimbabwe, displacing more than 100,000 people as the storm ripped apart homes and livelihoods.
Marta Chilumguame, 50, lives in Ndedja, a resettlement village where people relocated to after Idai destroyed the surrounding area and where many people lost their lives. Among them, Marta's husband and eight-year-old son.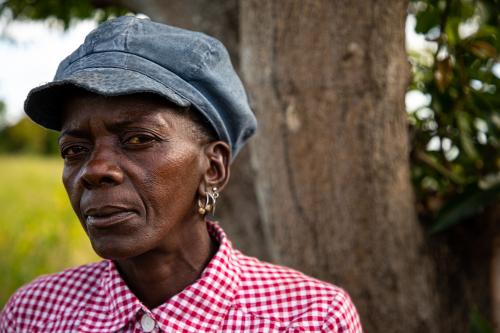 "At around 6am we started to hear our neighbours screaming and asking for help," she says. "I got outside and saw the yard was flooded, then I returned to get our belongings, but everything, plates, pots, everything was already floating.
  "Everybody was climbing the trees. The houses and trees started falling down. I saw that the road was under water and the houses were also flooded.  I told everybody to run away and climb the trees.
"Suddenly the branch where my husband and my eight-year-old son had climbed onto, broke and they fell down into the water. They were dragged with the power of the water and they never came again."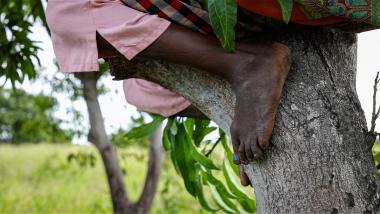 Distraught by the loss of her son and husband, terrified of what was to come, Marta says she clung onto the tree and stayed there for a week until the waters began to go down.
"I lost my soul," she says. When my husband was alive everything in life was easy because although he was a jobless man, he could do something for his family.
"Now I am alone, everything is becoming difficult, there is no money, no food. I can't afford to take care of these children alone."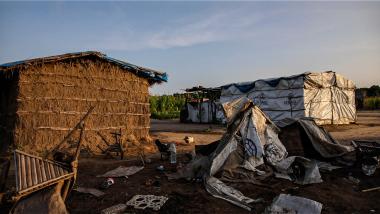 One year on from Cyclone Idai, people in Ndeja are still living in makeshift, temporary homes. Marta says she feels safe in the new area, but that residents need support to build permanent houses and access to farmland to produce food.
"When it rains the house leaks because the ceiling is torn, she says. "Another problem is related to food scarcity. There is no food here at all. We don't have money to buy food to feed our families."
Marta says the community has learn from the terrible force of Cyclone Idai. "When it rains we need to dig some drainage in our yards and alongside the roads so that water can flow and avoid flooding our homes and roads," she adds. "It taught us a lesson, we are now prepared to ease the impact of winds and heavy rains."
Marta, who lives with her six children, two grandchildren and nephew, says the family have reduced the number of meals they eat each day to try to cope with the food crisis.  
"Sometimes our children go to school with an empty stomach, they go hungry. When we get some food like rice I try to share with all members of the family," she says.  
"We have two meals a day, we never eat breakfast, sometimes we have no meals at all. I share with them all just the little we have and they drink water."
Survivors hit by flooding, drought and food crisis
One year after Cyclone Idai devastated Mozambique are now facing an escalating food and climate crisis.
Recent flooding affecting more than 70,000 people in the region of Sofala, where Idai made landfall, brought back terrifying memories of the deadly storm, as homes and crops were once again swept away.
An estimated two million people in Mozambique are facing food shortages due to recent flooding and drought. In the areas most affected by Idai, the risk of a failed April harvest and the end of food support provided by NGOs in the wake of the cyclone, is putting families in a precarious position.  
Noé – the Portuguese form of Noah – was born during Cyclone Idai. His mother, Eugénia Caluco, 23, describes what it was like as the storm struck their village in Sofala province, Mozambique:
"Some people were getting ready to sleep, but they never got to sleep, there was too much wind. It was raining on the walls, houses collapsed, some people ran to their neighbour's houses to stay there. They didn't take anything; all they took was their children and ran to the house next door." 
Eugénia's house was destroyed by the storm and she took shelter in her mother-in-law's home nearby. Heavily pregnant and having experienced complications during the birth of her first child that meant she had to have a c-section, she worried about what would happen if she went into labour.  
When she started to feel labour pains during the night, her mother and father-in-law helped her walk through the heavy rain and strong wind to a nearby health centre. But it was deserted. They sheltered there overnight before making their way to a different hospital in the morning.  
Thankfully they found a midwife who had fled the storm to shelter in the hospital building and Noé was born without any complications.  
When Eugénia returned to her village after giving birth to Noé, she found Idai had left a trail of devastation and destruction.  
"Some people died because of the floods. Our house here was destroyed, trees, everything was damaged, our backyard was full of water, every path was full of water. Every house was destroyed, my mother's house was the only one left," she says.  
"We had nothing; we just drank hot water. We spent almost a week without eating. I was getting worried, but there was nothing we could do, all we could do was wait."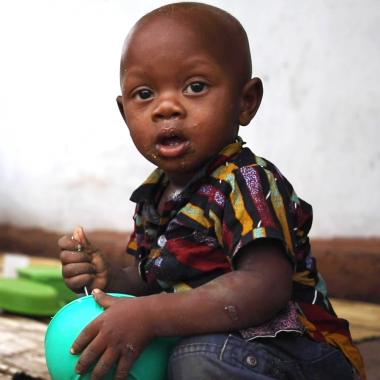 Despite everything they've been through, Noé is a happy child, with lots of family around him, who likes splashing around in puddles.   
"When there's rain and mud, he likes to play with mud, I usually tell him not to, but he doesn't listen. When he sees water, he really likes playing with water," his mother adds.   
Gaspar Sitefane, country director of ActionAid Mozambique, explains how the organisation is continuing its response to Idai and the food crisis:
"We'll keep our focus on supporting communities on protection, because we believe this is crucial. By being in the community you realise the level of violence against women and girls will grow more if the crisis continues.
"We'll continue supporting with seeds and agriculture, particularly giving people seeds that can resist drought."
He adds: "We need to ensure that we change the current scenario the world is facing, particularly in Southern Africa. People will be dying soon because of the effects of climate change. If we're able to act now, to pressure our governments to do more, we will save millions of lives."  
Angelina, 39, knows firsthand how the climate crisis and humanitarian disasters hit women and girls hardest.
"In all my adult life I've never seen this type of flooding," says Angelina João, chair of the Women Entrepreneurs of Buzi Town.
"When I was growing up, no, I didn't see anything like it. I don't know why it's happening now, maybe climate change. We have no livelihoods.
"I think the climate is changing. Something is changing. It's really difficult to identify what's causing it, but we understand the climate is changing."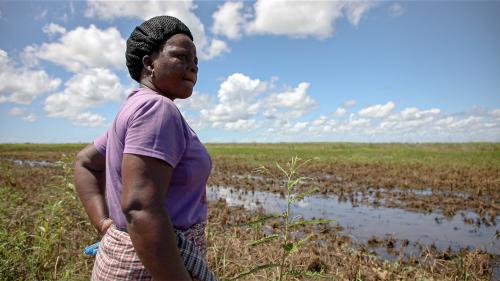 Angelina, 39, knows firsthand how the climate crisis and humanitarian disasters hit women and girls hardest.
The 25-strong women's group she chairs, supports survivors of violence and abuse, and women farmers who lost everything during Idai and the recent flooding.
"The main problems are domestic violence," she says. "Women at home suffer really badly with their husbands. They get beatings. They don't get any advantages as women. It's a violation."
Food insecurity can often lead to an increase in violence against women.
Angelina says: "Because we don't have enough food. He goes to work, and the woman stays at home. Sometimes he only leaves 100 meticals (£1.22).
"At home there's no food. We have children. 100 meticals is not enough to buy breakfast, lunch, dinner. Now, if you say: 'Hey, these 100 meticals are not enough', he'll say: 'Whoa, you talk too much, don't you know how to save?' Then the beating starts."
After Idai and recent flooding ruined Angelina's harvests, she is relying on food support. But she is worried what will happen in future.
"I'm going to suffer because I was relying on the farm. I'm really going to suffer from hunger. I lost everything," she says.
The recent flooding ruined half a hectare of corn and rice. She says she has nothing left.
"It ruined everything. No corn, no rice. Now we just have to wait for the water to go down. Look for seed maybe for a second growing season, I don't know if it will work or not," she says.
Angelina wants to plant sweet potatoes, pumpkin leaf, cabbage and tomato, but doesn't have the seeds.
"When the water level goes down, we can do all of that when we have seeds, so we can eat with our family while we wait for the next season," she adds.
The second phase of ActionAid's response to Cyclone Idai, which is working with communities now affected by the food crisis, will focus on women's protection and agriculture, providing resilient varieties of seeds.
Angelina is among the women leaders, supported by ActionAid, setting up a new safe space for women and girls in Buzi, where they feel physically and emotionally protected.