Wunmi Mosaku: "Let's support women to claim their rights"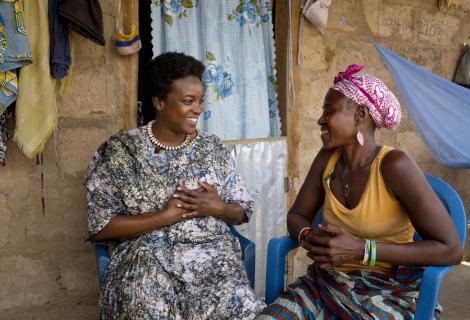 Actor Wunmi Mosaku discusses the real heroes she met on a trip with ActionAid to one of Ghana's poorest regions. She is joining forces with ActionAid's campaign to put power back in the hands of survivors around the world.
It's one of the poorest regions of Ghana; an area where many girls are forced into marrying young, and women face domestic and other forms of violence.
I wasn't quite sure what to expect. But what I encountered was inspiring. I met some incredible women and girls, many of whom have experienced terrible violence. I listened to their experiences, and heard about their attempts to secure justice for the crimes committed against them – and I was incredibly moved.
One woman I met was Dakpaama, who was just a girl when she was forced into marriage with an older man. She had four daughters, and her husband became angry – he wanted a son. He married another woman; this was when the violence and neglect began, Dakpaama told me.
Speaking to Dakpaama, I saw how difficult life is for women in Ghana. Deep-rooted beliefs – which can be found everywhere, in one form or another – dictate that women's bodies and lives are inferior existing only for men to control. This is the root of the violence they face, and it's made worse by the economic inequality that further holds them back – especially when they're sole carers of their children.
Over a year on from #MeToo, it's clear this problem isn't just confined to just one country. Violence against women and girls is one of the most widespread human rights abuses, affecting on average one in three women and girls worldwide. All too often, women and girls aren't able to secure justice; they're held back from reporting their abuser, by social norms, poverty, and unfair or under-resourced legal systems. 
Reflecting on my family's story
Meeting Dakpaama and other women in Ghana, I reflected on my grandma's story.
Grandma grew up in Ghana. Returning to her homeland, Nigeria, as a young woman, she was shocked to find that an uncle had set up a marriage for her without her consent. Thanks to her progressive upbringing and education in Ghana, she was aware of her right to say no. She fought back against being forced into marriage.
Grandma always said that if she hadn't spent time in Ghana, she wouldn't have fought back. She also wouldn't have met my grandfather – and I wouldn't be here. It's a testament to the awesome power of knowing and claiming your rights as a woman.
I saw for myself how important it is to support grassroots activists, to make sure women's voices are heard. I met the Young Urban Women's Movement, a group of fearless women supported by ActionAid who are coming together to campaign and advocate for women's access to justice, work and a future with choice.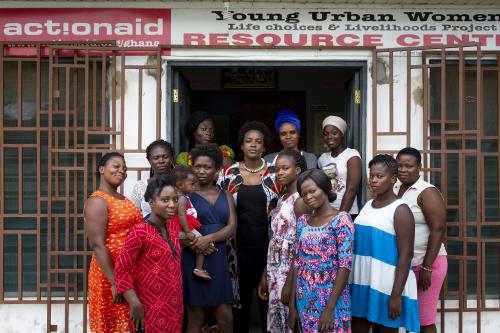 "There's an urgent need to enforce the law"
I learned how Ghana's Domestic Violence Bill, which was passed in 2007, hasn't been effectively funded or implemented. What this means for women is that they often can't report crimes committed against them, because the support they need – from the police, from hospitals, and from women's refuges – simply isn't there. The women I met told me there's an urgent need to enforce the law to ensure justice for women in Ghana's poorest regions. 
And I saw how important it is to support women to create changes on the ground, in the poorest communities. Take Vida. She's a survivor of violence, and a member of an ActionAid 'COMBAT' squad; a community-based anti-violence team who work with men and women to help women report violence.
Vida's eyes lit up when she spoke to me about the squad; how joining had changed her life. Another member, local teacher Marciana, told me how she found it hard to use her voice before working with the COMBAT team. Now, she said, things are really changing for women in the community.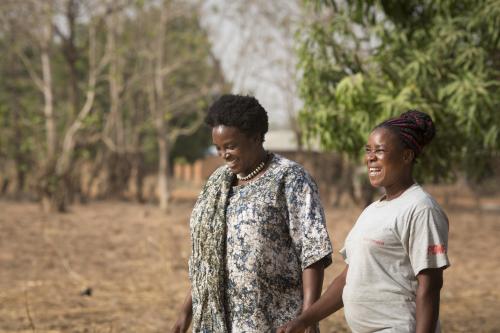 The campaign for justice
This trip has shown me how, if we really want to end violence against women and girls, we need to listen to them first and foremost.
In Ghana and around the world, there are heroines in rural communities, in cities, in law firms, and in police stations who are fighting to fix the system. Let's hear their stories, raise their voices, and help them secure justice for good.
Wunmi Mosaku is supporting ActionAid's campaign to put power back in the hands of survivors around the world.