Surviving climate change – Hilda's story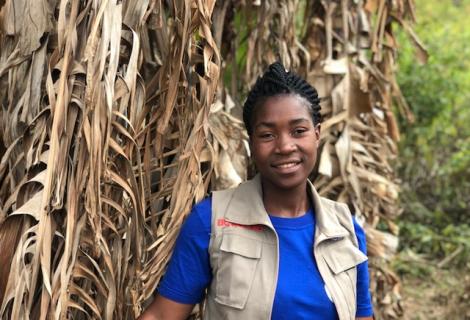 In March 2019 Cyclone Idai made landfall, devastating the homes and livelihoods of tens of thousands across eastern Africa. Climate change is a major contributory factor to these extreme weather events, which are growing in both frequency and intensity.
Hilda Hlabiso lives in the Chimanimani district of eastern Zimbabwe. She is a climate change survivor, her home and community left in tatters by Cyclone Idai. Hilda's experience proves that climate change is not some far-off proposition. It's happening now. 
Hilda said her kitchen was levelled by the cyclone, while her lounge where she and family were staying had cracked. Her crops were ruined. Her husband, who worked delivering bananas, is now unemployed – there are no bananas to deliver.
"My field is all stones now due to Cyclone Idai and my banana crops which were ready for harvesting were destroyed. My husband was a truck driver who usually was hired to ferry people's bananas, but is unemployed now. He is now waiting for a new set of banana crops. I am now sustaining my family with a poultry project," Hilda said. 
ActionAid Zimbabwe, in partnership with Jekesa Pfungwa Vuligqondo and Simukai Child Protection Programme, is running an early recovery programme for Cyclone Idai survivors in Chimanimani and Chipinge as the organisation moves its response from immediate needs to mid-term. 
A key part of ActionAid's response has been to train female leaders at a community level, so that they can pass on the protection and leadership skills to help their communities recover from the effects of the cyclone. Hilda is one of those leaders and she will lead in training the women to be self-reliant in the face of the adversity. 
"I will train women not to wait for food handouts," Hilda said. "They can plant crops on the land that was not destroyed by Cyclone Idai. Now that roads have been cleared the women can engage in various income generating activities such as buying stuff on demand in Mozambique which is near and selling them in Chimanimani. This will ensure that they are not vulnerable to gender-based violence (GBV)."
Reaching more than 5,000 people, ActionAid Zimbabwe is implementing interventions such as psychosocial support, creation of safe spaces for women and girls to reduce sexual GBV against women, construction of wooden cabins as shelter in the interim, rehabilitation of water sources, toilet construction and livelihoods programmes where the people assisted will receive agricultural seeds to plant. 
The women leaders like Hilda will create safe spaces, supported by ActionAid and Jekesa Pfungwa, where women will have a platform to discuss issues affecting them after Cyclone Idai. They will lead the discussions as trained leaders and they will cascade the training at community level. More than 1,000 women are expected to be trained so they can share their lessons within their local communities.
As the climate continues to change, Hilda is concerned for the future. Usually, September would be a time of heavy rainfall but there has been none. This makes planting new crops and even ploughing fields impossible. "We cannot go forward because there is no rainfall," said Hilda. "We can only go backwards. But we are trying our best to survive."
Women like Hilda, who display resilience and determination, are key for communities to be able to mitigate the worst effects of climate change. But unless we all act now to tackle the climate emergency, resilience alone will not be enough.