Surviving climate change – Elizabeth Dakurah's story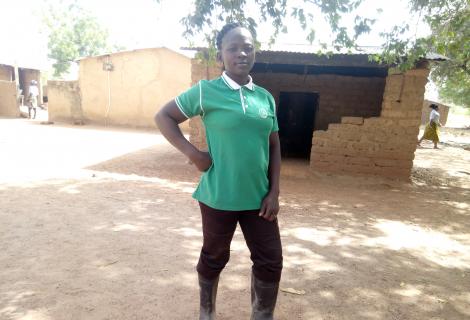 35-year-old Elizabeth Dakurah is a mother of two daughters and a community volunteer within the Ul-Kpong community (a member of the Ul-Kpong Ebong-apaare women group) in Ghana. 
Elizabeth and her community are already feeling the effects of climate change. In this article, she tells her story in her own words and describes some of the work ActionAid is supporting across the Jirapa Municipal area, which includes the Ul-Kpong community. 'But for the interventions of ActionAid Ghana in my community," Elizabeth says, "the effects of climate change on people, especially women, would have been so great'. Here's Elizabeth's story.
The rainfall pattern has changed in my area. Some years back, rains usually set in by April and last up to September each year. The rainfall pattern has reduced from five months to four in the last 8 to 10 years and now it's only three months of rain, from July to September, and even that is not regular. Our local cowpea beans ('omondou') which we used to sow in June and start harvesting in early August, is currently been sown in August and some farmers are even still sowing their beans in September. 
Before, my family sowed maize and groundnut without applying fertilizer and the crops yielded very well. But changes in the weather and its effects on the soil has drastically reduced soil nutrients. If a farmer cultivates maize or groundnut without applying compost, then they shouldn't expect a harvest.
Shallow wells or dugouts were made in the dry season, where we could store water for household usage and make small dry season gardens to cultivate vegetables for household consumption. Now, by November, all the surface water in the community is drying up and no water can be obtained from any dugout in this time. 
There used to be some green berries that were produced by a particular tree, and any time this berry was ready for consumption in early April, then we knew the rains were about to set in. Now this tree does not produce any berries. There were also some grasses that we harvested for our animals to feed in May and June when we confined the animals to prevent them from eating or destroying crops, but this no longer grows.
As if that is not enough, we are now confronted with a fall armyworm attack on our crops. Until recently, nobody had even heard of this. You can buy chemicals to spray on them, but this worm would not leave the farm until we managed to discovered our own organically prepared neem extracts for pest control.
The women of Ul-Kpong community is forever grateful to ActionAid for working with us to identify and learn various ways of minimizing the impact of climate change on our lives.
ActionAid and the department of agriculture trained 20 women from 25 groups as volunteers and took them through practical demonstrations on how to prepare compost and other agronomic practices that will reduce cost, increase crop yield and increase the income of women. The Ul-Kpong Ebong-apaare women's group have in the last two years adopted and prepared their own compost for application on our group farm. Individual women from the community have also been supported by our group to prepare compost for their farms. 
ActionAid also distributed 35 cashew seedlings to my group to plant. We are nursing these seedlings well and they look fine. We expect to get vegetation cover for our farm and knowing that cashew is a high-value cash crop, we also intend to harvest and sell to make money for our group soon. 
ActionAid has also trained all the women's groups in Jirapa to select and preserve seeds from our own local varieties. By cultivating the local seeds, we can prepare and apply compost while saving some money which would have been used to buy chemical fertilizer. We also learned to harvest our crops early as individuals and as a group and store the crops with dry powdered neem extracts and other local storage materials that are readily available in our communities. 
I have learned that the situation of climate change will not get better if governments don't take serious steps to reduce change the way we do things. In view of this, I on behalf of women in Jirapa and beyond I appeal to the government to support smallholder farmers to increase our efforts, such as composting, pest control and water harvesting.
The government should also be bold to tell the powerful countries to stop their activities that are contributing hugely to the deteriorating climate and provide the needed resources to support us to fight the problem.