Surviving climate change and migration in Bangladesh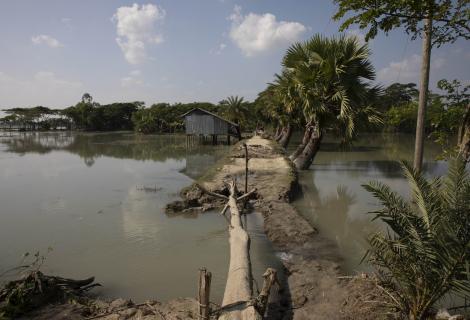 Lalua Union, Southern Bangladesh
Globally, an annual average of 21.5 million people are being forcibly displaced by sudden, extreme and sudden climate events such as floods, storms and wildfires. Millions more are fleeing their homes due to rising sea levels, salinisation, droughts and desertification which are destroying lives and livelihoods over time.
In one district where ActionAid works in the cyclone-prone and disaster-devastated south, Lalua Union, the population has fallen by nearly 40% since 2012.
People living the southern delta areas of Bangladesh are experiencing both the devastation of sudden events such as cyclones and flooding, as well as the slow creep of river erosion and soil salination.
"While we are working with communities to help them adapt to future scenarios, one of the trickiest things about climate change is the uncertainty. " - Tanjir Hossain, Resilience and Climate Justice Lead for ActionAid Bangladesh
In many areas, embankments built to protect people's homes and farmland are no longer working. 
"No matter what we do because of higher water pressure, excessive rainfall and many other climate-induced events, the embankments keep failing," said Tanjir Hossain
When embankments collapse, farmland is flooded with salt water, washing away crops and leaving the land infertile. Even saline-resistant strains of rice can no longer survive in some areas. Salination is killing fish and livestock, which become sick from grazing on the land. It is affecting housing and causing rust and decay. Increased salt level in the drinking water is causing high blood pressure among pregnant women and burning people's skin.
As they increasingly lose their crops to salination, farmers are turning to fishing to try to make a living. Overfishing is now leading to depleted fish stocks and many people feel they have no choice but to move away.
Families in Lalua still speak of cyclone Sidr which devastated the area in 2007, as if it were yesterday and many are suffering from its long-term consequences of it. Many of these coastal villages will be destroyed if another cyclone of that strength hits.
Kakoli from Pushurbunia, Lalua Union
Kakoli, like many others in the village speaks of when Cyclone Sidr hit more than a decade ago as if it were yesterday.
"We were sleeping at night. Suddenly we realised that a big cyclone had hit the area. So we rushed to the road for safety. Everyone was scared and scattered. It was difficult to find your close ones that moment." 
When they returned home, their house was gone and the plants were washed away. They had to sell their only cow which had been their major source of income to rebuild their house.
To feed the family, Kakoli and her husband Bahadur Khan, 37, had to move to Dhaka leaving behind their three-year-old son, Badsha, in the village with his grandmother. Kakoli stayed there for nine months. She then decided to finally return home, to raise her newborn daughter, Sumona and her son.
"I didn't find peace in the city, my heart was always in my village. I didn't like the water of Dhaka. It was very much tough for me to even drink the water and shower with it." she say as she shares her experience in Dhaka. 
However her husband still has to spend a large amount of time moving between the village and Dhaka. He returns to Pushurbunia only when Kakoli calls him to let him know that there is work available in the region. 
Through the training she has received from ActionAid, like many other women of the community, Kakoli Begum has also become much more aware about climate change and she knows what she should do to keep her family safe during disasters. 
Whenever there are any warning signs of a major disaster, she quickly prepares. By taking her valuable documents and small ration of food to a watertight bunker built by ActionAid. She moves her food and fuel to a higher place so that they don't get wet and can be used when they return home. She then takes her children to the safety of the cyclone shelter. Over the years she has adapted to the regular flooding and storms by raising the foundations of her house and the chicken and duck pen to prevent the regular flood water to getting in. Kakoli has also bound her house to large trees so that it doesn't get blown away.
"But, as the level of water during flood increases every year, the platform of the oven has to be made higher every year."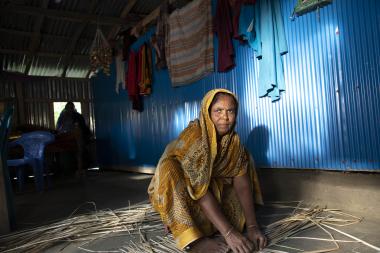 Piara Begum, 40 from Pushurbunia, Lalua Union
Piara Begum says she fears that she will soon have to move to Dhaka as she is struggling to survive in the village.
"We just want to live in peace and happiness. I don't want to be compelled to go to Dhaka. If everyone around the world could support us, then we can live in our hometowns."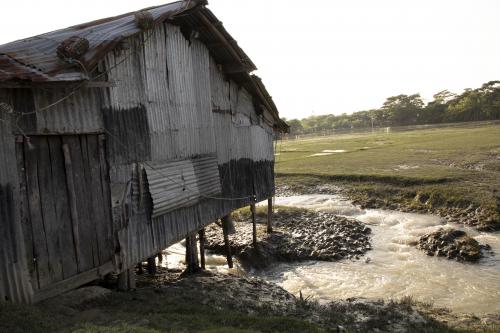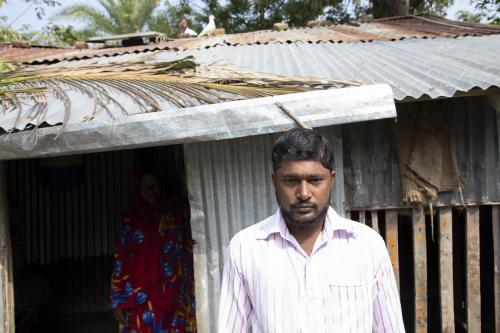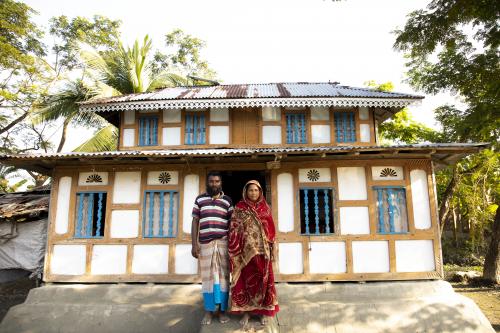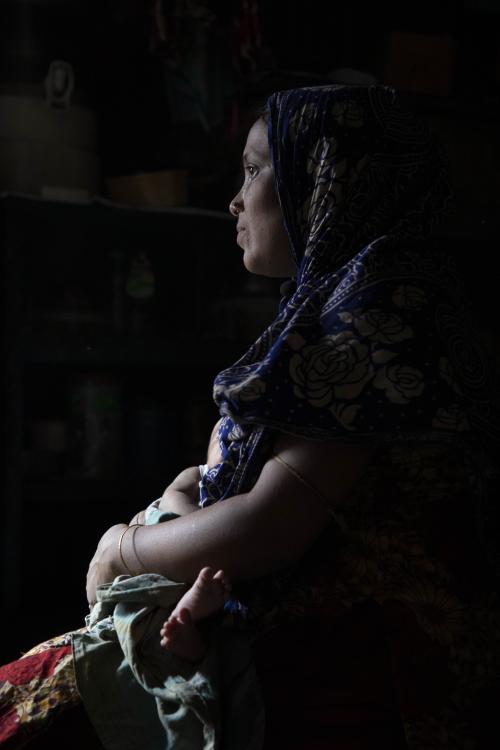 Dhaka
A report published by national media in Bangladesh suggests that each day more than 1,300 people arrive in Bangladesh's capital Dhaka hoping for the chance to rebuild livelihoods often torn apart by the devastating impacts of global warming.The city is already among the most densely populated on earth with 47,400 people per sq km and some 500,000 more arriving each year.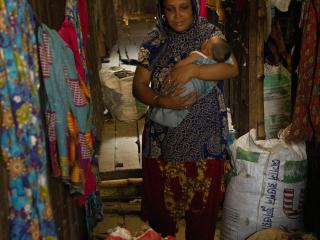 Shahanaz, from Jatrabari, Dhaka
Shahanaz and her husband Zahidul, still speak of the devastating effects which cyclone Sidr has continued to have on their lives.
After the cyclone destroyed their home and farmland in Lalua Union, Zahidul became a fisherman. Borrowing money to buy a boat, he hoped that it would bring in sufficient income to support Shahanaz and his two children. But he soon found that fishing could not support the family and pay back the loan. Three years ago, the family felt they had no choice but to move to Dhaka to survive and pay back the money they owed.
"My most painful memory is when I gave my house to the person I borrowed money from."
"I have nothing left in the south I have no land where I can build a house. But now I have to earn a living and survive with my three children. So maybe after 10 years if can save some money if I could go back and build a house and live there again." says Shahanaz "Right now, I'm more thinking of surviving with my children and husband."
She adds: "During my childhood I never felt any pain, we were three sisters and one brother. We never felt any sort of pain, as the pain I'm feeling now. I am not living in Dhaka because I want to, I'm living here to survive. 
"My heart tells me that I would rather be living in my own home in my hometown. "