Severe drought hits Mozambique months after devastating Cyclone Idai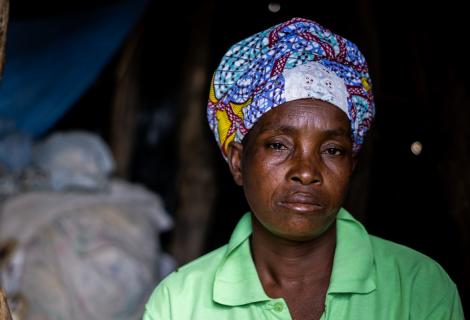 Cyclone Idai left a trail of destruction across four countries in March 2019, with Mozambique the worst hit. is still reeling from the effects of the tropical storm which killed more than 1,000 people in Malawi, Mozambique and Zimbabwe.
In Mozambique alone, Cyclone Idai killed more than 600 people, damaged over 200,000 homes, and left over 1.85 million people in need of urgent humanitarian assistance.
When the super storm struck it destroyed Luisa Mungono's house. She had to live in a makeshift house together with her husband and nine children. The cyclone destroyed over 715,000 hectares in Mozambique's central breadbasket region just weeks before the main harvest. 40-year old Luisa said:
"The water came and all our rice, maize and all the seeds that we had were washed away, What was there was eaten by worms after the rain soaked our fields."
Just weeks later, Mozambique was hit by a second cyclone Kenneth. Communities are now facing severe food shortages after prolonged drought, flooding and the devastating impact of the cyclones on huge areas of farmland.
"Cyclone Idai destroyed large areas of farmland across Mozambique. There were donations of seeds as part of recovery efforts, but once they were planted we had an infestation of the fall armyworm pest, which again destroyed the crops," says Gasper Sitefane, country director, ActionAid Mozambique.
"On top of that, the rainy season is delayed and it is causing panic among the population. Rains were expected in October, but they still have not come.
"The weather forecasts are showing that areas hit by Cyclone Idai will be affected by flooding, while the southern areas will continue to face drought, which has been affecting the region bordering Zimbabwe for two years.
"It is becoming a dire issue. Water is becoming so scarce, people are selling off their cattle because they cannot survive."  
For 64-year old Sophia Mutua, a farmer from Buzi district in central Mozambique, Cyclone Idai destroyed her harvest. "I lost everything in the cyclone," she says.
Terezinha Combira was given plant seeds by ActionAid 10 weeks after Cyclone Idai to help her get back on track. However, her fields were still soaked with water, making planting impossible. During this time, Terezinha and her family were surviving on a meagre harvest. "I lost my house, it went with the water and this is all the maize I have left from my field," she says.
"The government has not yet declared an emergency, but there is no water and rivers are drying up quicker than ever before. Even in the capital Maputo, there is drought. We do not know when the rains will come. Soon we will be facing a national tragedy if we don't act now," adds Gasper.
ActionAid is calling for a new fund, including debt relief, to support survivors of climate disasters, such as flooding, droughts and rising sea levels.
Share this story to join our call for #ClimateJusticeNow.